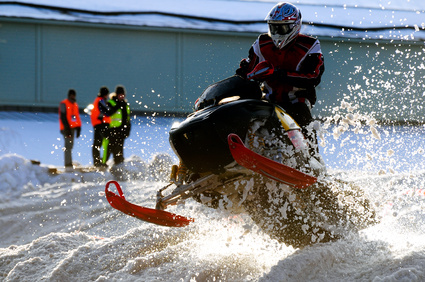 Some owners of Yamaha snowmobiles purchase the vehicles for recreational use. Yamaha snowmobiles have a good reputation, known for great handling and superior performance in the toughest conditions. Snowmobiles are one of the most popular items offered by Yamaha.
However, some parts may eventually wear with continuous use. Rough handling or accidents may also affect the performance of different parts of the snowmobile. In order for safe recreational use, it is essential that one keeps all the parts in good working condition. For example, snowmobiles are often used in hazardous weather conditions. Because of such strains, parts often require replacement or repair. Yamaha retailers offer new, replacement parts. However, different dealers offer salvage Yamaha snowmobile parts, which have numerous advantages.
One also has the option of purchasing used parts. Sometimes, salvage parts offer better performance over secondhand parts. The benefit of buying secondhand parts or salvage parts for your vehicle is that they are relatively inexpensive in comparison with new parts. However, salvage parts offer one improved performance along with a drastically reduced price. Some salvage dealers also offer servicing, and sometimes parts come with a limited warranty. Mechanics might buy entire salvage snowmobiles via Autobidmaster.com, ensuring that they have a constant supply of needed parts. Mechanics can then repair Yamaha snowmobiles using salvage parts, offering their customers near new parts for an affordable price.
When purchasing a salvage Yamaha snowmobile, ensure the quality of the vehicle and its parts. Most dealers sell good quality salvage parts. Nevertheless, it is advisable to personally inspect the vehicle. One might also consider having a mechanic inspect the snowmobile as well, identifying any parts requiring repair.
One can attain different salvage parts for numerous snowmobile models like Nytro, Venture, V-Max, Apex, Rage, RX-1, Vector, Viper, and many others. When purchasing parts, one attains quality products at discounted rates. Such parts can revamp your snowmobile and make it functional again. Commonly needed replacement snowmobile parts include drive belts, pull handles, starters, spark plugs, and windshields, among others. The lights are essential in snowmobiles because of the terrain where snowmobiles function. One should always ensure that the light and light screens are functional. If there is any problem with the existing light shield, replacing it with a salvage part is a viable option.
It is also essential to keep the breaks and clutches in good order to ensure full control of the vehicle. The engine, along with these parts, requires regular repair and sometimes replacement. For this purpose, brake pads, clutches and different components of the engine are also available through salvage purchases. Ensure that you buy parts compatible with the make of your snowmobile. The parts of one model are usually not useable in another model.
If you own a vintage snowmobile, it may be difficult to locate the right component. Most of these vintage parts are not available through a retailer. You can get the vintage parts as salvage parts. Salvage parts are available for different vintage models. Buying salvage vintage parts is the best option for your older Yamaha snowmobile.
Ready for a ride in the snow? Click the blog header to purchase an entire salvage snowmobile via Autobidmaster now!
Latest posts by AutoBidMaster Staff Writer
(see all)