If you're repairing a salvage Harley Davidson, study these tips before cruising down the road…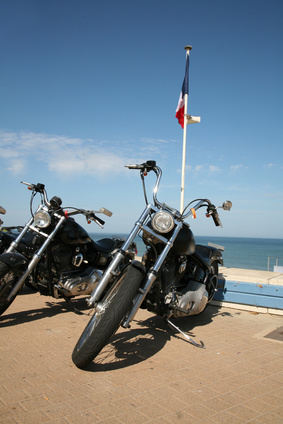 If you're an experienced rider who's repairing a salvage Harley Davidson, you probably already know the basic safety precautions bikers should take while riding. For those just starting out, adjusting to riding a motorcycle can be a process. Regardless of your experience, always use these safety tips to reduce the risk of danger.
Wear the right gear
Not only is a motorcycle that fits your body necessary, but so is the right helmet, clothing and shoes. A loose-fitting helmet could cause more damage in an accident than riding without one. Make sure your helmet is tight-fitting and fastened around your chin. It shouldn't be able to move while you're riding.
Most bikers wear leather clothing because it's a strong material that can protect skin from the pavement in the case of an accident. When you're riding fast, even a small bug or stone will sting if it hits your skin. Protecting your feet is another issue, because it's easy to get burned by the hot engine and exhaust systems. You won't regret investing in a sturdy pair of leather boots.
Check the forecast
Even if it's a beautiful, sunny day, it never hurts to check the weather forecast before riding. Getting caught in a storm is dangerous. Two wheels provide much less traction than the four wheels on a car. Even the best helmets can't provide good visibility in the rain and other drivers might not be able to see you.
In the case of an unexpected storm, always remember to stay calm. Riding in the rain is possible, but requires extra caution. Accelerate slowly, and leave plenty of distance from other vehicles to brake and stop early. Don't forget that waiting out the storm is always an option, too. Your family and friends will be much happier knowing you are safe than if you risked your life to arrive at a certain time.
Teach your passenger
Anyone riding with you should follow the same rules you do. Make sure he or she is wearing proper clothing, including close-toed shoes and a good-fitting helmet. Go for a slow test ride with your passenger so both people on the bike knows how it feels to turn and stop with two people riding. Remind your passenger not to distract you while you are driving.
If a child wants to ride with you, check your state's laws. Some states restrict passengers under a certain age. Teach your passenger to lean into turns and where to hold on that's most comfortable for you. Never pressure people to ride with you if they are uncomfortable. This could lead to panic, which could result in an accident.
In the first nine months of 2013, there were 3,638 motorcyclist fatalities nationwide, according to The Governors Highway Safety Association. To avoid getting hurt, follow these safety tips and the other tips you learned while learning to ride. When your salvage Harley Davidson bike is fully repaired, you are bound to feel safe and confident with every ride.
Latest posts by AutoBidMaster Staff Writer
(see all)