A Jet ski rental business has fairly humble prerequisites, as to get started, all you need is a coastal location that attracts people, the understanding of a jet ski's operation and maintenance, and of course, some reliable jet skis. When you start digging deeper, however, you realize that there are some small challenges that you have to overcome in your quest to start the business, such as obtaining an appropriate business license. If you feel you can run this type of business, this brief gives you information on some of the basics and how to keep your startup costs low.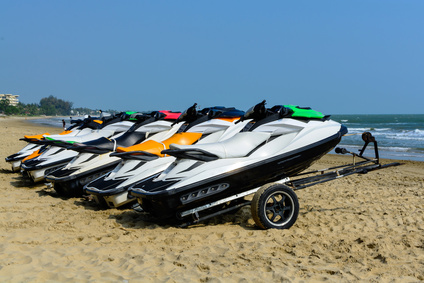 1. Not all Open Water Bodies are Conducive Waterways
Not all places have potential for good returns when it comes to a Jet Ski business. Firstly, you need to find a location that is conducive to your enterprise. The key to finding a great location for Ski rentals is locating a place characterized by a surge in tourists, and where water sports are in high demand. While some water bodies are unfavorable for water sports, some are protected by federal and environmental laws. It is important to explore your local geography and get acquainted with local, regional, and environmental laws before investing yourself in any specific location. Even if your shortlisted area has its share of water sports machinery for rent, it is still wise to cross check with laws and regulations in that area.
2. Consider Investing in Salvage Jet skis
Setting up a Jet Ski rental business is an expensive endeavor, as you need a startup fleet of jet skis. They are expensive to buy, run, repair, and maintain. To get you started and ensure that you don't overshoot your budget, you can go for salvage Jet Skis for sale. The cost of brand new Jet Skis ranges from $2,500 to $10,000, depending on the make and model, whereas a salvage Jet Ski for sale can cost half that much. You also need to invest a little cash towards repairs and touch-ups to ensure the equipment works perfectly.
3. Seek the Right Insurance Coverage
Accidents and glitches are commonplace in any ski rental business, and therefore, it is essential to have a comprehensive insurance plan in place, covering all your equipment. Also, it is advisable to partner with an insurance provider ready to provide short term rider insurance cover. When you apply for any insurance, you are expected to have at least some experience in the industry. As most insurers don't provide any insurance cover if you don't have at least 36 months of industry experience. To prevent any such hurdles, consider taking up a job in another jet ski rental agency so that you can learn the ins and outs of what it's like to take care of the equipment and provide a safe water sport experience.
4. Factor in all Overhead Costs
There are three primary costs that are often overlooked when calculating the total overhead costs of a jet ski rental business, such as:
Storage Cost
When operating a jet ski business, it is obvious that you would require space to store your jet ski's when they are not in use. Keeping them behind a fenced facility really works, but real estate close to water bodies can be expensive. Don't forget to include this land cost into your overall costs of running the business.
Fuel Cost
Although you can charge customers for the fuel cost, fuel prices are always changing. It is likely that one day you would be making money due to low fuel price but losing it with sudden increase in the price. This is another important factor you must consider when calculating total business overheads.
Maintenance Cost
Different jet skis have different lifespans, and if you are purchasing salvage jet skis, they may require frequent maintenance. It is important to include maintenance costs in your overheads. If possible, try to keep a contingency fund to meet unprecedented requirements for capital investments during business operations.
5. Know the Right Time to do Business
As jet skiing is a water based sport, it is inherent that not all days will be business as usual. Part of your responsibility towards the safety of your clients is to know when to close shop and wait for the best time. In addition, you need a demarcation line in the waters and advise your clients on the distance they can travel and where it becomes dangerous to continue skiing if you have crossed the line.
The Bottom Line
Some people think that setting up a ski rental business entails simply purchasing ski boats and putting them up for rent. A lot of groundwork is required, ranging from finding the right location to scouring the market for affordable equipment, among others. You need to educate your clients on various safety requirements and proper handling of the boat during skiing to avoid loss of life and limb as well as damage to your equipment. When starting a ski rental business, you need to secure a number of work permits including local and regional permits to operate. In addition, you are likely to need a sales tax license and a proper insurance cover to safeguard your business in the event of mishaps or legal woes.
Latest posts by AutoBidMaster Staff Writer
(see all)