Although it's usually the Harleys that come to mind when people talk about buying "cruisers", the Kawasaki VN1700 is a worthy option. It's a decent alternative to the Harley tourers and less expensive when compared to the likes of Harley Street Glide and Victory Cross Country. What makes it a prominent name in the salvage motorcycle auctions and other places is that the bike retains the Kawasaki Full-voyager's powerful engine, but less bling, thereby rendering it more manly and giving the impression of a lighter bike. Here's some more information on the Kawasaki VN1700 to help you decide if it's the right cruiser for you.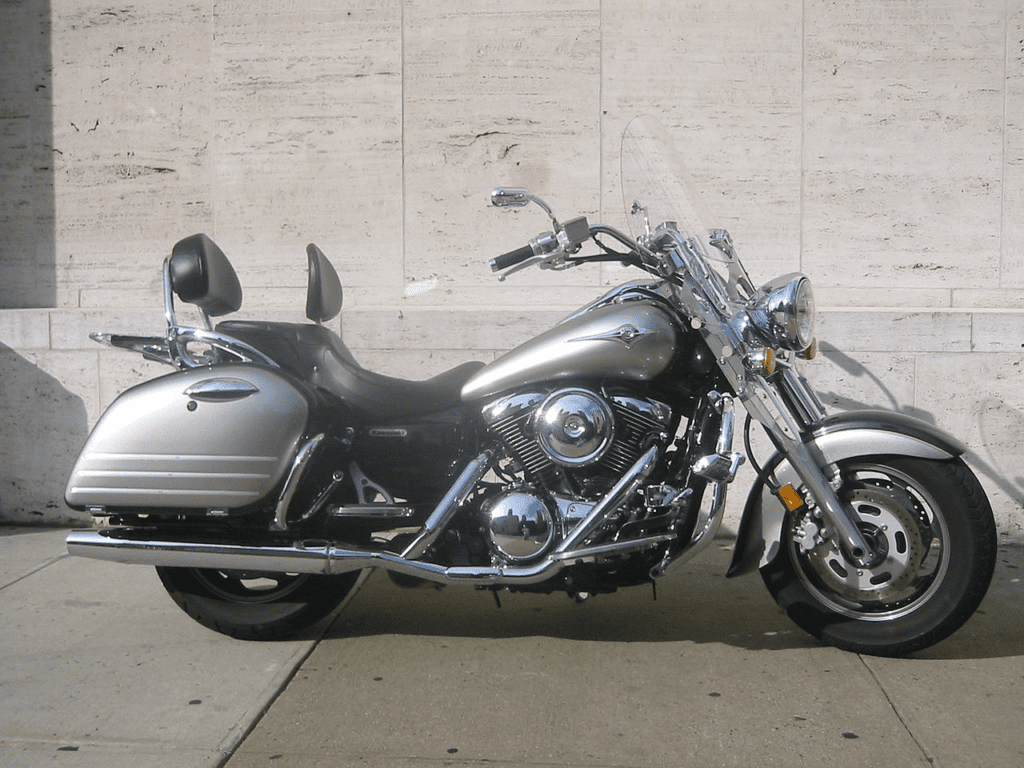 Engine and Other Specs
The VN1700 is powered with the 1700 cc V-twin, four-valves-per-cylinder engine that delivers 72 bhp@5200 rpm. It comes with a six speed transmission and the engine offers enough power even in the top gears to overtake other vehicles–thanks to its electronic throttle actuation system that helps control the amount of air intake. The maximum fuel efficiency is 35 mpg, which is normal for such massive cruiser bikes.
Built and Design
Although the VN1700 is lighter than the Kawasaki Full-voyager, it weighs a good 382 kgs. That's still 30 kgs more than the Harley Fatboy. Short wheelbase, less distance between the steering head, and the seats, contribute to stability, making maneuvering the bike easy at low speeds. The chromed headlamp cover and twin fog lights gives it the look of a two-wheeled muscle car if you see it from the front. Besides, the VN1700 comes with a 13.2-gallon lockable case that provides ample storage to fit two full face helmets.
Costs
If money is your consideration, the VN1700 can lure more than the Harley Street Glide and Victory Cross Country. For instance, a 2014 VN1700 can cost approximately $3000 less than a 2014 Harley Street Glide. If you are lucky to find it at a salvage motorcycle auction, you may save even more.
Accessories
This is yet another area where the VN1700 beats many cruisers out there. It comes with multiple standard goodies, from an ABS system to a twin 40-watt speaker. Other important technologies and features that make it appealing include a cruise control system, side bags on the rear, and a high-mount fairer for comfortable longer rides.
Conclusion
The Kawasaki VN1700 has all the features — power, comfort, and reliability– to make it a great long distance bike. In fact, it's a sleeker, meaner, and cheaper machine than the Kawasaki Full-voyager, which makes it prominent both in the brand new motorcycle world and salvage auctions. If, however, money is a constraint when shopping for a bike, you can check out our inventory. Autobidmaster maintains a huge collection of salvage and repossessed bikes that are available at unbeatable prices. We keep adding newer bike models to our inventory, many of which are good to go on the road after minimal repairs. To learn more about our services, call us at +1 (503) 298-4300.
Latest posts by AutoBidMaster Staff Writer
(see all)