Getting ready to buy a vehicle? You can negotiate its price – in certain cases.
If you're thinking about buying a new or used vehicle, you may be asking yourself this age-old question: "what kind of discount can I score at a car dealership?" There are many differing opinions around the issue – some say you can talk a dealer down on a used car about 20% of its asking price, and others claim that profit margins on used cars at dealerships are about as slim as they get, meaning there's very little wiggle room to negotiate car prices.
We're not here to answer that question, though. We're here to talk about negotiating the price of a vehicle in the "Buy It Now (BIN)" section on AutoBidMaster. There are a few things the two have in common, though, and the most important aspect is being ready to walk away. If you've set a budget for yourself, don't exceed it. You set it for yourself for a reason, and you already know that going over it may create serious financial setbacks. So if you make an offer on a car, be it through a dealership or through an online salvage auction like AutoBidMaster.com, stick to your guns and don't go over your budget. Another car will come along that'll fall within your price range, so be patient.
Negotiating car prices from the Buy It Now inventory
So, now to negotiating car prices on vehicles through AutoBidMaster.com. Vehicles that have a Buy It Now option have a negotiable price in certain cases, mostly when they're being auctioned by a private party. For vehicles being sold through insurance agencies, there often isn't any wiggle room for BIN vehicles. Sometimes, the "Make an Offer" option isn't even available on vehicles with BIN prices. If it is, however, it'll look like this: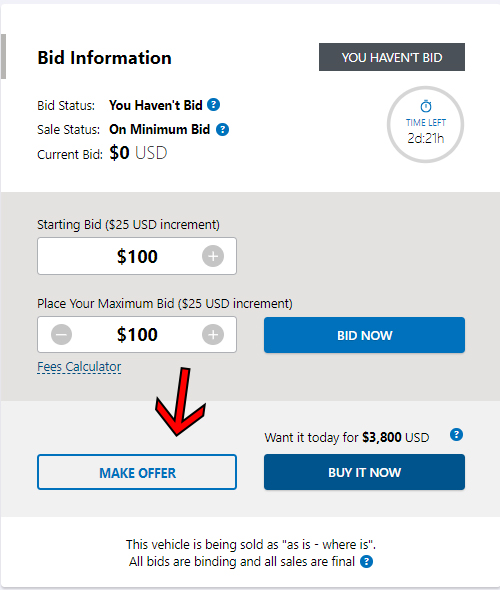 So, if you see that little button on a lot page, there's a chance of buying the vehicle at a price lower than the BIN.
We're in contact with auction yards' liaisons: they have a specific "Make an Offer" team that we communicate with. The way the process works is that you submit your offer, either by clicking that button or by calling our office at +1 (503) 298-4300, and then we'll negotiate on your behalf with the auction yard. They'll contact the seller directly, and the seller has up to two business days after the offer is made to accept before it's thrown out. But where do you start?
Let's say we're looking at an auction that has a BIN price of $16,000 (this is an arbitrary example for the purposes of this article) and you want to make an offer. We need to start at a reasonable place, and we've found that most sellers want to receive (on the lower end) within 15% of their requested price. This is all subjective, though: some sellers won't budge at all, and some will be more flexible. If a vehicle has been up for auction multiple times, there's a better chance that the seller is willing to negotiate on the price. If it's the first time a vehicle is up for auction, though, they're more likely to stick to their price and wait out the auction to see if the vehicle sells for more.
So, given our arbitrary $16k buy it now price – a good starting offer would be somewhere in the range of $13,600.
The back and forth of negotiating
Given the history of vehicle negotiations, they'll probably come back with a counteroffer. If they don't, then great! You've got yourself a vehicle. If they do, though, that may mean that they're trying to see how high you'll go, so be ready to counteroffer their counteroffer, if you will. There may be a fair bit of back-and-forth on both the seller's end and yours to come to a conclusion. Again, keep in mind, this is on a person to person basis, and the seller may refuse to budge on any offer. We've seen offers of $50.00 less than the Buy It Now price rejected by the seller, because they're hoping they can get the full price for it, so don't be discouraged. Our inventory is updated every single day, so you have lots of options.
So. In a nutshell, when you're making an offer on a vehicle through AutoBidMaster, research the market value of the vehicle and be realistic with your expectations. 10-15% below the asking price serves as a reasonable guideline, depending on the vehicle, it's condition, how long it's been up for auction, and so forth. If you present an incredibly low offer right off the bat, the seller will likely reject it without a second thought. Make sure you're starting from a place that both parties can work with, and everybody may end up happy. Just remember, every auction is different. Also, please keep in mind that the negotiated price, final bid at an auction, or a Buy It Now price does not cover all auction and documentation fees or shipping costs – so please use the Fee Calculator located on every lot listing page to make sure you're still within budget. Every lot listing page has a shipping quote calculator from EasyHaul on the right hand side of the page to help you plan accordingly, too.
Another important thing to note is that once you've made an offer – you're gonna have to stick to it. Our Rules & Policies discuss this in depth, so please give them a once over.
Now you know, so go and negotiate!
Now you know how to negotiate car prices, so check out all of our Buy It Now vehicles right here, and maybe you'll find the perfect vehicle and start negotiating today. Just call us at +1 (503) 298-4300, text us at +1 (503) 897-9799, or email us at [email protected] and we'll be happy to help you through the process.
Latest posts by AutoBidMaster Staff Writer
(see all)