Get the most out of your online auto auction photos
When you're browsing through clean and salvage title cars for sale through an online auto auction, there can be an overwhelming amount of information thrown at you in each listing. From start codes to damage types to shipping quotes, what is going to give you the most important information?
The quickest way to get an overall idea of a vehicle's condition (aside from the title type) is to simply look at the photos. Obvious issues are displayed right in front of you, but be careful: it's easy to miss key indicators in photos if you don't know what you're looking for. You think you're looking at a car, but you might be looking at a lemon that's the shape and color and model of the car you think you're looking at.
In this post, we're going over five specific things to look for in the photos provided by auction yards. Keeping an eye out for these things will help you make the most informed decision possible when buying a salvage car through an online auto auction like AutoBidMaster.
1. Check for keys
If you want a car that's as close to driving condition as possible, you're gonna need the keys. The best way to check for keys regardless of what the listing states is to make sure they're physically present in the photos. If the vehicle comes with keys, they're typically hanging around the steering wheel with a yellow tag attached to them. Like this: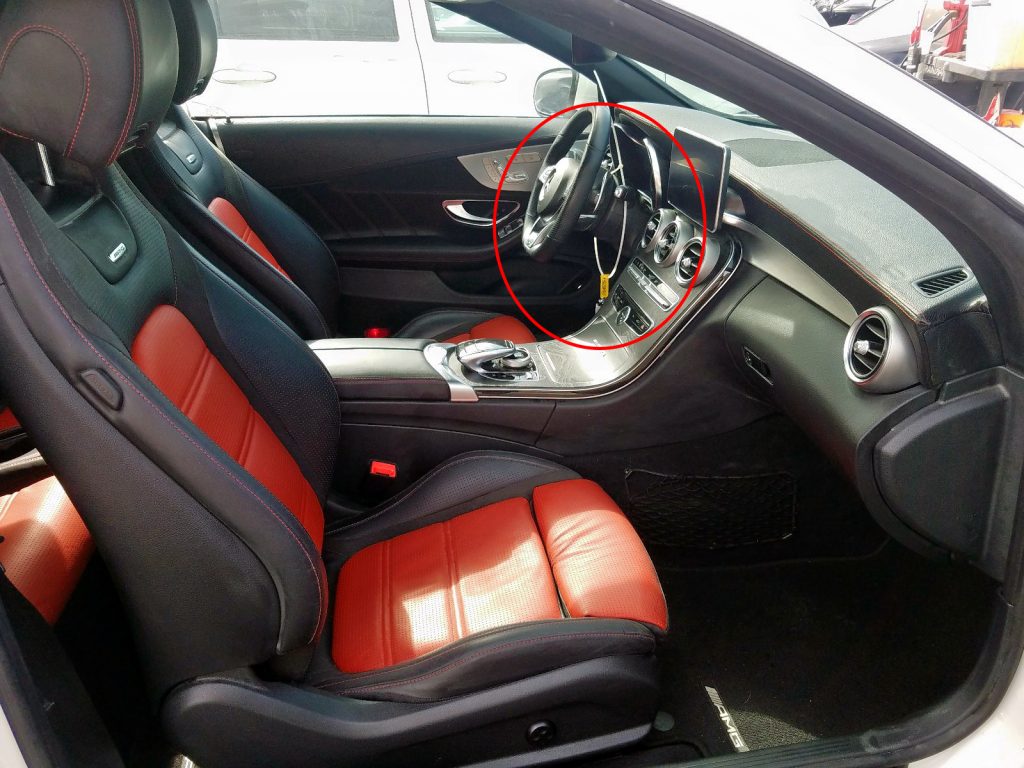 If you don't see them in the photos, you can give us a call and we can check on their actual status for you. In some cases auction yards will hold on to keys in their office rather than leaving them with the vehicle, so it's always best to double check.
2. Look for pooling liquid near the vehicle
Is the ground around the vehicle dry? You can't always tell, but if the photo was taken on a pretty dry or sunny day and there's an odd pool next to the vehicle itself, that can indicate a leak of some sort. Let's look at an example: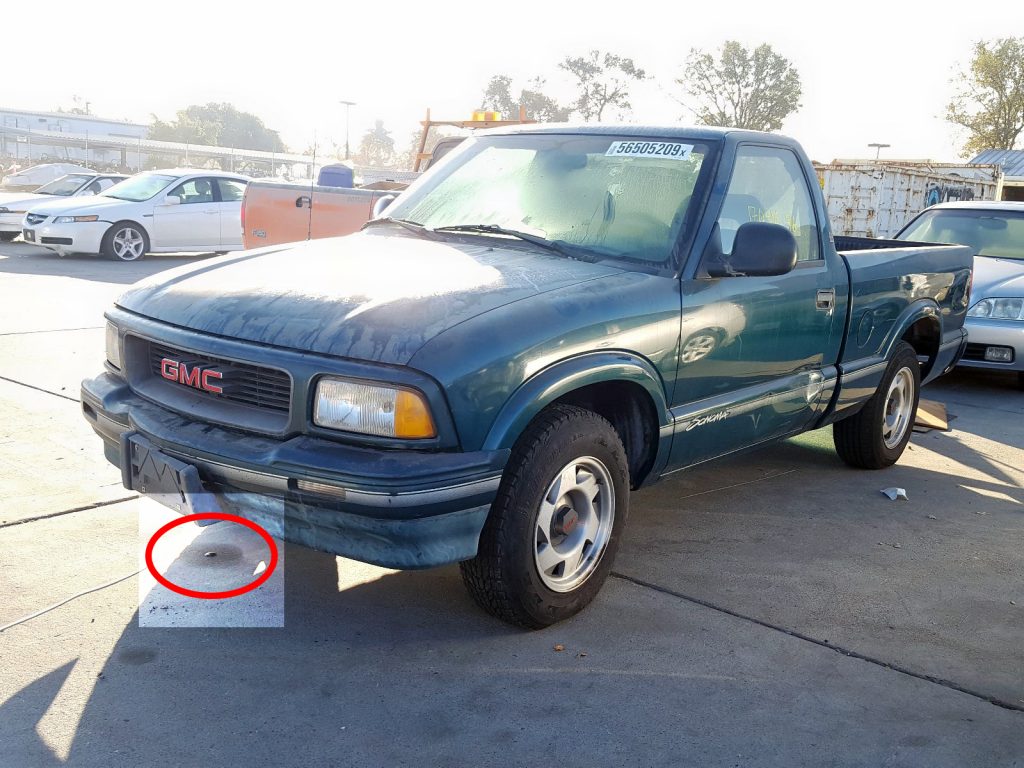 There's just a tiny little spot of liquid under the truck's engine. This could be nothing – it could be remnants from a different vehicle, but at the very least it's something to look in to. In a case like this, this could mean unexpected damage or mechanical issues and you should definitely have the vehicle inspected before placing any bids.
3. Check the panel gaps
This is a guideline more than a definitive measurement, but you check to see if there's anything obviously wrong with the panel gaps. Particularly if a vehicle is listed with "damage history" or "partial repair."
Check out this 2005 Honda Civic. At first glance, it looks to be in pretty decent shape, but let's take a closer at the panel gaps between the front quarter panel and the hood.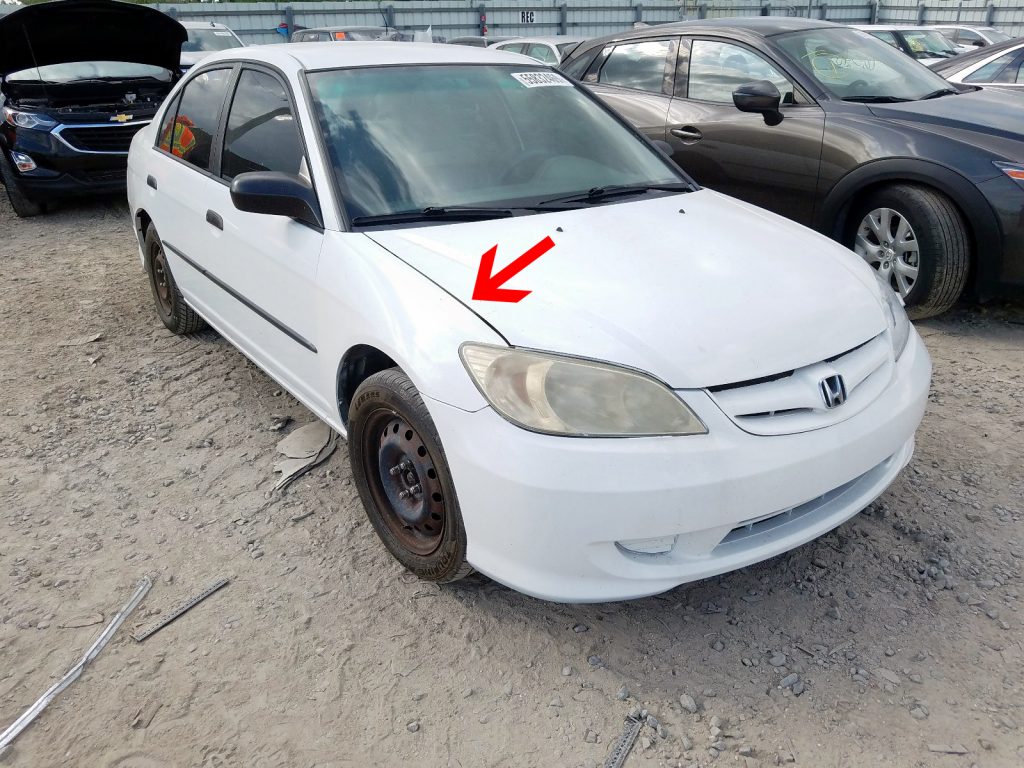 See how the gap starts narrow but widens towards the front of the car? That could mean a lot of things. Maybe the hood just isn't secured, or the vehicle has been in a front-end collision and there might be frame damage. This is another thing that looks minor but can indicate serious problems with a vehicle.
4. Photos of the engine bay
First and foremost: make sure there's an engine in there. No joke. We've seen vehicles that look to be in perfect condition but are completely missing their engines, so don't skip out on that photo. If there isn't a photo of the engine bay at all, that may mean that something is missing or very clearly damaged.
Here's the engine bay from a 2008 Hyundai Elantra.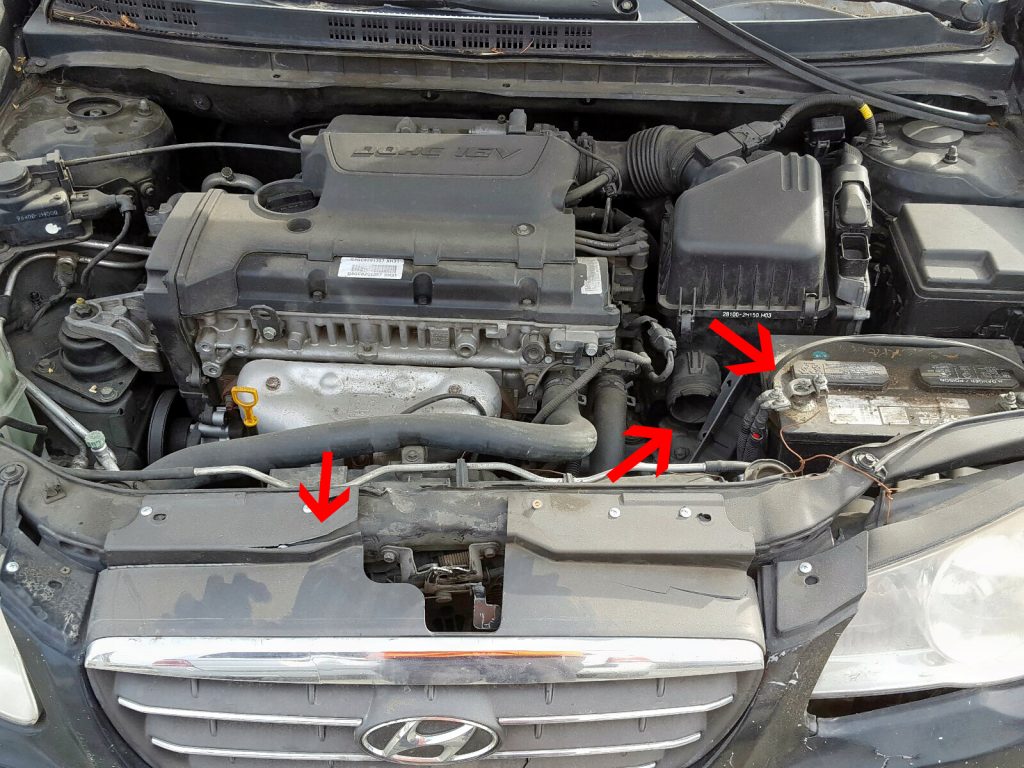 There are a few obvious issues here, aside from it just being dirty (but that's not unusual). First, obvious damage to the bumper – while the vehicle itself was clearly in a front-end collision, it may not always be so evident. The bumper may look to be intact but upon closer inspection there may be hidden damage.
Second, the battery connector appears to be corroded. This also isn't wildly unusual, but it could mean the car won't start, even if it's listed as run & drive. Like other issues mentioned throughout this blog, this may warrant an in-person inspection.
Third: the intake is missing entirely. It's always a good idea to compare photos of the engine bay that are from the salvage yard to a quick google search of a stock engine bay to see if anything glaringly obvious is missing.
But again, the most important thing: make sure there's actually an engine in there if you're expecting one!
5. Wheel alignment
If you're breezing through photos, you may overlook a detail that looks acceptable in their individual photos, but when considered side by side can indicate some pretty serious damage. Lets take a look at this 2008 Subaru Legacy.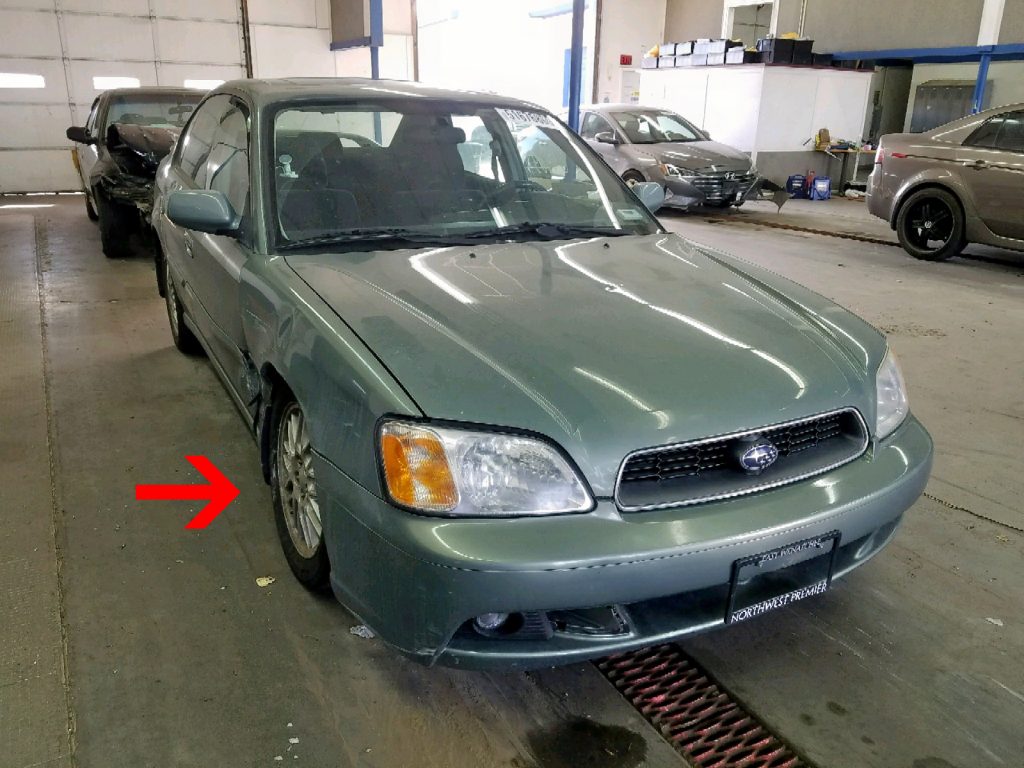 Doesn't look so bad at a first glance, there's some damage to the passenger side but it looks to be in decent shape overall.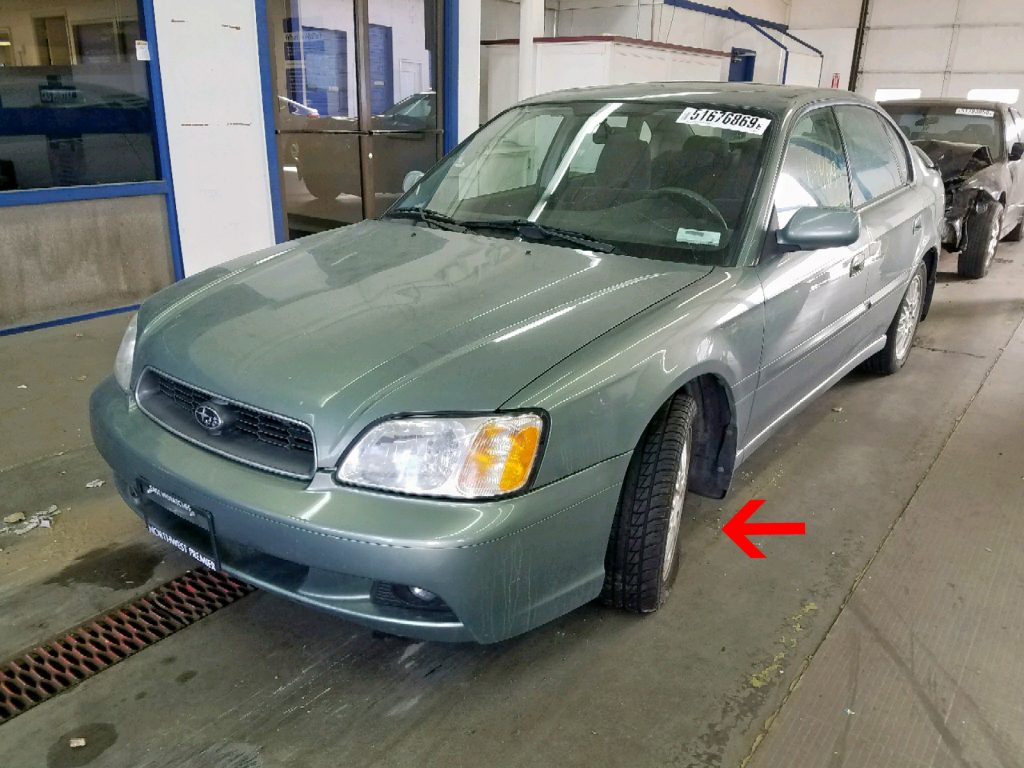 Now you should be concerned. If you're looking at the photos with a quick glance on their own, nothing appears to be amiss. But given the combination of the two, it's obvious that there's a bent or broken axle. The vehicle may even be marked as run & drive because it technically can go forward and backward a few feet on its own power, but that doesn't mean that it will always be in operable condition.
Take a close look at the angle of the wheels on both sides of the car and make sure they match up. It'd be a bit unusual for whoever is taking the photos to turn the steering wheel halfway through their walk around of the vehicle.
Tackle your online auto auction with confidence
All the information that's relayed to AutoBidMaster comes directly from the salvage yard, but we cannot guarantee its accuracy. We strongly recommend getting a ClearVIN VIN Check Report to take an accurate and detailed look at the vehicle's past, including insurance claims, auction history, changes to the title, and more. A license plate search from ClearVIN can also help you reveal important information about a vehicle, such as its registration status, accident history, and even its previous owners.
Beyond that, it's important to have the vehicle inspected. If you can't inspect it yourself, you can hire a 3rd party service to inspect the vehicle on your behalf. If you can make it yourself, check out our interior and exterior used car checklists to help you make the best decision before placing a bid. Now you're better equipped to inspect photos from an online auto auction, so start your search with AutoBidMaster today.

Latest posts by AutoBidMaster Staff Writer
(see all)