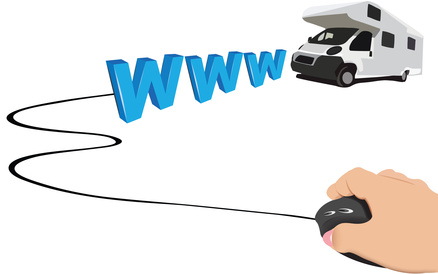 A recreational vehicle, generally referred to as a RV, is a motor vehicle that boasts numerous amenities found in one's home. For instance, RVs typically have bathrooms equipped with showers, fully functional kitchens, and a sitting area that converts into a bedroom. Although generally used for leisure, like camping and vacations, RVs can be lived in full-time. In high-tourist areas, RVs can be rented. When used for travel business, RVs can be equipped with desks, sophisticated electrical systems, and satellite internet. RVs vary in size and make. For instance, some RVs are customized to fit over other vehicles, like a pickup truck, and others resemble busses, with a driving cabin and towing capabilities.
Because of their growing popularity and sophistication, RVs generally require routine maintenance. Sometimes, the vehicles might need replacement parts. Such parts range in price, and might include plumbing or electrical parts, hoods, canopies or other covers, automatic functions, leveling issues, and cosmetic fixes, such as custom cabinetry. Like most other vehicles, replacing such parts can be expensive. Therefore, owners should consider used RV parts if one runs into replacement needs.
Clearly, used RV parts are more affordable than factory-issued, new parts. When faced with major repairs, like a faulty plumbing system, one could face thousands in repairs. Therefore, it is often cost effective to purchase used RV components to remedy such problems. In addition, mechanics might find it advantageous to purchase used RV parts in bulk to meet customer's needs. However, the most effective way to ensure that a dealership has a constant supply of used parts is to purchase a salvage RV.
For example, many dealerships and mechanics require plumbing parts for RVs. Because new plumbing parts are notoriously costly, the mechanic might opt for used parts instead. In addition to their cost effectiveness, used RV parts save one time and energy. For instance, to purchase individual, salvage parts, a mechanic might visit a salvage yard onsite. Searching for one particular part can be an arduous process, especially if one has a long commute to the salvage yard. Therefore, online auto auctions, such as those facilitated by Autobidmaster, are gaining popularity. In addition, a mechanic or dealership might save even more money by purchasing a salvage RV, therefore having access to numerous parts.
Autobidmaster sells salvage vehicles from Copart Auto Auctions. These vehicles can be found in near-mint condition, and, as stated above, purchasing a whole RV offers one numerous, high-quality parts. Autobidmaster.com also facilitates online auto auctions, which are a convenient and relatively easy way to acquire a salvage RV. Not only will mechanics and dealerships save money by purchasing an entire used vehicle, but the RV will be directly shipped to one's body shop for an affordable price. Because auto auctions via AutoBidMaster occur online, one saves the time, energy and resources needed to physically visit salvage yards.
Buying a complete salvage RV is also beneficial for a mechanic's business. Able to serve customers better, the body shop will have a continuous supply of used, yet high quality, products.
Via Autobidmaster, one can purchase salvage RVs at an affordable rate. To learn more, click the blog header now!
Latest posts by AutoBidMaster Staff Writer
(see all)