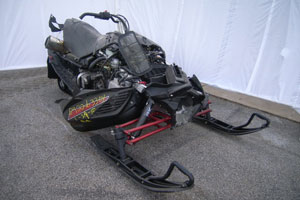 The thrills in a snowmobile race are no less than NASCAR. Your heart races as the speed reaches 100 miles per hour on the oval ice-track. If you are adventure sports enthusiast, you cannot deny the excitement of riding a snowmobile. It is a recreational vehicle and so it's expensive to buy. Not everybody can afford to buy one. One option is to buy a wrecked snowmobile and get it repaired and renovated by a good mechanic. It is not difficult to find a good salvage company offering these recreational vehicles if you search for them online.
Some of these vehicles are bought exclusively for parts and they are used to repair the existing damaged snowmobile. Used parts of such vehicles are much cheaper than buying the new ones and so they are affordable. You might ask about the quality and the condition of a used vehicle part. These parts are tested and made sure that they work well and give you value for your money. You can easily get all kinds of used parts that you will need from the internet. An online sale can save you thousands of dollars on your repairs. A good website can help you locate the right part as their collection is quite extensive.
You can rely on these online salvage houses for any kind of auto part. You can get a sled or a cowling. A major part of owing a snowmobile is understanding its parts and their functions. A cowling is an important part and is always in high demand. Since it provides the first line of defense, new and quality-tested cowlings are often purchased. Other parts of the vehicles also provide safety and appeal.
When in good condition, parts can be sold or resold on these sites. This means that if you have a snowmobile that has been badly damaged, you can get the benefit of selling it at an auction. This way you can make some money from the vehicle that you previously thought of hauling to the junk yard.
Latest posts by AutoBidMaster Staff Writer
(see all)