As an auction broker for the largest online auto auction in the United States, there are a lot of factors that come into play when we offer additional services to our members. From shipping to vehicle background reports, we do all we can at AutoBidMaster to bring you the best services for the best online auto auction experience we can. That includes our friends at ClearVin, who we trust completely when it comes to vehicle background reports.
Why is ClearVin reliable?
The biggest thing that makes ClearVin a reliable source for vehicle background information is the breadth of agencies they get their information from: The National Motor Vehicle Title Information System (NVMTIS), The National Automobile Dealers Association (NADA), National Vehicle Services (NVS), and the National Traffic Safety Administration (NHTSA).
In addition to the aforementioned organizations, ClearVin also uses financial institutions, federal agencies, and local departments to create their reports.
What does ClearVin provide?
In terms of vehicle background, they truly take the mystery out of the history. Not only will they help protect you from odometer fraud by providing reported mileage from different stages of the cars life, but they can help protect you from practices like title washing – where a vehicle is registered in a different state to avoid displaying a specific brand – which can really change the value of the car. They also help prevent you from buying stolen vehicles with free VIN decoder. They also provide vehicle ratings to give you a much more accurate picture of a vehicle's overall worth. This includes title brand history, retail value index, primary and secondary damage, odometer readings, and more to give you a much better picture of the vehicle's overall condition.
Another option that ClearVIN provides is a license plate lookup. It can reveal important information about a vehicle, such as its registration status, accident history, and even its previous owners.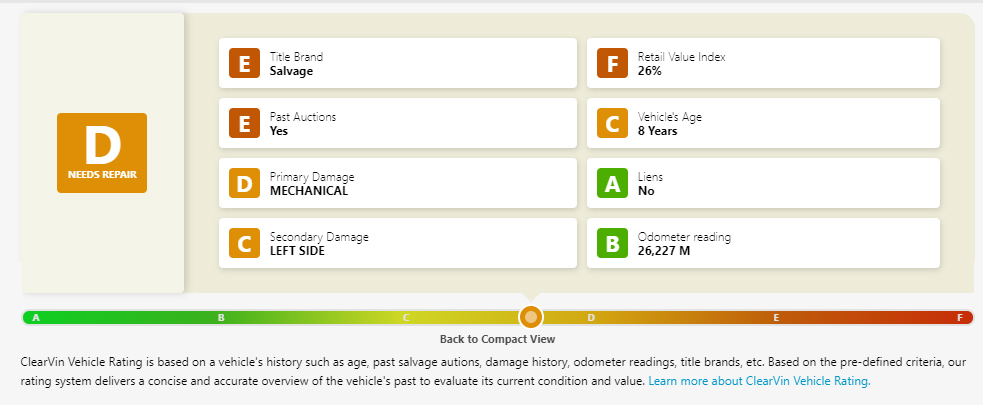 AutoBidMaster members get free reports
We're so confident in ClearVin's reporting that our Advanced and Premium members get free vehicle background reports. Here's a breakdown of what you get for each of our membership levels: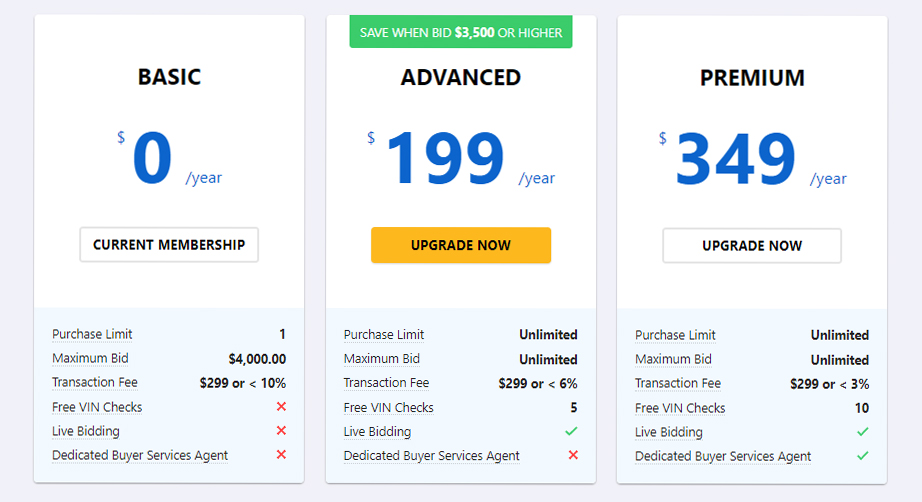 So not only do Advanced and Premium members get discounted transaction fees, access to live auctions, estimated recommended bidding, and other features, but Advanced members get 5 free VIN reports and Premium members get 10 free VIN check. You get the clearest picture of the history of any vehicle you're interested in bidding on to help you make the most informed buying decision before placing a bid.
If you're ready to upgrade your membership you can do so right on our site under your account settings, or if you haven't registered yet, you can do so here or by clicking the "Register Now" button at the bottom of the page.
For any other questions, feel free to give us a call at +1 (503) 298-4300 between 6:00 AM and 4:00 PM, Monday through Friday, Pacific Standard Time, email support@AutoBidMaster.com, or contact us through Viber or WhatsApp at +1 (503) 473 9895.
Happy bidding!
Latest posts by AutoBidMaster Staff Writer
(see all)