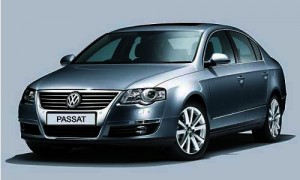 The Volkswagen Passat was launched way back in 1973 and the company has sold over 15 million of these cars since. This is a testimony to the fact that this model is a favorite of those who look for a middle path between a usual family car and a high end luxurious one. It is classy yet not opulent and has a refined character to its drive. All versions of the Passat model from VW give a distinct impression of simple elegance and high quality. If you want to buy a car with quality interiors, competent handling and an engine that gives a smooth ride, the Volkswagen Passat fits the bill.
The latest Volkswagen Passat models are becoming more affordable
The Passat has undergone several alterations to suit the changing demands. As the model was launched to compete with affordable family cars, the latest models are priced much lower than the previous ones. Thus, buying a brand new one is always an option. However, if your budget is restricted, even a salvaged one is a good bargain. Of course, you will need to spend a considerable amount on its repairs, but that can be easily counterbalanced by the low price of a salvage VW Passat. In fact, you may end up owning a car with a luxury feel at a fraction of the cost of buying it brand new.
Used VW Passat can be more appealing
The price of the 2014 Volkswagen Passat Sedan is $20,845 while that of the diesel model is more than $26,000. Thus, it is in the budget range of car owners who cannot afford luxury cars as they are financially out-of-reach. However, for those who hold a desire to own a luxury car from the prestigious European car brand, previous versions of the Passat are more appealing than the latest ones. The earlier versions had much more of a premium feel about their styling.
You can buy the Volkswagen Passat with a clean salvage title simply by logging on to a reputable online salvage auto auction. After paying security deposit, you can place an online bid on any salvage vehicle listed on the site. If your bid is the highest, the representatives of the auction site try to win the vehicle for you at the live auction.
Latest posts by AutoBidMaster Staff Writer
(see all)