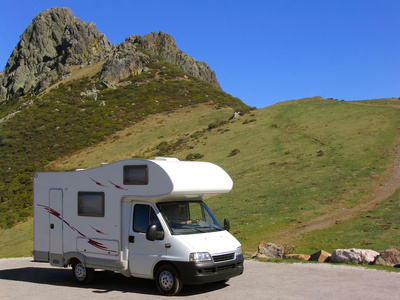 For many, summers are meant for picnics and long drives. With the windows rolled down and tunes of your favorite song in the background, hitting the road in your recreational vehicle is no less than a picnic in itself. This is why these recreational vehicles are often referred to as 'the toys of summer'. Recreational vehicles (RVs) are great partners when you are out on a road trip. Equipped with practically everything that you have in your house, these RVs include a room to sleep, place for shower and it is also possible to set up your kitchen set and personal refrigerator. A home away from home, journeys in RVs can be perfect for people who like to relax while staying close to nature.
No wonder that buying an RV is a dream for many. However, many people cannot realize this dream because of the high price tag attached to such vehicles. Usually, even the dealers' discounts aren't enough for the buyers. Salvage vehicles can be a good solution in such cases. Salvage titled vehicles can be purchased at affordable prices. A lot of auctions put such vehicles for sale and buying used RVs from these sales is not a bad idea.
Things to keep in mind
Vehicles damaged by collision or flood are often considered a total loss by insurance companies and therefore, are written off. You can get your salvage RV fixed and repaired with the help of a person with a knack for electrical and mechanical repairs. Here's a checklist before buying and going for repair of a salvage recreational vehicle:
Sorting out your needs makes the purchasing process easier. Are you looking for high-end facilities? What are your expectations from an RV? You probably want a no-frills vehicle? Answers to these questions will clear your thoughts on your budget for purchase and repair.
While looking for a salvaged RV, be on the lookout for superficial or bodily damages. Problems like a bent frame, suspension problems, steering issues or driveline issues can make your deal worthless. Also, in vehicles that have been damaged by rear-end collision, many secondary issues can arise, if not immediately, then later on. Although, such vehicles may be perfect for extracting parts for other vehicles.
For repair work, it is always preferred to source the parts from local shops. This would save you from running hundreds of miles for the smallest part in case you want to go back to the same shop. This would save you money on the already expensive repair work of your recreational vehicle. Also, these parts need to be purchased from reliable sources, so that during the long road trip, the faulty electrical or mechanical problems don't make your trip a nightmare. One can also find them online.
A recreational vehicle has a complex system of electrical and AC systems. It is important to engage a skilled mechanic for the repair work to avoid future overhead expenses.
It is always recommended to check the vehicle's registration and title issues. Online auction houses generally take care of these areas and also ensure a hassle-free purchase.
Online auction sites provide a wide database of salvage recreational vehicles and their parts. The products offered at these websites are of high quality and save from settling for inferior parts. The wider the options, the closer a buyer gets to his or her vision of a dream recreational vehicle. These sites provide many options for both vehicles and parts; a wider choice means better chances of making the right purchase.
Latest posts by AutoBidMaster Staff Writer
(see all)