Auction vehicles sold through AutoBidMaster go through two separate phases of bidding. First is Preliminary or Pre-bidding, which begins when a vehicle is assigned a sale date. During Pre-bidding, you can place your initial bids on the vehicle. The highest bid at the end of Pre-bidding becomes the starting bid for the live auction. Pre-bidding ends an hour before the start of the live auction, and the highest Pre-bid becomes the starting bid at auction.
To place a Pre-bid, just enter your maximum bid on the item's Lot Listing page. This maximum bid will not be shown to other bidders, and the Bid4U feature will bid in small amounts up to your maximum so that you can win the vehicle for the lowest cost possible. For example, take this Pre-bid:

If you were to put $300 in this box, Bid4U will bid $30. If somebody comes by and bids $35, it would increase your bid to $40, and so on up to your maximum of $300. Note that the default increments are $5 in this example, but you may see some other increments as well. To maximize auction efficiency, the default bidding increment is optimized for each item.
Now, live auctions go a lot faster than Pre-bidding. Blink, and you might miss that ideal vehicle. We recommend viewing a few live auctions before you are ready to bid, so that you can get a feel for the pace. If the current bid at live auction is still below your maximum bid, our system will automatically bid for you up to that amount, just like in Pre-bidding. The best way to ensure that you are not outbid, though, is to participate in a live auction.
When preparing for the live auction, take careful note of the vehicle's lot and item number. Many vehicles will typically be in one lane and will be auctioned off rapidly one after the other. When you get into the auction area, take a moment to get an idea of how far down the list your vehicle of interest is. You may have to wait for a few other vehicles to complete their live auctions before your item's turn, identifiable by the item number. When your vehicle comes to the front of the line for Live Bidding, place your bids by selecting the button that corresponds to your new high bid in the lower right corner of the sales window. If you are currently winning, you will see a green box saying "Winning" just above the current bid on the right hand side of the auction window. If you need to raise your bid to win, it will say "Outbid" in a red box in the same location.
For example, this is what you will see when you are winning: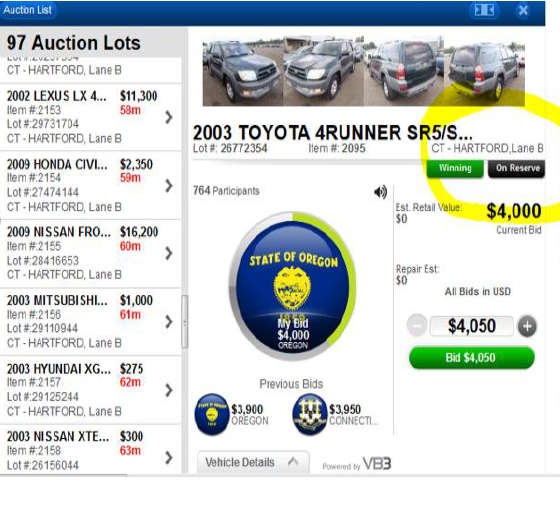 This is what you will see if somebody has outbid you and you need to increase your bid: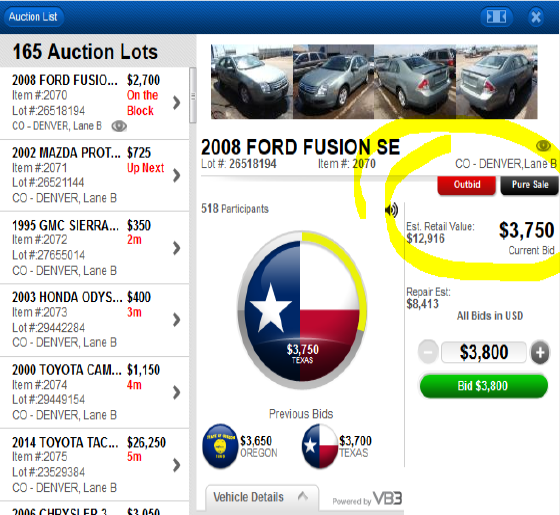 When bidding through AutoBidMaster, note that your profile will show as bidding from Oregon (as shown in the winning example). When you win your vehicle, we'll send you an invoice with payment instructions and information about shipping your vehicle to you.
Now, what are you waiting for? Place your bid today at AutoBidMaster.com! You'll have fun!
Latest posts by AutoBidMaster Staff Writer
(see all)