A pop-up camper is a type of towed recreational vehicle that you can deflate for easy storage and transport. When set up, this trailer offers extensive interior spaces when compared to its deflated volume. It has a comparatively affordable price making it a popular choice for RVers, and its diminutive size enables easy towing, unlike other types of RVs. A pop-up is a modern camping solution for families and other social groups because it provides relatively large bed space in a compact area.
If you are planning a family camping trip, a pop-up camper is the best choice for the job. Online auctions offer good deals and variety in salvage trailers for sale. Campers can be stored at home, saving you several hundred dollars a month in storage fees for big options that can not be deflated to a smaller size. Many pop-up campers weigh less, which means they're towable behind most family vehicles.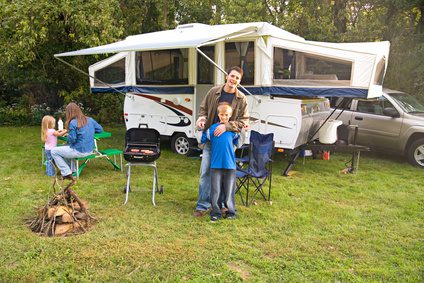 What to Consider Before Buying
Shop around, and look at both new and used pop-up campers, to get an impression of what features you would like. Groundwork, in the form of researching options and digging into their history, is always vital for bidders to arrive at informed decisions.
Benefits of a Pop Up Camper
1.Cost-Efficient
The pop-up camper is a remarkably affordable option, especially when compared to standard RVs. Depending on the amount of money you are looking to spend, you can buy a pop-up camper at the showroom or go for salvage trailers for sale at online auctions. Prices range considerably depending on the features that you desire. Remember to consider the time, effort, and cost that it will take to restore the camper before choosing any option.
2.Convenience
Most tent campers are light enough to be towed using your regular vehicle. Their advantage is that they don't add much weight, and have little wind resistance. Therefore, your gas mileage is not significantly affected. Also, since you tow it with your car, you have the use of your vehicle once you have reached your destination. All this is impossible with full size RVs.
3.Accessible Storage
A pop-up camper is easy to store and can save you lots of money in monthly storage costs. On the other hand, full-size trailers and RVs need exceptionally large areas designated for storage when not in use. They also have the distinct advantage of being able to withstand the elements.
4.Location
Pop-up or tent campers give you the versatility of tent camping with the protection of RV camping. You, therefore, don't have to linger at campgrounds only, but can make your own campsite, if you choose. Also, most pop up camper models are rugged enough to take the off-road to any destination of your choice.
5.Protection from the Elements
Unlike tent camping, pop-up campers offer you the feeling of camping outside while completely covered from the elements. The hard roof and waterproof sides provide a complete shield from rain. The sides also unzip on pleasant nights so you can enjoy sleeping in the fresh air.
6.Ease of Use
A greater variety of pop-up campers can be set up, including making the beds, in under an hour, which is much easier than setting up a tent. All that most campers require is to roll-up the roof and slide out the sleeping areas for a good night's sleep.
Conclusion
If you're looking to spend more quality time with your family, camping is a good option. Search for a nice pop-up camper from our selection of salvage trailers for sale. There are many benefits that you stand to gain from going for a pop-up camper and buying a salvage option. For more information, feel free to contact us, or leave your comments below.
Latest posts by AutoBidMaster Staff Writer
(see all)