If you love being in water and cannot get enough of the thrill of speed, jet skiing makes an ideal water sport for you. Thanks to the salvage jet skis for sale available online, you can now easily own a jet ski without having to spend a fortune. However, before taking out your jet ski for a spin, you need to be learn the basics of operating this powerful machine. Safety is exceptionally important, not only due to the sheer power of these machines, but also for the fact that you will take it to water bodies where help may be hard to find. This knowledge also helps you get value from your investment by ensuring proper maintenance.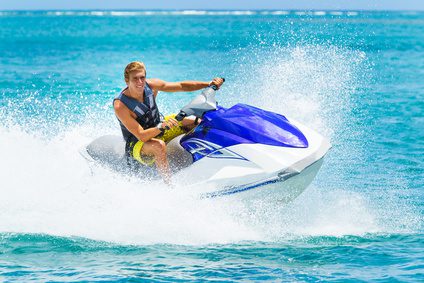 The Basics
For starters, jet skiing requires a jet ski in a good working condition, a calm water body, (preferably an uncrowded one), and a life jacket. Though prior jet skiing experience is not necessary, it is advisable to acquire some basic skills and an understanding of the vehicle's functionality. You can do this by going for rental services first.
Operating a Jet Ski
Riding a jet ski is as simple as riding a bumper car, the only difference being skiing demands more than just steering and there are handlebars instead of a steering wheel. A typical jet ski is equipped with a set of buttons for functions such as start and stop, among others. The lever on the right side serves as the throttle and they also have a speedometer and fuel gauge. Unlike steering boats, jet skis don't need a rudder. They move in a particular direction with the help of handle bars. Also remember that jet skis don't go into reverse.
Safety Tips
Before you out to jet ski, make sure you are in appropriate attire, such as a bathing suit or life jacket. Also place the safety key around your wrist. A safety key, used to start and run the engine, is often available in bracelet form and is secured inside a small plastic clip attached to the handle bar. To stop the engine, simply pull out the key from the ignition and it automatically stops. In addition, watch out for other vehicles on the water and avoid making blind turns. When approaching the dock at the end of your activity, reduce speed to avoid colliding with the dock.
The Bottom Line
Jet skiing is a fun water sport that you can enjoy even more if you have your own jet ski. Salvage vehicle auctions give you a great opportunity to find affordable deals on jet skis and own one without having to break the bank. In fact, you are sure to find a number of viable options in our listing of salvage jet skis for sale. All you need to do is register with the website, shortlist a couple of options, and participate in the bidding process. If you wish to learn more about any of the options listed with us, feel free to get in touch with us for a no obligation expert consultation.
Latest posts by AutoBidMaster Staff Writer
(see all)