Use these auction tips and tricks to save big on your next vehicle
If you want to save big on your next vehicle through AutoBidMaster, you've come to the right place. We're here to make sure you get the most out of your auction so you can find the perfect vehicle within your budget: from clean to salvage titles, two wheels, four wheels, and everything in between, we've got something for you. Here are some auction tips and tricks to help you find and win the right vehicle.
Place your deposit ahead of time
If you find the perfect vehicle but it's going up for auction in a few hours, you may not have time to place the appropriate deposit. We suggest keeping a deposit placed for as high as you're willing to bid, that way, if you find a vehicle you want, you can bid on it right away. If you don't win, don't worry: your deposit is 100% refundable. And when you do win, keep in mind, your deposit will be refunded after the transaction is complete and your vehicle is paid for in full.
Keep your watchlist updated
You may have found a vehicle you're super excited about, but don't get discouraged if you don't win. If you like a vehicle there's a good chance that others are keeping a close eye on it too, so keep your options open. Keeping multiple vehicles on your watchlist keeps your options open, and you can start bidding on the next one right away to increase your chances of taking something home. Log in to your account and head to your watchlist to see what you've marked for later.
Is it road ready?
AutoBidMaster.com offers both clean and salvage title vehicles. Often, both need some degree of repair – ranging from relatively minor to some major work – but salvage vehicles need to go through an inspection process by your local DMV before they're deemed road-ready. If you're looking for something that you can drive as soon as possible, search for clean title vehicles that are marked as run & drive right here.
Find Insurance Ahead of Time
Not all vehicle insurance companies are willing to insure salvage vehicles. If you've got your eye on a particular salvage vehicle and already have an insurance company in mind, give them a call and ask about their policies and premiums regarding salvage vehicles. It may affect your buying decision in the end, so make sure you know all your options before placing a bid.
Know what you're looking for
There are a lot of reasons vehicles make their way to salvage yards. If you're looking for a project car – you can search for almost any damage type and find something that'll fit nicely in your garage. If you're looking for something that needs a little less work, you can look for repossessed vehicles or vehicles that have sustained minor damage from front or rear end collisions.
Narrow down your search
If you don't have a specific vehicle in mind, you can narrow your search down through our available filters. Looking for a hybrid? Check the box under "fuel type" in the search filters that appear on the left hand side of the search results page. All-wheel-drive or a manual transmission? We've got those options too. You can narrow down your vehicle search with a variety of filters without looking for a specific make or model.
Find the right membership
AutoBidMaster has three membership levels, each with their own benefits.
Our basic membership is free, but limits your bidding to $4,000 and allows you one vehicle purchase. Our Advanced and Premium memberships offer free ClearVIN VIN Check Report options, discounted transaction fees, multiple purchases, and more! If you're planning on purchasing more than one vehicle, either the Advanced or Premium memberships will suit your purposes.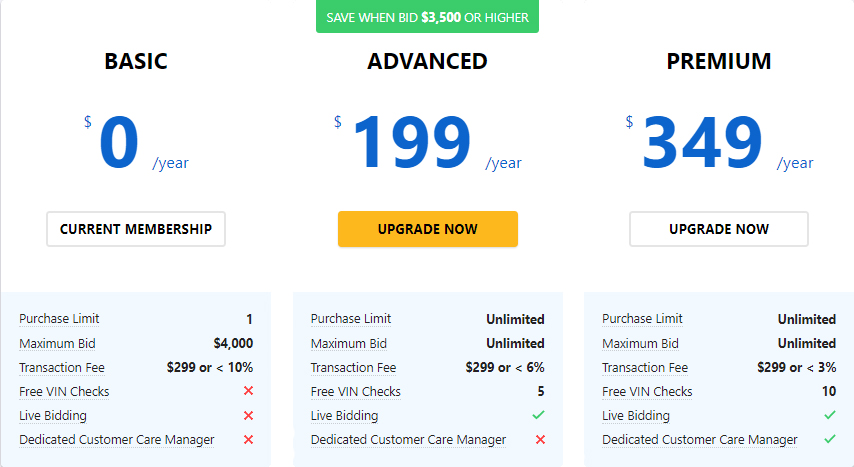 Keep vehicle shipping in mind
When you're bidding at an online salvage auction, often the vehicle you're looking at isn't nearby. That's one of the many benefits of AutoBidMaster: you can search for vehicles all over the country. It's important to keep shipping costs in mind, and every lot listing page has a guaranteed quote calculator from EasyHaul.com on the right hand side of the page. Make sure to factor shipping costs into your overall budget.
Now that you've read up on auction tips and tricks, are you ready to get started? Head over to AutoBidMaster and hit the "Register Now" button in the top right hand corner of your screen, and start searching for big savings on your next vehicle.
Latest posts by AutoBidMaster Staff Writer
(see all)