There's a trick to bidding on auction cars
That applies specifically if the auction cars don't have any bids placed on them already.
If you found a vehicle you want to bid on and it doesn't have a starting bid just yet, don't get ahead of yourself. There's a trick that you need to use before bidding on clean or salvage title cars (or any other vehicle) to keep your bid at an advantage.
If a vehicle doesn't have any bids placed on it, it'll look something like this.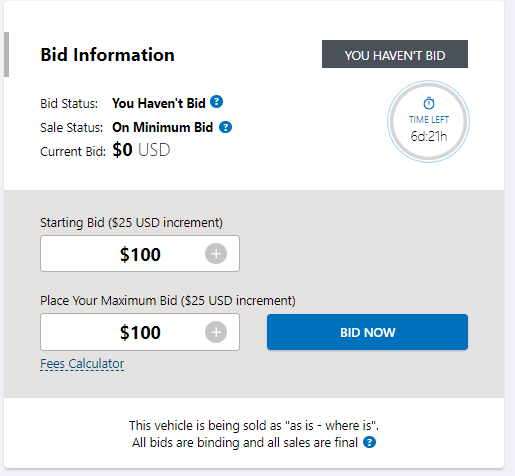 For this example, let's say you're interested in placing a maximum bid of $5,000 on this vehicle. Before you do anything: place the minimum bid possible. This is incredibly important.
Once the minimum bid is registered in our system, you can place your maximum bid, and we'll bid incrementally up to your limit during pre-bidding and the live auction.
If you place your maximum bid on a lot that doesn't have any active bids on it, that will become the starting bid.
That gives you a significant disadvantage. If your bid still ends up being the highest and makes it to the live auction, the first bid placed above yours will outbid you. If you aren't able to participate in the live auction or don't have additional buyer power available, you won't be able to place another bid.
Another disadvantage is transparency. Say you place your bid the right way, with the minimum starting bid followed by your maximum bid of $5,000, your maximum bid will remain hidden. Another user can come along and place a $3,000 bid, but they'll immediately be outbid. It may not seem worth it to continue bidding because they are not aware of the maximum bid placed on the lot.
That, however, won't be the case if you place your maximum bid as the starting bid. Your maximum bid will be displayed right away. Anybody that bids on that vehicle will immediately become the high bidder.
If the bid is anything other than $0
You can place your maximum intended bid, but it will only display your bid in the next highest increment on that vehicle. That way, anybody that bids less than your maximum bid will immediately be bumped until you've reached your maximum.

So if you find a vehicle that has a bid of $100, and the bid increment is listed as $25, you can bid any amount and it will display your bid as $125. If whoever placed the bid before you has a higher maximum bid, whoever has the next highest increment will hold the current high bid of that vehicle.
What to do, step by step
If you're placing a bid on a vehicle with no bids on it, don't place your maximum bid.
Start by placing the minimum starting bid. For vehicles without bids, that's typically $25.00.
Your bid will register in our system, and the page will display that your current bid.
After that, you can place your maximum intended bid, be it $1,000 or $10,000. That bid will remain hidden from the public, preventing other bidders from knowing how much they'll have to compete against your bid.
For all your other auction needs
If you need any help or have any questions, email us at support@autobidmaster.com or call +1 (503) 298-4300 between 6:00 AM and 4:00 PM, Monday through Friday, Pacific Standard Time. We'll be happy to help. Until then, start your search!
Always remember to get a ClearVIN VIN Check Report before bidding on auction cars or any other vehicle to make sure you know exactly what you're getting into. By using a VIN decoder from our trusted partner, you can uncover important details about a car, such as whether it has been in an accident or has had major repairs.
Latest posts by AutoBidMaster Staff Writer
(see all)