So, you've won your car at an online car auction, like AutoBidMaster. Congratulations! What now? Here are some steps you can take to get your vehicle documents as quickly as possible.
Pay for your vehicle in full
As soon as your vehicle is paid for in full, we can start the process of getting you your documents. Since we're a broker, we need to get the vehicle's documentation from the original seller. Please remember that we only accept payments for vehicles through a bank wire transfer.
As soon as you pay for your vehicle, the auction yard will send your ownership documents to our office. Once we receive them, our Titles team will reassign the documents to you (put your name on it) and then mail them out to you by FedEx. If you'd like your documents overnighted (domestic customers), you can let us know by calling us at +1 (503) 298-4300 or emailing support@AutoBidMaster.com. You'll get a FedEx tracking number as soon as it's available.
Sign all your ownership documents
All of your documents are available to e-sign under your account. When you head over to AutoBidMaster.com, in the top right hand corner, you'll find "Hello," followed by your name:
Once you click that, you'll see the following dropdown menu where you can access your documents.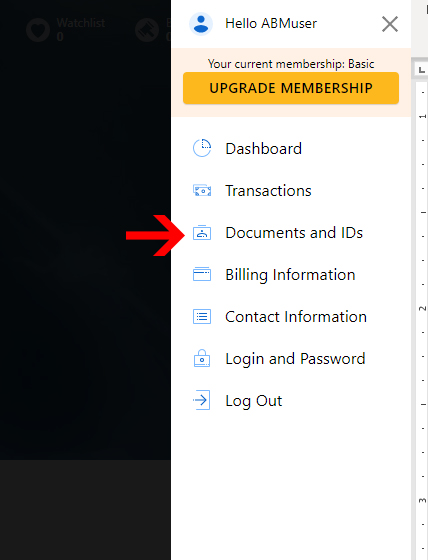 For international buyers
The process to get your documents remains the same, but you'll need to make sure your vehicle meets specific export requirements. You'll need the original vehicle title and purchase agreement, as well as a bill of lading that will be sent to you via certified mail once US customs has processed the vehicle. You can only export vehicles with a valid title or certificate: vehicles with a Bill of Sale only, or a title branded with lien/parts only/junk/scrap/certificate of destruction cannot be exported from the US.
That's that!
Just follow the steps listed to make sure you get your vehicle documents as soon as possible. Always make sure to order vehicle shipping as soon as possible to avoid storage fees, and run a vehicle history report before bidding on vehicles to make sure you know exactly what you're getting into. We think that a VIN number search is an essential step in the car buying process, as it can uncover potential issues that may not be immediately apparent. Vehicles from an online car auction have lots of details, but a comprehensive VIN report can reveal hidden issues before they become your problem.
Latest posts by AutoBidMaster Staff Writer
(see all)