There's been a huge stigma around buying a car unseen for many years, and online auto auctions are heavily mired in it. It certainly doesn't have to be that way, though. We have a few tools at your disposal that you can use when you're looking to buy auction cars online from AutoBidMaster.
Inspect the vehicle and research its history
If you're looking to buy auction cars online, you have a few options to make sure you truly understand the vehicle, its potential problems, and its history. If the yard is close by, you can schedule a visit to inspect it yourself. If it's too far or you don't feel comfortable conducting a thorough inspection on your own, you can hire a third party to inspect it on your behalf.
The best tool, by far, is to run a VIN lookup. You'll get accurate odometer readings, a history of title brands, photos from previous auction sales, and much more. This will help you factor in all your potential costs in the long run, making sure that you don't find yourself saddled with a vehicle with unaffordable repairs.
Get a shipping quote ahead of time
A huge factor that a lot of auction members tend to skip over, but you'll have to make sure that you understand the price of vehicle shipping before you place your bid. Our friends at EasyHaul have an instant quote calculator right on their homepage that'll help you figure out how much it'll cost to get the vehicle from the yard directly to you, worldwide, hassle-free. Before you bid on and buy auction cars online, make sure you've got shipping costs factored into your overall budget.
Take advantage of membership options to save
At AutoBidMaster, we have three membership options to choose from that can help you stay within budget. Each one has benefits.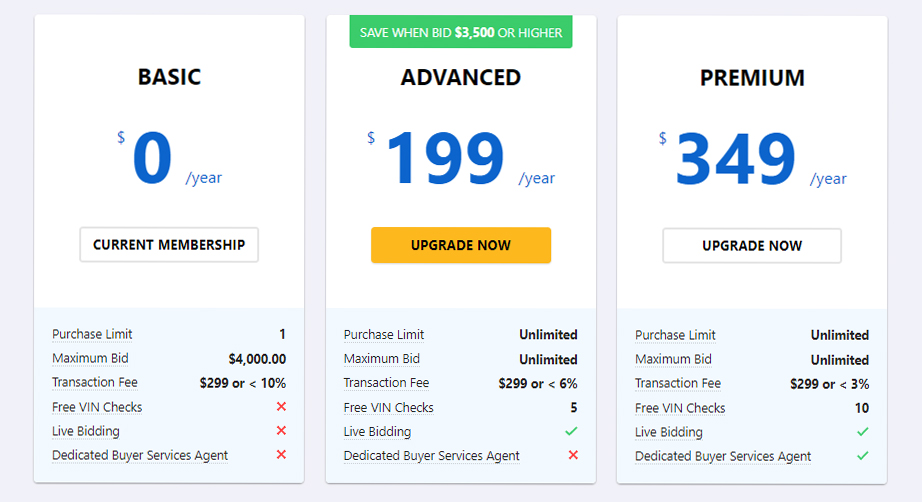 For our Basic membership, if you're planning on buying a single vehicle under $4,000, that's the one for you. As far as Advanced and Premium memberships go, it depends on how much you're planning on spending. Advanced memberships drop your transaction fees from 10% (basic members) to 6% as well as providing you with 5 free VIN checks from ClearVin.com. This is a great option if you're planning on buying a vehicle for over $3,500, or multiple vehicles.

Our Premium membership is great if you're planning on buying lots of vehicles over time, or if you're planning on an expensive purchase. Your transaction fees are dropped to 3%, and you get 10 free VIN checks! Not only that, but you get a dedicated Buyer Services Agent to help you with all of your purchases.
We're here to help
If you have any questions or need help registering or placing a bid, our Buyer Services Team is here to help. Just give us a call at +1 (503) 298-4300 between 6:00 AM and 4:00 PM Pacific Standard Time, Monday through Friday, or email support@AutoBidMaster.com. If you're an international customer, you can contact us via WhatsApp at +1 (503) 473-9895.

Happy Bidding!
Latest posts by AutoBidMaster Staff Writer
(see all)