We're always making changes to make whatever we can easier for you when you decide to buy a car online from the USA. We've implemented new features for members in Ukraine, and we're working on translating the same features for other languages. We're updating our FAQs for multiple languages as well, so, Spanish, Polish, and Georgian speakers: stay tuned. Not only will these features help you export cars from the USA, but they can save you money, too.
Exportable Vehicles
Now when you're looking to export cars from the USA, we've made it even easier for you. You can now use search filters to narrow down vehicles that already have titles that are valid for export, so it's even less work for you in the long run. This feature is only available for registered users, but that only takes a few seconds – and then you can access this feature entirely for free.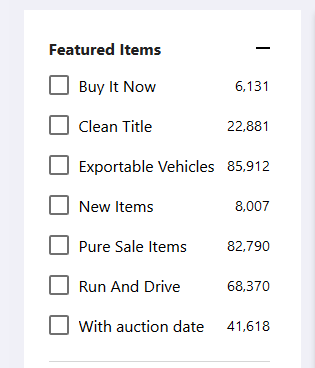 Distance to Port
If you're looking to ship cars from the USA, we've added another feature that can help you save a lot on your shipping costs. One of the most expensive parts of shipping a car to Europe from the USA or anywhere else is the domestic transportation within the United States itself to the port of departure. Depending on where you are, you can find out which ports ship fastest and cheapest to your destination. From there, with this new feature, you can look for cars that are specifically within range of that port, saving you time and money. This feature is also only available for registered users, but it's completely free.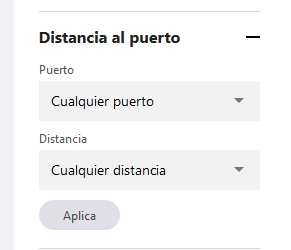 Search by Zipcode
Similar to the previous feature, if you have a specific location you're looking in, you can set your search by Zipcode. This is also helpful for domestic buyers who want to cut down on vehicle shipping costs. Set your search distance between 30 and 200 miles (48 to 321 kilometers) to broaden your search near ports, or if you're shopping for cars and are already in the USA, to find something closer to home.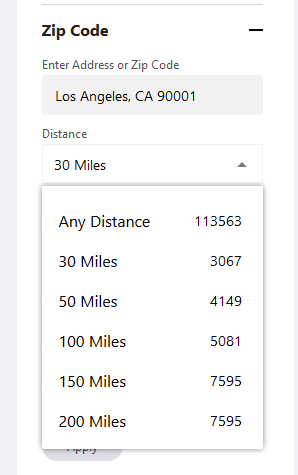 Search for exportable cars faster
The features above will help you find the right car at the right price, and get it to your destination at a lower cost. Just register with us in a few easy steps and get started with our vehicle finder. If you have any questions, our Buyer Services team is here to help. Just give us a call at +1 (503) 298-4300, 6:00 AM to 4:00 PM Monday through Friday, Pacific Standard Time, email us at support@AutoBidMaster.com, or contact us via WhatsApp at +1 (503) 473-9895.
Always remember to run a vehicle history report with our partner, ClearVIN, before you export cars from the USA to find out exactly what the car has been through. For those involved in business, a car dealer report can provide valuable information about the car's history, including past accidents, repairs, and maintenance records.

Happy bidding!
Новые функции AutoBidMaster, которые помогут Вам экспортировать автомобили из США
Наша команда постоянно работает, чтобы максимально облегчить для Вас процесс покупки автомобиля на онлайн-аукционе в США. Мы внедрили несколько новшеств специально для пользователей из Украины и продолжаем работу над переводами новых виджетов/функций на другие языки. Также мы обновляем раздел "Часто задаваемые вопросы" для нескольких языков, в частности для испанского, польского, грузинского языков. Внедрение новых функций позволит экспортировать автомобиль из США и сэкономить Ваши деньги.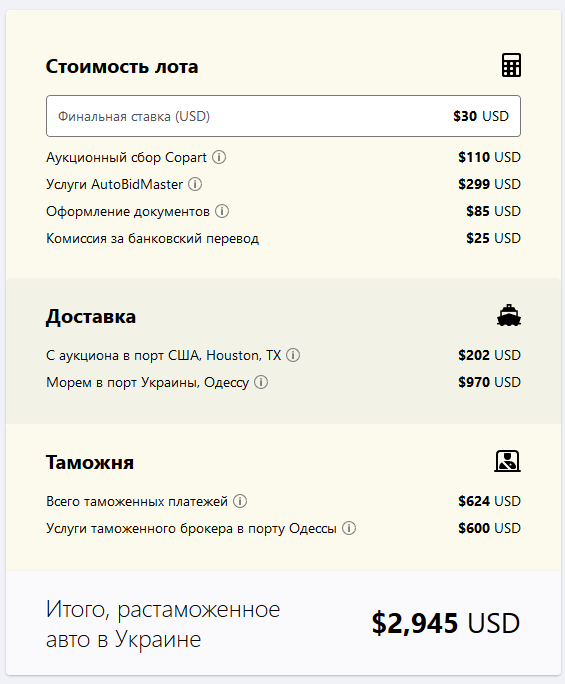 Экспортируемые автомобили
Мы сделали поиск экспортируемых автомобилей проще. Теперь можно применять фильтры для поиска машин с документами, которые позволяют экспортировать авто из США. Это означает, что сам процесс поиска у Вас займет ещё меньше времени. Такая возможность доступна только зарегистрированным пользователям, однако регистрация занимает всего несколько секунд и после создания учетной записи Вы сможете получить доступ к этой функции совершенно бесплатно.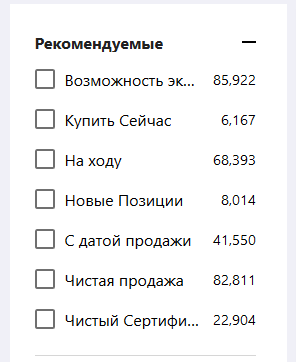 Расстояние до порта
Мы добавили ещё одну функцию, которая позволит Вам сэкономить деньги при заказе доставки машины из США. Одна из самых дорогих составляющих доставки автомобилей из США в Европу или куда-либо – транспортировка в пределах США до ближайшего порта. Таким образом, использование этой функции позволит Вам искать автомобили, находящиеся неподалеку от определенного порта, что, в свою очередь, поможет Вам сохранить время и деньги. Эта функция бесплатна и доступна только для зарегистрированных пользователей.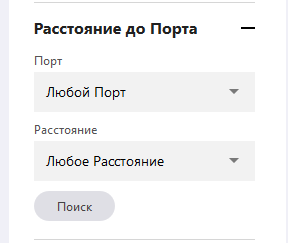 Поиск по почтовому индексу
Подобно предыдущей функции, если у вас есть конкретное местоположение, в котором вы ищете, вы можете настроить поиск по почтовому индексу. Эта функция будет полезна клиентам, желающим сэкономить на доставке при оформлении внутреннего заказа. Задайте расстояние для поиска от 30 до 200 миль (от 48 до 321 километра), чтобы расширить зону поиска возле портов или найти что-то ближе к Вашему дому, если Вы покупаете автомобиль, находясь в США.
Ищите экспортируемые автомобили быстрее
Вышеперечисленные функции помогут Вам быстрее найти хороший автомобиль по приятной цене и заказать его доставку без переплат. Зарегистрируйтесь, чтобы начать пользоваться нашим каталогом. Если у Вас есть вопросы, наша русскоговорящая команда будет рада помочь. Свяжитесь с нами по телефону + 1 (503) 298-4300, с 6 утра до 16 часов по тихоокеанскому времени с понедельника по пятницу, либо напишите нам на электронную почту support@AutoBidMaster.com или в WhatsApp по номеру +1 (503) 473-9895.
Не забудьте изучить отчет о транспортном средстве на сайте ClearVIN.com перед покупкой транспортного средства из США.

Удачных ставок!
Latest posts by AutoBidMaster Staff Writer
(see all)