We all know and love the Jeep Wrangler, and some of us know and love the Jeep Comanche. While the Comanche is relatively rare with only 200,000 made, the Jeep Wrangler is a dime a dozen on the road, and for good reason. They're excellent off-roaders, practical commuters, and everything in between. So, with the relatively recent release of the Jeep Gladiator, we're looking at the best of both worlds. Let's take a look at the 2020 North American truck of the year.
Overview
Performance
Towing and Hauling
Jeep Gladiators on AutoBidMaster
Register with AutoBidMaster
2020 Jeep Gladiator overview
As the first Jeep pickup in over 25 years, it has a pretty hefty name to live up to. The 2020 Jeep Gladiator came off the line with four trims: Sport, Sport S, Overland, and the coveted Rubicon. They all started out with a Pentastar 3.6L V6 pushing 285 horsepower and 260 lb-ft of torque, and an optional turbocharged 3.0L diesel V6 with 260 horsepower and 442 lb-ft of torque was released a bit later. While a six-speed manual was standard (a dying breed), an eight-speed automatic was available as well. The diesel engine is only available with the eight-speed auto transmission.
Performance
Let's get one thing straight right away: the Gladiator isn't built for speed. With the fastest tests coming in at 7.2 seconds for the Overland trim, it won't be winning any races. As long as they're on the track, at least: the Gladiator is built for off-roading. 4WD is standard (duh). Locked differentials and disconnected anti-roll bars. A five-link coil suspension with forward-facing shocks: the Rubicon comes with Fox shocks (great). Usually, when we say something's crawling it's a bad thing. Not in this case, the Gladiator crawls over damn-near anything. According to Jeep, you can drive it through water crossings up to 30 inches. Creeks, outta the way. If you need something a little more than that, the spare-wheel housing has a mount that handles tires up to 35 inches.
Towing and hauling
As far as towing goes, it doesn't have the capacity of some of its competitors. That isn't the strong point though – for small toys, especially those you'd want to take offroading with you, the Gladiator is great. Dirtbikes, ATVs, whatever: throw 'em in the bed. Ride alongside your Gladiator. Enjoy your life. Or just drive it to work, whatever, it's good for that too. The Sport trim with a Max Tow package can tow up to 7,650 lbs, a Rubicon with an automatic transmission can tow up to 7,000 lbs, and an Overland or Sport trim with no tow package and a manual transmission can pull up to 4,000. It's not a crazy amount, but it's not nothin' either. Payload capacities range from 1105 to 1600 as well, which is plenty for the aforementioned toys.
What's available on AutoBidMaster?
With a starting MSRP $33,545, weve got some pretty excellent alternative to buying a new Jeep Gladiator. Here are a few used and salvage Jeep Gladiators to choose from.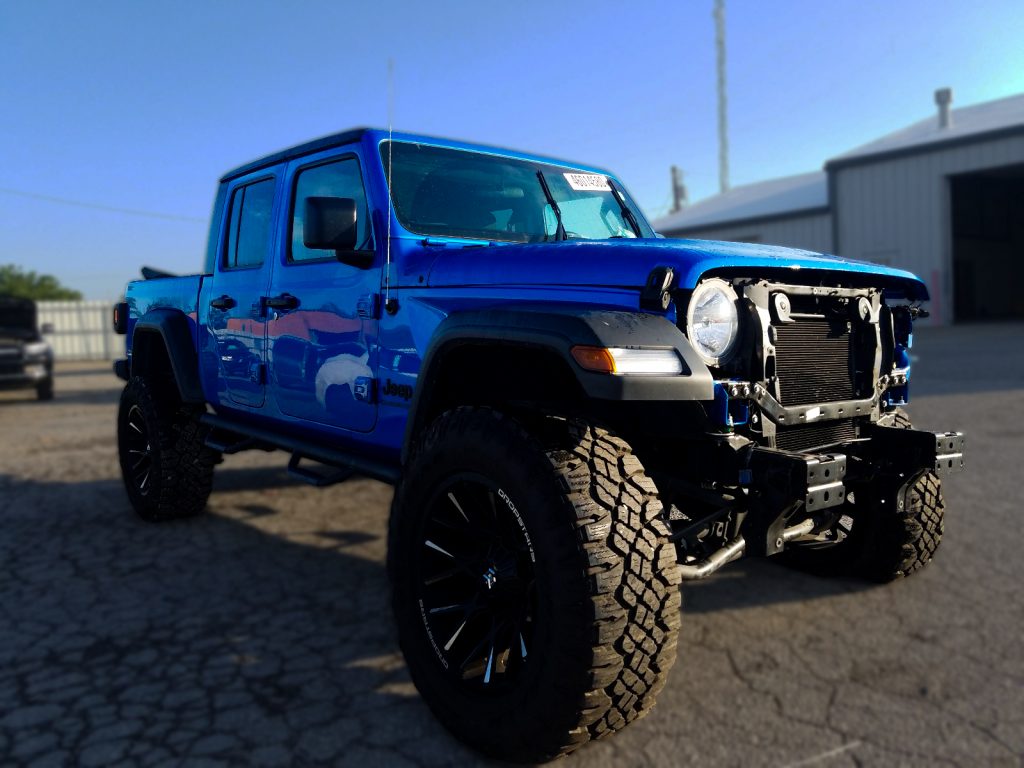 This 2020 Jeep Gladiator Sport is being auctioned off out of Lexington, KY. No sale date has been set yet. Damage is listed as front end and mechanical, but the auction yard has noted that the engine does turn over. It has 11,943 miles on it, and at the time of writing the bid is $18,200.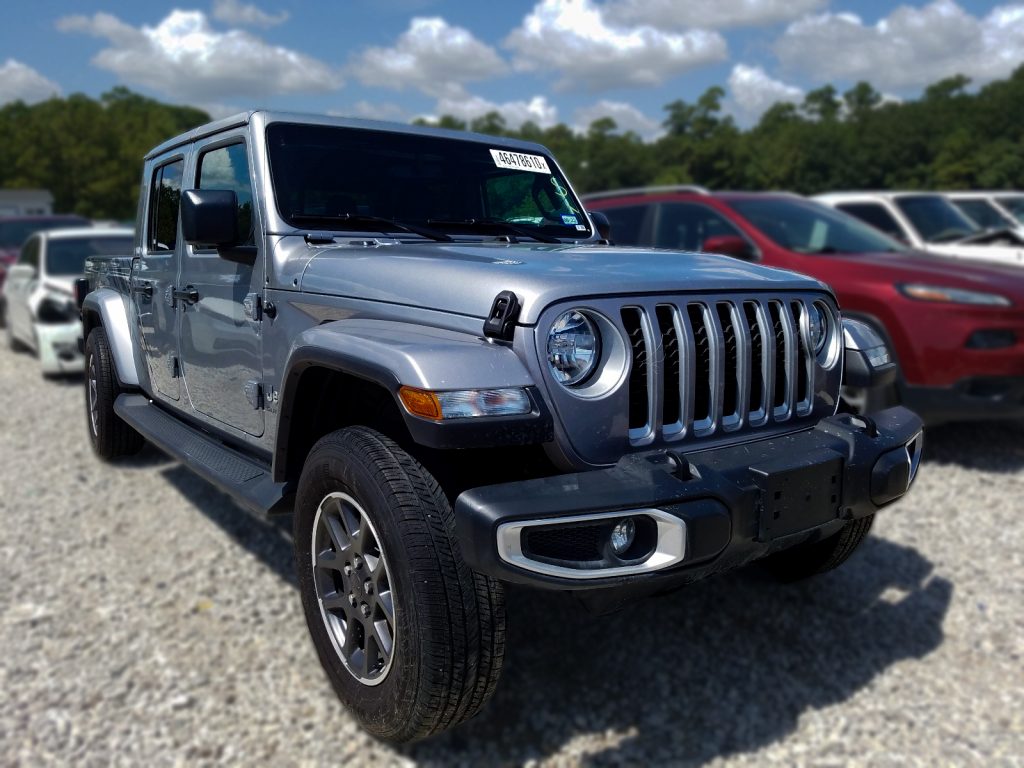 This 2020 Jeep Gladiator Overland edition is in Houston, TX, also without a sale date. Like the previous Jeep, this one is listed by the yard as having an engine that turns over. The damage looks to be limited to the rear end, and it has 5,172 miles on it. The current bid is $7,700. Clean title!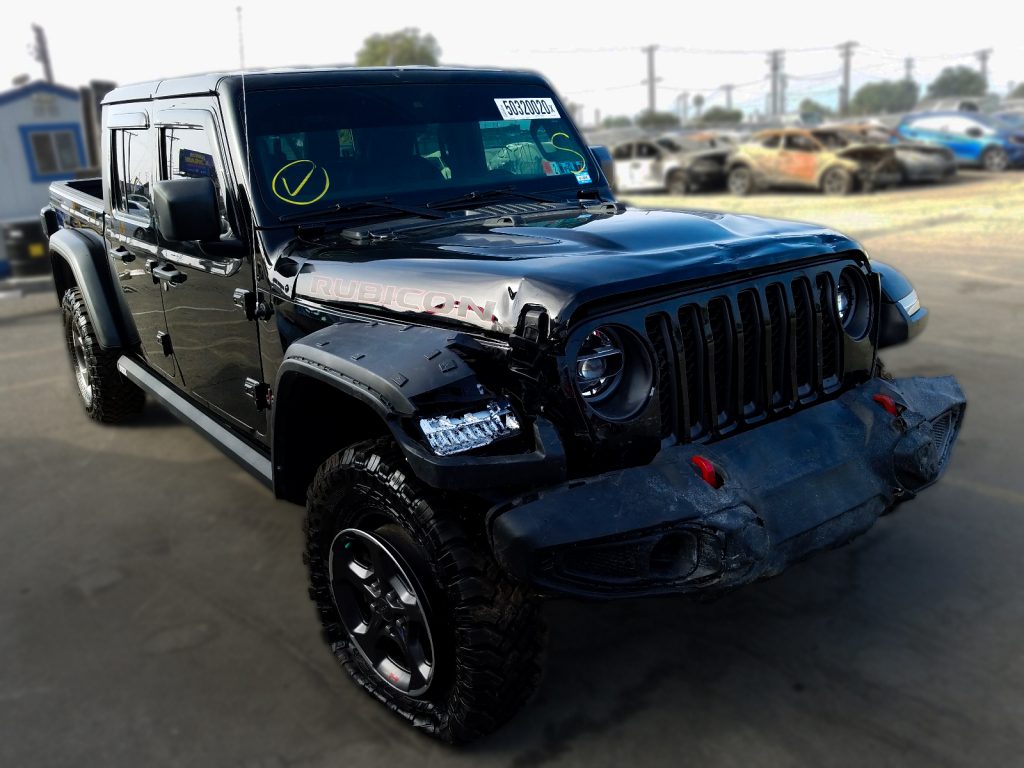 Here we've got a salvage 2020 Jeep Gladiator Rubicon up for auction out of Los Angeles, CA. This one's going fast with a sale date of 9/30/2020 and a current bid of $34,500. The yard listed this Gladiator as having an engine that starts, 10,376 miles, and front end damage.
Register today to start bidding on your used Jeep Gladiator!
The first step to your dream Jeep Gladiator is registration. Just provide us with some basic information or sign up with your Google or Facebook account, upload a copy of your government-issued ID or passport, and place a fully refundable deposit and you're ready to bid. If you have any questions feel free to give us a call at +1 (503) 298-4300 between 6:00 AM and 4:00 PM Pacific Standard Time, Monday through Friday. You can also email [email protected] or contact us through Viber/WhatsApp at +1 (503) 473-9895 and our Buyer Services team will be happy to help you.
Happy bidding!

Latest posts by AutoBidMaster Staff Writer
(see all)