For a lot of you that are exploring private transportation for the first time, it can be a bit overwhelming. Calculating car payments is never clear until the paperwork is presented. Should you buy a new car? A used car? Is it worth getting a car at all? If you've never bought a car before, you have to factor in a miasma of variables, and one of the most tedious things to consider is your credit. So, how do credit scores affect used car loan rates?
Your credit score affects calculating car payments
As the used car market is stabilizing following a massive 31% drop in new auto sales from April to June, which directly affected the availability of trade-ins. Read up on that whole situation in the previous link, but as the auto market bounces back to some semblance of normalcy, interest rates are returning to pre-pandemic proportions. As car sales dipped, banks and creditors had more incentive to offer better rates to those with worse credit in an attempt to close deals. That's on it's way out.

According to Experian.com, credit scores for purchases of used vehicles have increased by an average of 9 points since the second quarter of 2016. With that comes an increase in credit requirements for good rates on used loans. With APR hitting over 11% on average for buyers with a 660 credit score or below, and with an average credit score for the entirety of the United States hovering around 682 according to Transunion, the vast majority of American buyers fall into significantly higher APR rates for used purchases when financing. When you're calculating car payments, your credit score can change the day before and throw a wrench into your plans. If your credit score is under 600 (or may soon be), you're looking at an average APR of over 17% or more.

That's not good.
So why buy from a Salvage Auto Auction instead of a used car lot?
We outlined some of the benefits of buying from a salvage auction over a used car dealership earlier this month, but let's cover the financial aspect. Unless you have enough cash on hand to buy a used car hands down – the financial benefit of buying from an auto auction is immense. Dealerships often push features and options on consumers that they really don't need, so unless you've got an iron will or are an incredibly shrewd negotiator, you may succumb to the pressure to close the sale. Beyond that, in-person sales are limited to the inventory available right then and there.
Let's take a look at something we presented in the aforementioned article: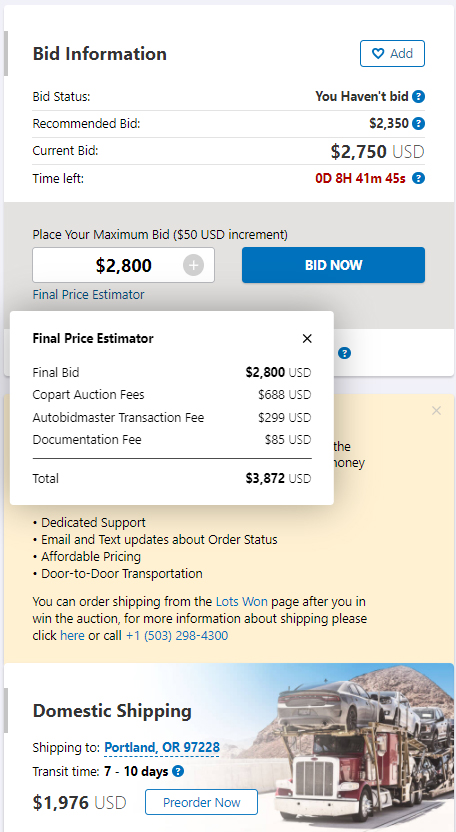 You've got your out-the-door price at the maximum bid you're willing to place right in front of you. That doesn't change, and your credit score doesn't matter here. That, coupled with a free shipping quote right below gives you an accurate understanding of what your final costs will be. No credit checks, no interest rates, no APR. No hassle.
Dealerships, on the other hand, will consistently offer their own warranties (or live off the convoluted language surrounding implied warranties) which in many cases offers little protection to the buyer. So if you're financing a vehicle from a dealership that has worked around verbiage of their purchase agreements with language that excludes a hidden problem from their warranty, not only are you continuing to pay off the vehicle, but you're out of luck for problems that the dealership themselves may have hidden entirely. They often circumvent issues by having their on-site mechanics conduct a pre-sale inspection of the vehicle, but these inspections work in the dealership's interest rather than yours.

While many dealerships will allow an independent inspection, they'll pressure you to avoid it. With auto auctions like AutoBidMaster, you can hire a third-party inspection service to take a look at the vehicle for you, as well as run a VIN check. By the way, AutoBidMaster members are able to examine car specs by VIN for free. Upgrade your membership today to get a whole set of perks.

If you're reading this between December 7th and 14th of 2020, you're in luck. Use the code FREEZE20 at checkout to upgrade your membership at 40% off the regular price, and get started on bidding and buying clean and salvage vehicles at auction right away.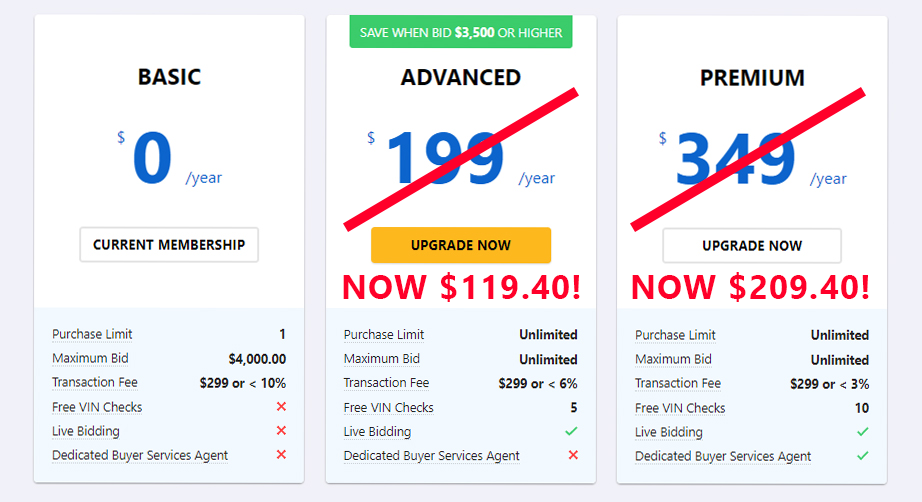 Latest posts by AutoBidMaster Staff Writer
(see all)