A lot of people are now making the shift towards private transportation in the face of the pandemic, fearing busses and trains due to exposure. In a nationwide economy where money is tight all around, it's difficult to find the best way to shop for second hand cars.
A tidbit of good news is that used car prices are stabilizing nationwide after a severe drop in supply and increase in demand, but that doesn't help you much if you don't know where to look. When it comes to buying second hand cars, the most common school of thought is online classifieds or dealerships, but we'd like to present a less sought-after market: online auto auctions. So, how can you benefit from buying second hand cars at an online auction?
The biggest misconception around salvage cars
The term "salvage car" carries a huge stigma around it – the notion that the vehicle is beyond repair or use. Salvage cars, realistically, are not just heaps of junk that can only be used for scrap metal but encompass a wide range of cars that have been in varying levels of accidents or disasters. A big part of that stigma is the perception of limited information. With the absence of a salesperson describing the vehicle's history, what can you really know about it?

More good news: everything. With a VIN Check Report and an in-person inspection, you can find out everything the vehicle has been through: often, with more truth and objective data than from the pressure of a salesperson. That's why our recommendation is to examine vehicle specs by VIN or conduct a license plate lookup to reveal all the hidden pitfalls concerning the vehicle's background.
Used car dealerships often provide their own inspections through their own mechanics, but these are designed to still sell vehicles. If you're buying second hand cars through a salvage auto auction online, you can get the information you're looking for from third parties that YOU hire, so their interest is in providing you with the most accurate information possible.
Sales pressure for second hand cars
One thing you can count on if you're at a used car dealership is that somebody there is actively working to sell you a vehicle. While face-to-face interaction can be a good thing, at that point you've got to take everything that's said to you with a grain of salt. Beyond that, the sticker price of a vehicle is hardly what you're paying out the door: you've got to add in taxes and fees, registration, service fees, and so on. With online auto auctions like AutoBidMaster, there are two things working in your favor. The first is our final price estimator and shipping quote calculator that are located on each lot listing page.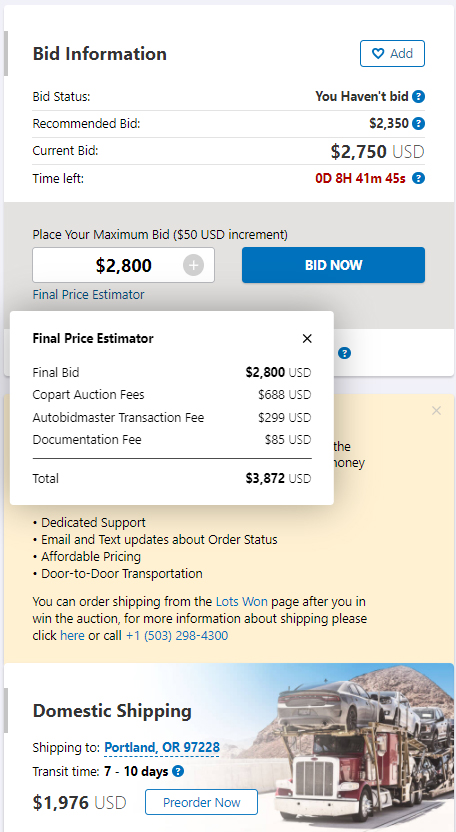 You can get an accurate depiction of what your final price will be – auction fees and shipping included. Keep in mind that our Final Price estimator doesn't include the shipping quote below it – so you'll have to add that up yourself.
This gives you an advantage over a salesperson at a used car dealership for a number of reasons, but the most important is that you set the amount you spend. No negotiation, no pressure, no nonsense. You set your maximum bid, knowing exactly what the fee structure is like at that price point.
If you're wondering what the "recommended bid" bit means: that's one of our features for Advanced and Premium members. We take past auction data for similar vehicles to give you our best recommendation for a winning bid.
Clean titles
That's another big misconception about salvage car sites vs used car lots when it comes to vehicles. Common thought is that salvage auction sites only sell totaled and damaged vehicles, but that couldn't be further from the truth. We have a wide variety of clean title vehicles available for you to browse through, and all of the bidding and buying benefits still apply.
Beyond that – a salvage title doesn't necessarily mean that a vehicle has been totaled. Often, a vehicle receives a salvage title if it's recovered after a theft, but still completely intact and operational). Another example: if it's an older vehicle, even a minor fender-bender can result in a salvage title, because the insurance company dictates the cost of repair vs the market value of the vehicle, but these numbers don't always reflect reality. Those are just a few examples to illustrate that salvage cars aren't as disastrous as they're often made out to be.
Options, options, options!
This is an oft-unrecognized drawback of physical dealerships: inventory. With sales pressure mounting to make a purchase right then and there, and sales techniques that are designed to create a fear of missing out (AKA FOMO), buyers are typically pressured into making a purchase that doesn't actually meet the criteria they're searching for.
Second hand cars at an online auction, on the other hand, feel limitless. On the day this article was written, there were over 180,000 vehicles available in our inventory. How many are going to be available at a dealership? 30 or 40? The numbers themselves don't lie: there's much more available at your fingertips from the comfort of your own home.
Register today for the best second hand cars
Getting started is quick and easy – you can start browsing our available inventory without any prerequisites. Once you're ready to bid, the setup is quick and easy too. Just register with us by providing some basic information or with your Google or Facebook account, upload a copy of your government-issued photo ID or passport, and place a 100% refundable security deposit.
If you need help with registration, bidding, buying, or shipping vehicles, feel free to contact us.
Until then, happy bidding!


Latest posts by AutoBidMaster Staff Writer
(see all)