Look, if you're already here, you've probably heard a thing or two about AutoBidMaster: one of the best car auction websites out there. If you haven't, you can start here, otherwise, you already know that we're your best shot at dealer only auctions for cars, trucks, motorcycles, SUVs, and more. We've got over 300,000 vehicles up for auction, and you can access them when you register with us.
What Do Basic Members Get?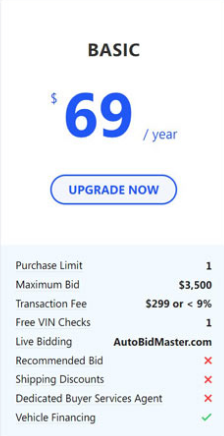 In addition to access to Copart's dealer only auctions and their entire inventory, basic members are able to purchase one vehicle up to $5,000 dollars. For some people, that's more than enough. All members have to place a refundable deposit (cannot be applied to the final purchase), and this includes basic members. Basic members have a transaction fee of $299 or 9% of the purchase price—whichever is greater.
Why Should You Upgrade?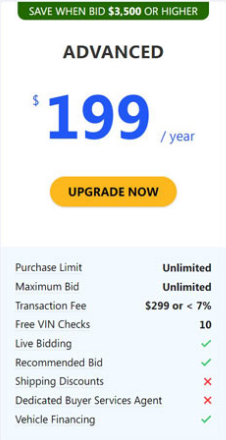 There are a lot of reasons to upgrade from a basic membership. We're going to give you all of them.
The quickest benefit that you can see is the ability to place your unlimited maximum bid on multiple vehicles. There's no purchase limit, so you're allowed to buy as many vehicles as you can afford. The number of vehicles you can bid on simultaneously gets a little different, here. Your deposit also determines your maximum possible bid. 10% of your deposit is your total available bid, so, for example, a $400 deposit gives you up to $4,000 to bid. Now, if you've got $800 on deposit, that does two things. A) you can bid up to $8,000 and b) on up to two cars. That is not, however, up to $8,000 on each car, but up to $8,000 total spread across two vehicles. So if you had $1,200 held as a deposit, you'd be able to bid up to a total of $12,000 across three vehicles.

Another great reason to upgrade: free VIN decoder! Advanced members get 10 free VIN checks a year, so if you're planning on bidding on a vehicle, you can save yourself a lot of headache by knowing what the car's been through thanks to a comprehensive vehicle history report that pulls from top sources and government agencies like the NMVTIS. A vehicle lookup by VIN from our partners ClearVIN is the best option to reveal all the hidden pitfalls when checking the car's background.
Another phenomenal aspect of becoming a member before bidding in an auto auction with us are discounted transaction fees. Where basic members pay 9% of the final purchase price, Advanced members pay 7%. If you're buying more than one car, the price of the membership makes up for itself right there.
The last perk we'll talk about is access to exciting live auctions where you can bid on dealer only auctions in real-time. It's crazy fun and a bit of a thrill, honestly. You bid right through our website. Check out this video to find out more.
Why Get a Premium Membership?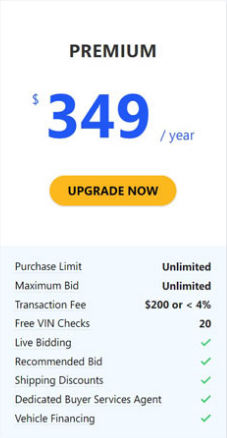 Advanced and Premium memberships look pretty similar, but there are a few key differences. First and foremost, instead of paying 9% like a basic member or 7% like an Advanced member, your transaction fees drop to 4%. That means huge savings in the long run.
Not only that, but you end up with 20 free VIN checks a year—that's close to $100 of comprehensive vehicle history reports in its own right. So if you're looking for Japanese car auctions online, for example, those kinds of cars might have a huge history of modification: having those free VIN reports comes in handy.
One of the biggest, most important things is having a dedicated Buyer Services Agent. If you call or email, you'll have access to your own member of our team to help you, and as you guys get to know each other, they'll be able to help you more and more. We cannot stress how awesome it is to have somebody on our team, well, on your team.
Upgrade Now and Save for an Entire Year!
For some folks, using a basic membership is just fine – if you're making a single purchase under $4,000. When it comes to access to dealer only auctions, though: an Advanced or Premium membership with AutoBidMaster completely cuts out the middleman, and you can participate directly, indefinitely, and without limits. Register now and save big.

Latest posts by Штатный автор AutoBidMaster
(see all)