Real talk: we know that some of these are out of most people's price point. That being said, supercars are awesome to look at, dream about, and hey: maybe you'll even find one you can afford at online salvage auctions like AutoBidMaster. Check these out, contemplate a way to come up with thousands of dollars (DogeCoin, anyone?), and have a good weekend.
2018 Lamborghini Huracan Performante Spyder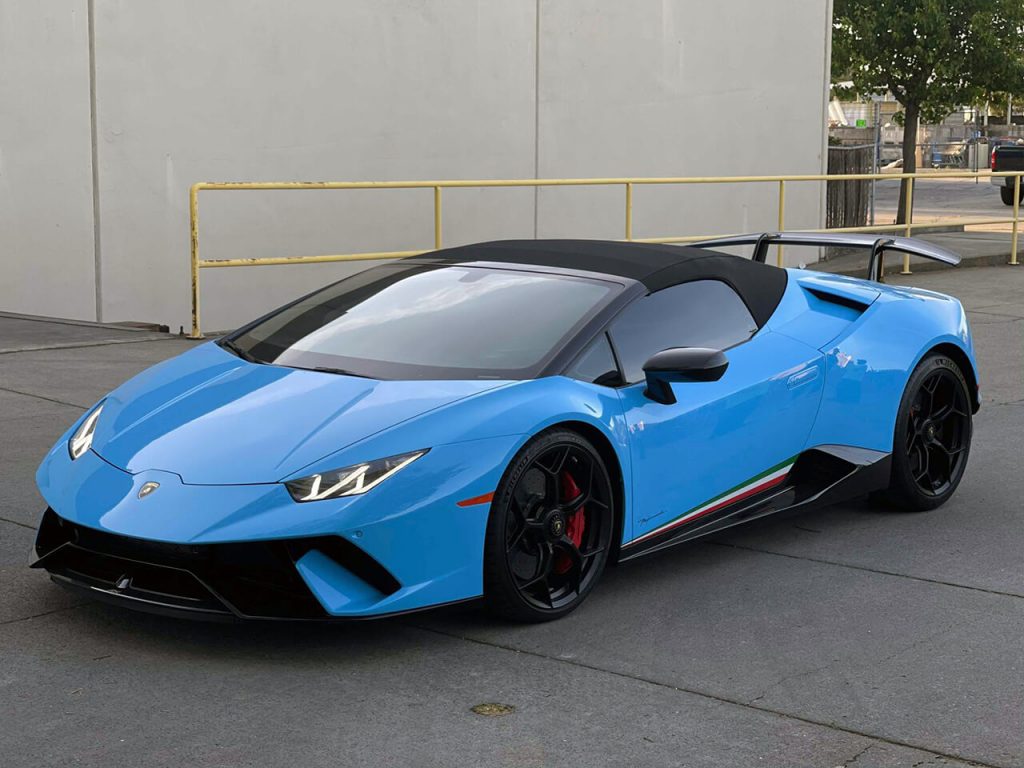 First up is a gorgeous 2018 Lamborghini Huracan. a 5.2L V10 pushes out an incredible 623 horsepower to bring this almost unreasonably fast car to 60 miles an hour in just 3.2 seconds. 443 lb-ft of torque brings the Huracan from zero to 100 in 5.6 seconds. It covers a 1/4 mile in 10.4. It tops out at 201 miles per hour. This one's blue. What else is there to say, really?
With a base price of over three hundred thousand dollars, this Huracan is pretty much a steal with a buy it now price of $269,000. Up for auction on 4/22/2021.
2019 Ferrari GTC4Lusso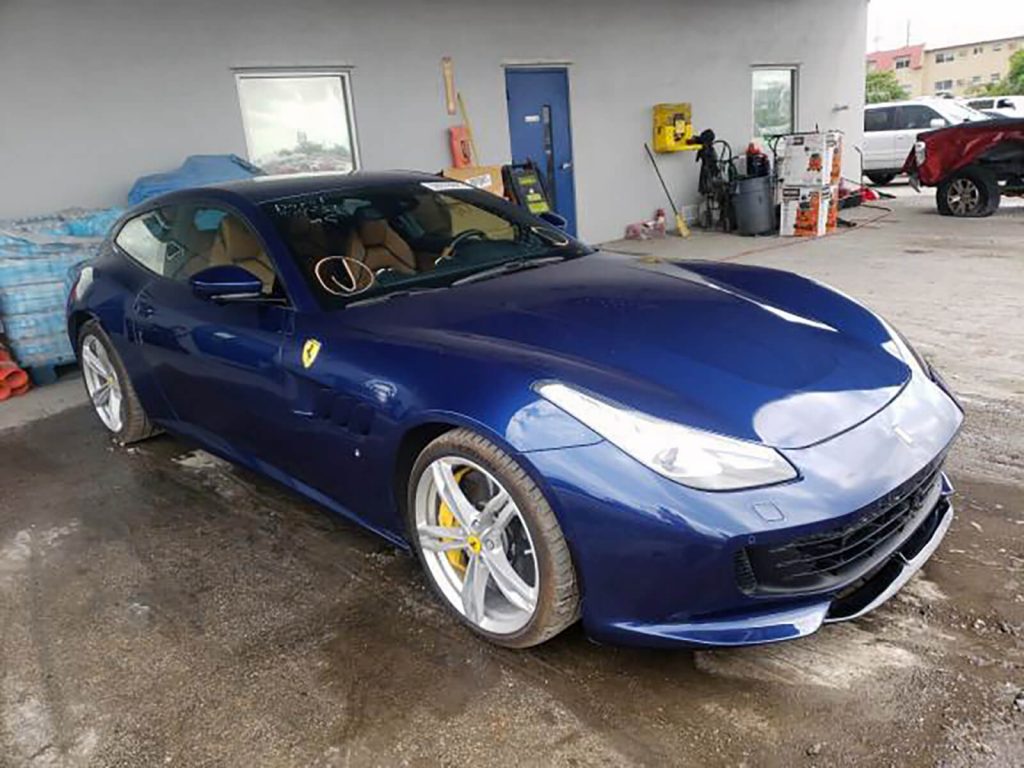 Up next is a 6.3L V12, 680 horsepower, 208 miles per hour madhouse: the 2019 Ferrari GTC4Lusso. In a world of supercars that typically seat two, not only is the GTC4 exceptionally capable, but you can scare the crap out of three passengers while you show off just how capable it is as opposed to the normal single friend. 514 lb-ft of torque brings this beast from 0-62 mph in just 3.4 seconds.
The current bid (as of 4/16/2021) is $85,000. It's up for auction 4/22/2021 from Miami, Florida.
2020 Ferrari Portofino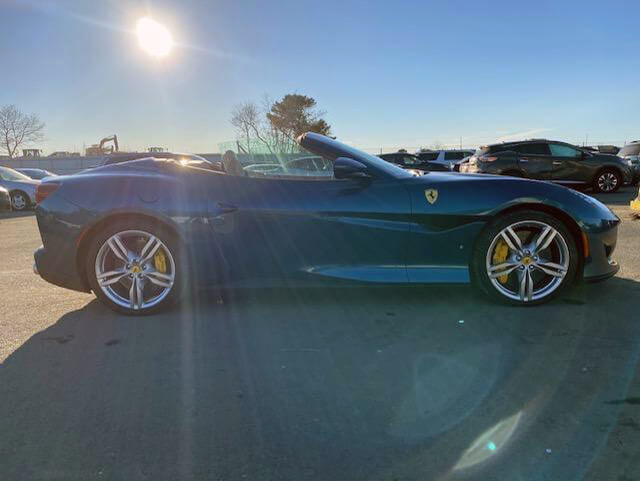 Another Ferrari on the supercar list shouldn't come as a shock. The 2020 Ferrari Portofino, first of all, looks incredible. Like, truly incredible. It's just a gorgeous, stunning car: we can't stress that enough. Feel free to buy this one for us, whatever. Second, a twin-turbo 3.9L V8 is firmly planted beneath that gorgeous exterior, and despite being the smallest engine thus far on the list, pushes out a solid 591 horsepower and 561 lb-ft of torque to bring the 0-60 to just over three seconds. Impressive by anybody's standards.
This 2020 Ferrari Portofino in particular is a theft-recovery, and still runs & drives. With a base price of $215,000 roughly, a theft-recovery is always a great option, especially one that looks this damn good. No sale date set for this one just yet.
2016 McLaren 570S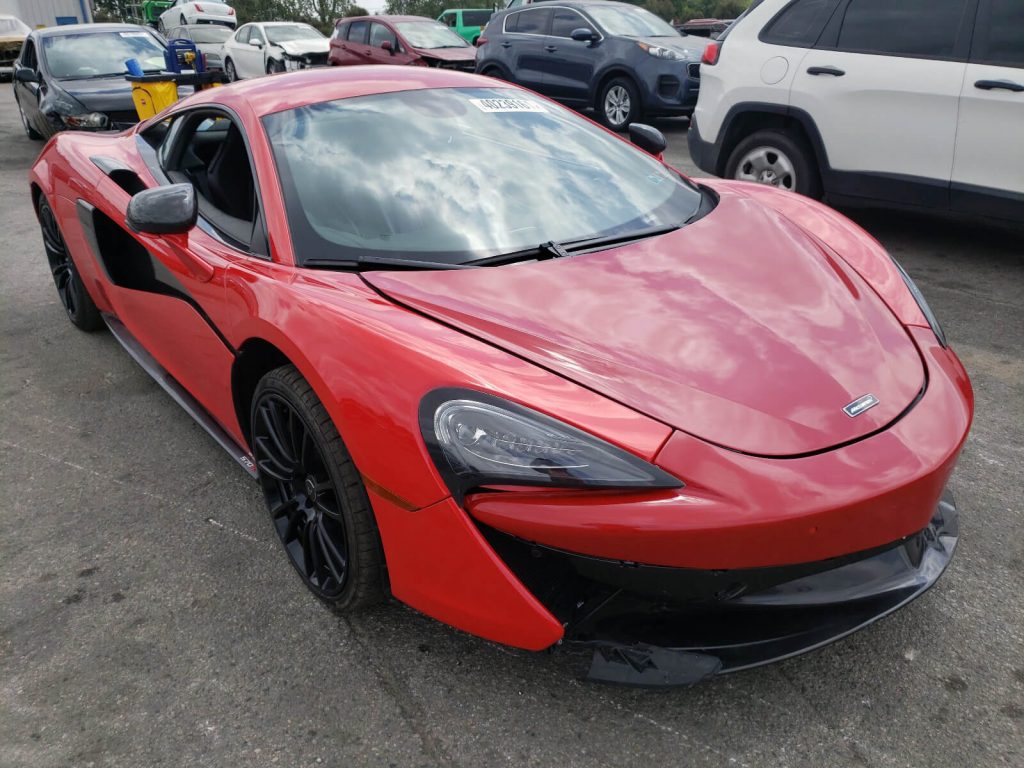 Moving on from Ferrari to McLaren's 'affordable' supercar: the 570S. An original price tag of $187,400 made the 570S the least expensive McLaren released at the time. With a 3.8L twin-turbo V8 pushin' 562 horsepower and 443 lb-ft of torque, it comes in just below the 2020 Portofino in terms of raw specs, but at a significantly lower price point. It's got a 2.7 second 0-60, though. Less than three seconds to sixty miles an hour. Phew.
This one's got a teeny bit of front-end damage, but less than 8,000 miles on it. Grab this 2016 McLaren 570S before it goes to auction on 4/22/2021 from San Bernardino, CA.
2020 Chevrolet Corvette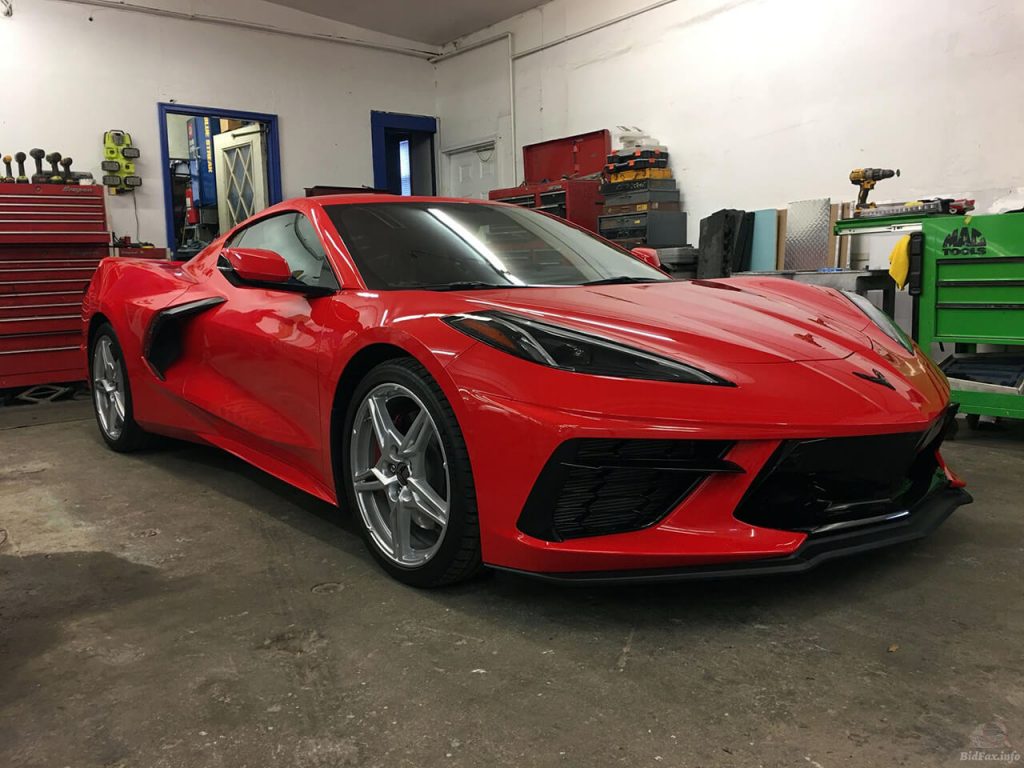 The last (but certainly not least) supercar on the list is the highly anticipated mid-engine Corvette released last year. 490 horsepower and 465 lb-ft of torque through a 6.2L V8. Some would argue that this isn't a supercar, and while it may not technically be a supercar, we don't care. It's awesome. A 3.8 second 0-60, while almost a second longer than other cars on this list, is still nothing to scoff at by any means. It's fast, it's sexy, and it's significantly more affordable than the four cars we showed you earlier.
This 2020 Chevrolet Corvette 3LT is practically brand new with only 450 miles on it, up for auction on 4/21/2021 from Long Island, New York.
Always more supercars on AutoBidMaster
If you're reading this after all these cars are sold, or for some reason none of those appeal to you, there are always more supercars in our inventory. Just make sure you're registered and signed up for an Advanced or Premium membership, and you'll be all set to bid on the best supercar auctions on AutoBidMaster. As of 4/16/2021, we're still giving you a shot at 40% off your year-long ABM membership with the promocode RETURNS21. Just punch it in at checkout and start saving big, all year.

Latest posts by AutoBidMaster Staff Writer
(see all)