We'll cut right to the chase: the 2021 Audi R8 is incredible. Nothin' clever to say about it, it's gorgeous and awesome. Let's take a dive into specs, techs, and everything else we've got.
2021 Audi R8 Performance
The, uh, entry-level model starts at 532 horsepower. 398 lb-ft of torque. While both of those figures are teeth-chatteringly awesome, the main pressure-point to go for the performance models is AWD as opposed to RWD. Both the coupe and the Spyder trims of the base variant push out those numbers, but for that extra bang for your buck, the top-tier may just be worth it. Especially for that AWD road feel.
The performance Quattro coupe and Spyder churn out an astonishing 602 horsepower and 413 lb-ft of torque with a 3.5 second 0-60. Not only does the performance Quattro setup push out 70 horsepower and 15 lb-ft of torque over the base model, but the simple fact that it's the top trim makes it that much more awesome. Just knowing what you've got under the hood makes it worth it.

The transmission is a 7-speed dual-clutch automatic that's known to shift a little erratically. There's been a bit 'o talk of rapid-downshifting followed by an immediate upshift. The suspension, on the other hand, isn't lacking. The base trim has an adaptive suspension while the Performance version has a fixed-damper setup. Both will do you right through turns and long trips, so there's nothin' to worry about there.

Look at those lines. Just stunning.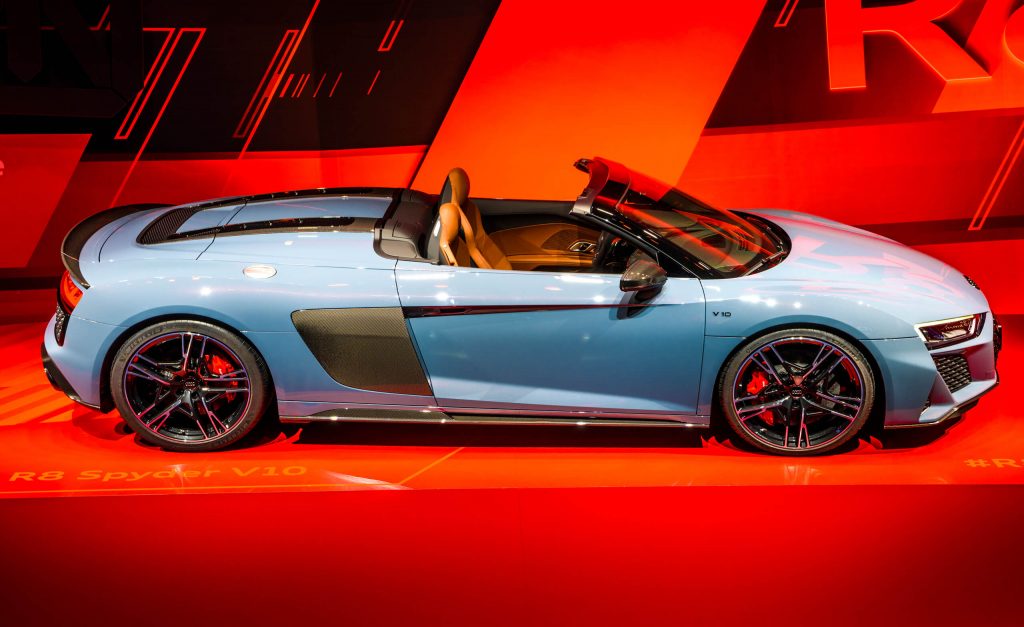 Audi R8 Interior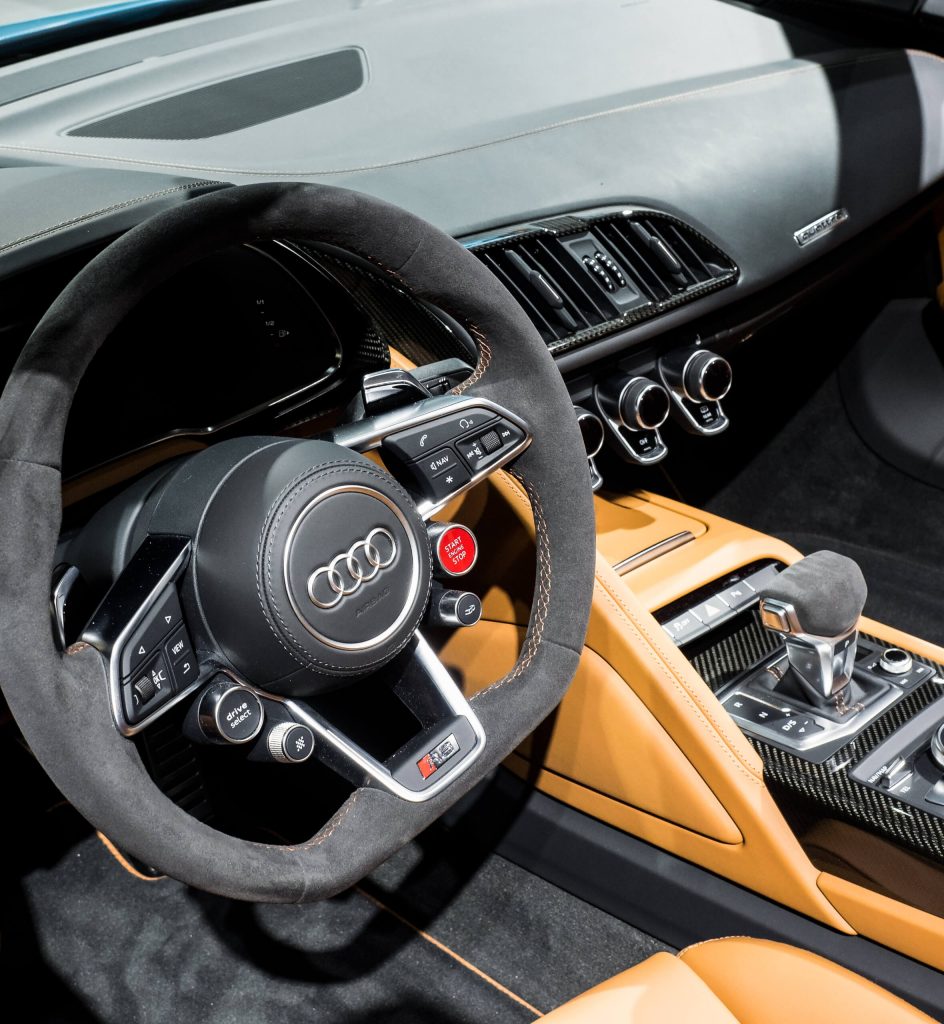 The cockpit of the 2021 Audi R8 is pretty minimalistic and straightforward: a good thing if you ask us. When it comes to bells and whistles we prefer those under the hood, not behind the doors. The gauge cluster displays both instrumentation and infotainment, which includes the standard Apple CarPlay and Android Auto, as well as a 4G LTE hotspot. The nav system has voice command, which is pretty cool. Nothin' lacking there. The interior itself is customizable through a range of black, grey, brown, and red leather with either a flat or quilted pattern, and matching or contrasting stitching. It looks pretty sharp.
Find your R8 on AutoBidMaster
We haven't seen any 2021 Audi R8's just yet, but keep an eye on our inventory. We update it daily, so you never know what'll pop up. Until then, make sure you're registered with us so you can bid as soon as you find the right car. If you're lookin' for your next Audi, upgrade your membership to an Advanced or Premium level to be able to bid over $6,000: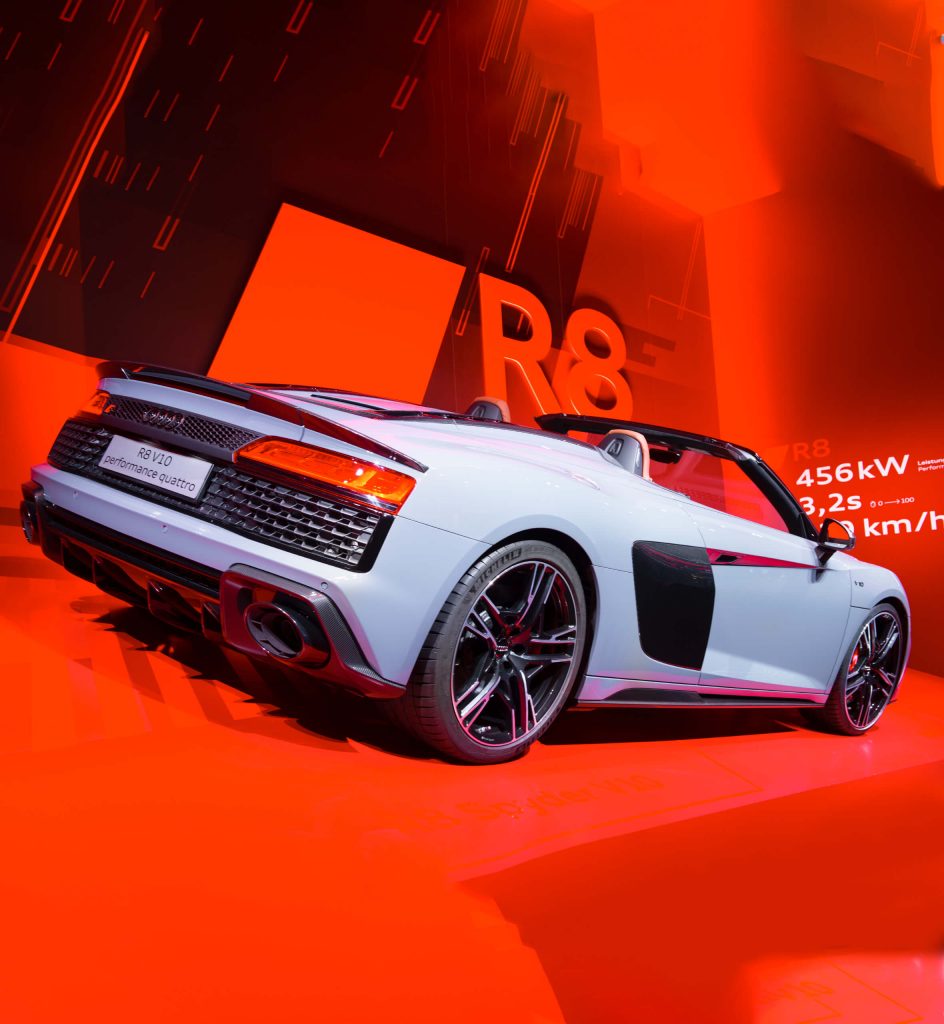 You can still use the code MEMORIAL21 at checkout to get 40% off your year-long AutoBidMaster membership! If you have any questions, you can call us at +1 (503) 298-4300, text us at +1 (503) 897-9799, or contact us through Viber or Whatsapp. We're open Monday through Friday, 6:00 AM to 4:00 PM Pacific Standard Time. Feel free to email [email protected], too, and we'll get back to you ASAP.

Until then, happy bidding.

Featured image: photo by Tyler Clemmensen on Unsplash
Latest posts by AutoBidMaster Staff Writer
(see all)