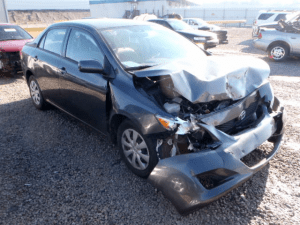 Knowing what to do and what not to do after an accident could be the difference between a settlement falling in your favor or not. There are some basic steps you can take to significantly increase the odds of everything going your way. The most important thing directly after an accident is getting off the road and to a safe location. Call 911 if anyone is injured. If your car is still in working condition, get it off to the side of the road to prevent more accidents from occurring. Once you're safe, you want to maximize your odds of winning an insurance claim. It is a good idea to carry a copy of your insurance provider's accident report claim in all of your vehicles to make this process easier. Our "Post Accident Checklist" is a good tool to keep around as well in order to help cover all your bases after an accident.
Document the Accident
When you file a claim with your insurance provider they will send an insurance adjuster to inspect your car and the damage cause from the accident. There are a few things you can do at the scene of the accident to make their job both easier and win your claim.
If the police come to the accident, make sure they file a report and you get a copy of the report.
Gather as much information as you can about the other drivers and their vehicles. This includes names, driver's license and license plate numbers, as well as if the year, make, and model of all the vehicles involved.
Gather the contact information of any witnesses (passengers, pedestrians, and even the police). Do not discuss who is at fault! This can affect the settlement.
Take photos and video of the vehicles involved. Get multiple angles from multiple distances of the vehicles. Make sure to stay safe and out of traffic while doing this!
Write down notes about what happened, memory is hazy and not relied upon in court. If you have to testify about the accident, having things like the speed you were going, the condition of the road, what happened the few seconds before the accident, and anything significant that happened after the accident can save your settlement.
The Insurance Adjuster
After you submit your claim, your insurance company will send an adjuster to inspect your car as well as gather information about the accident. How much information they gather will vary from claim-to-claim, but there are a few general things they will ask for and do.
The police report that was filed
Contact the other driver and witnesses
Visit the scene as well
Check your vehicle for damage as well as take their own picture of your vehicle (yours aren't going to waste, don't worry)
If you filed for medical expenses as well, they'll ask for a medical release form and talk to your medical providers regarding your claim
Once the insurance adjuster had finished investigating your claim, your insurance company will determine how much money to give you for repairs and send you a check. If your claim only involves physical damage (no medial claim), you may have your repairs completed at an auto shop they approve of. If that is the case, they will send the check to the auto shop instead of to you. If you are confused or disagree with the amount they've paid you for repairs, call your adjuster. They are there to explain the process to you in detail and may end up paying more for your repairs if you call them.
Latest posts by AutoBidMaster Staff Writer
(see all)