Speaking of modern trends in the automotive industry, electric vehicles have grown in popularity in recent years. This is due to their eco-friendliness, ease of maintenance, and low cost of charging and service. Electric SUVs, as the most promising segment of the automotive market, are taking off nowadays.
However, with more automobiles on the road and more complicated road infrastructure, there's a special demand for safety. As a result, many electric vehicle manufacturers have implemented the use of new materials for the car body and impressive car features and options to improve safety. With AutoBidMaster's help, let's review the safest electric SUVs that offer top-notch protection and lead the crash test ratings today.
What You Should Know About the Crash Test Ratings of Electric SUVs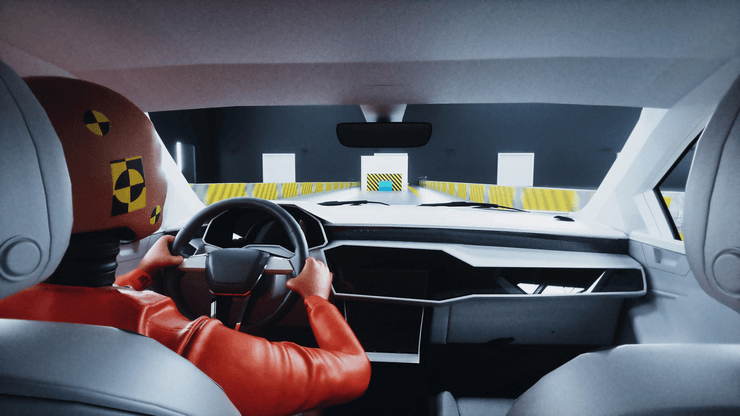 Generally speaking, electric vehicles have better safety features than gasoline-powered ones. As a rule, EVs have an electric battery installed under the body. It makes them more stable and safer than other types of automobiles by lowering the center of gravity.
At the same time, electric vehicles should undergo thorough inspections and checkups, including crash tests, just like their internal combustion engine counterparts. In the USA, there are a few recognized organizations and data sources involved in performing vehicle crush tests. As the most reputable ones, we can outline:
The National Highway Traffic Safety Administration (NHTSA), which strives to reduce the number of car crashes and injuries in car accidents as well as their negative impact. According to NHTSA data, the most frequent car crashes on US roads and highways refer to frontal and side collisions as well as rollovers. That's why they run the proper car crash tests to cover the most problematic issues. To evaluate how well a vehicle has performed in crash tests, this organization uses a five-star rating system, which determines how likely the driver and passengers will be injured in a collision.
The Insurance Institute for Highway Safety (IIHS), which is involved in research on how it's possible to make riding safer and lower the number of car accidents. The IIHS vehicle checkups cover two important aspects of road safety: how well the car's safety features and its controllability can help a driver avoid accidents, and how well the automobile can protect people inside it during a crash. The organization bases the rating system on a scale of Good, Acceptable, Marginal, and Poor. Their tests also include frontal and side crashes, but they additionally evaluate other factors such as roof strength and head restraints.
We've built our survey on these two sources of valuable automotive data and gathered a list of the leaders among electric SUVs in terms of safety and crashworthiness.
What Electric SUVs Have the Best Crush Test Results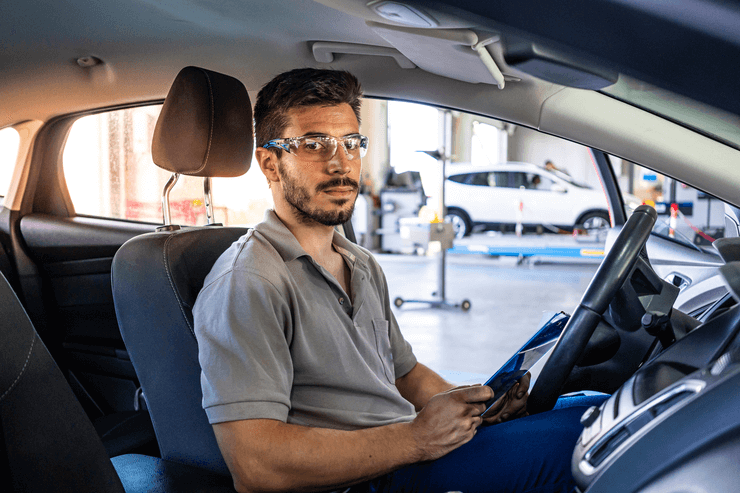 Car enthusiasts are aware that crash-tested vehicles with high results provide more protection in the event of a collision. That's why one of the key factors to consider when buying a car is the safety rating. Based on this, pay attention to the following electric SUVs:
2023 Tesla Model Y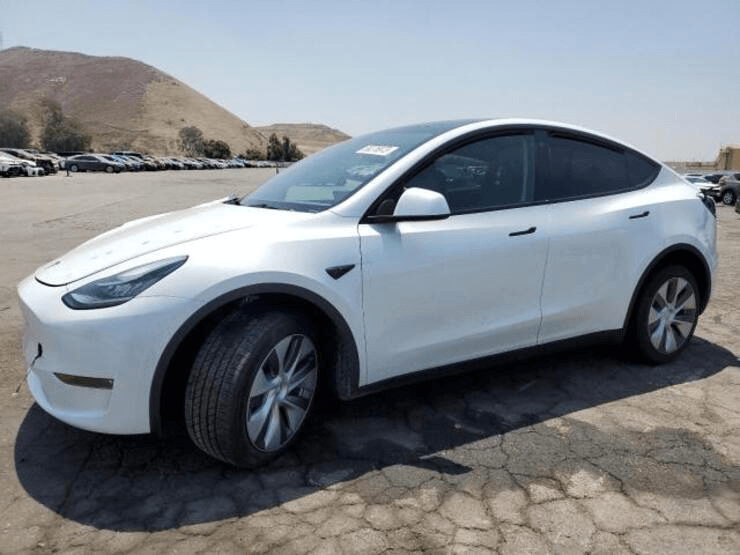 NHTSA rating: 5 stars
IIHS crashworthiness rating: good
This compact AWD electric SUV offers not only smooth driving but also top-notch safety. But if we speak about rollovers, this electric SUV model has a 9.7% risk of experiencing them. A list of safety features and equipment includes pre-collision and lane departure warnings, emergency braking, parking and blind spot sensors, etc. With an impressive single-charge range of 330 miles (ca. 531 km), the 2023 Tesla Model Y is a perfect option for electric SUV lovers.
Just take a look at the powerful Tesla Model Y cars available at our online car auctions. We promise you won't resist bidding on a few!
2023 Volkswagen ID.4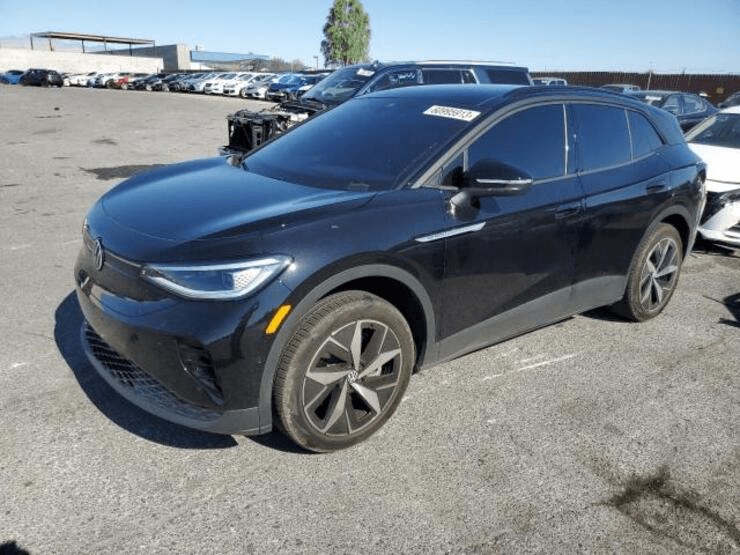 NHTSA rating: 5 stars
IIHS crashworthiness rating: good
Here, we have a top-notch electric SUV that was awarded the World Car of the Year in 2021. It's available in three trim configurations: Standard, S, and S Plus. Depending on the version, they have 62 kWh and 82 kWh batteries. You can also choose between rear and four-wheel drives. The basic Volkswagen ID.4 Standard received a 62 kWh accumulator, providing a bit more than 200 miles (around 335 km), according to the EPA cycle.
Speaking of safety, the 2023 Volkswagen ID.4 in both transmission configurations, RWD and AWD, has excellent results in the NHTSA crash tests. The only drawback is that the dynamic brake support system doesn't match the requirements. The IIHS has awarded this car the Top Safety Pick+, meaning it has received special recognition after the safety checkups and tests.
We at AutoBidMaster also have the Volkswagen ID.4 vehicles in our inventory, so you are free to bid on them and bring one home easily!
2022 Hyundai Ioniq 5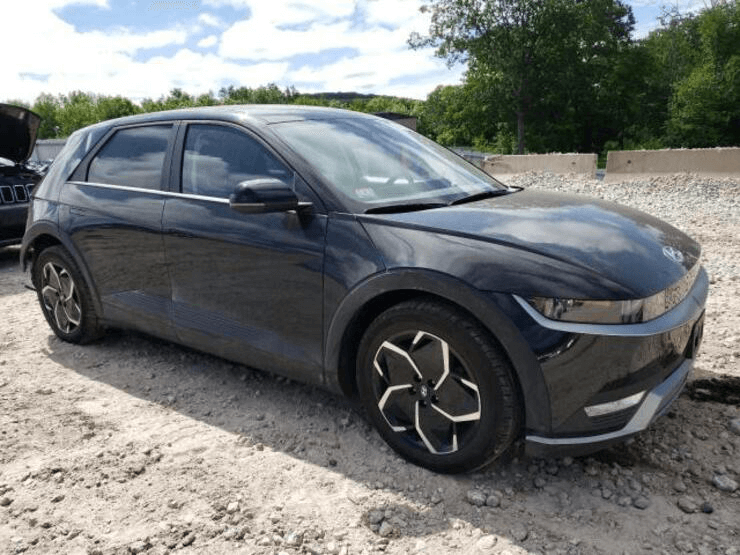 NHTSA rating: 5 stars
IIHS crashworthiness rating: good
The Hyundai Ioniq 5, a small four-door electric SUV, has gained a reputation as an affordable EV with a great range of 303 miles (ca. 488 km) on a single charge and decent safety features. The 2022 Hyundai Ioniq 5 has a long list of equipment that makes rides better protected. It includes stability control to provide smooth driving, anti-lock brakes, lane keeping assist, adaptive cruise control, and other additional safety improvements.
The 2022 Hyundai Ioniq 5 also has the 2022 Top Safety Pick+ award from IIHS and perfect crashworthiness results, but middle points for seat belts and child restraints. On the NHTSA tests, this model has lost one point for the frontal crash, but the overall car's safety has received five stars.
To have this electric vehicle at your home, register and bid on your Hyundai Ioniq auction lot from AutoBidMaster.
2023 Audi e-tron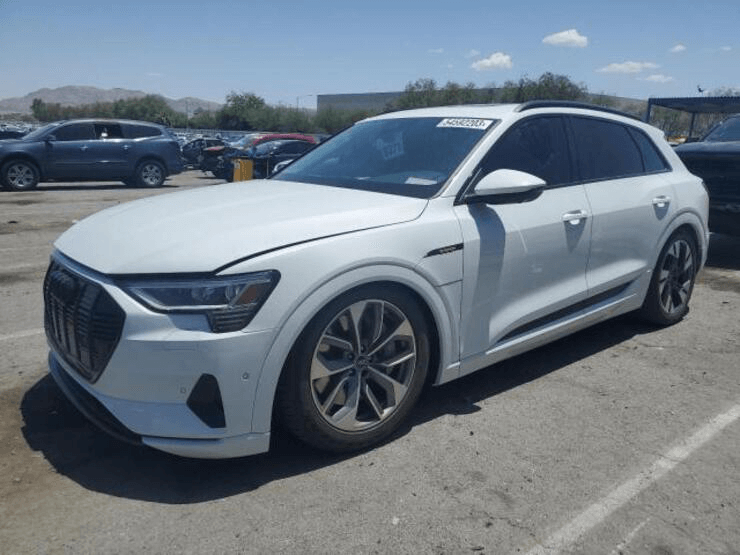 NHTSA rating: 5 stars
IIHS crashworthiness rating: good
This large four-door electric SUV from Germany is a constant leader in different ratings, including the safety one. To achieve such impressive results, engineers loaded the 2023 e-tron with a bunch of helpful safety features, including a blind spot monitor, parking sensors, pre-collision and cross-traffic warnings, and much more.
With the IIHS Top Safety Pick of 2022, the 2023 Audi e-tron has an impressive crashworthiness rating as well as decent crash avoidance and mitigation results. The NHTSA overall safety rating reaches the maximum five stars, making this EV a perfect choice for protected driving.
Take a look at the Audi e-tron vehicles AutoBidMaster offers you at its online car auctions.
Summing Up
When it comes to choosing a decent electric SUV with great safety features, the options available on the second-hand market are more advanced and affordable than ever before. The EVs we've relieved will allow you both to save money and stay safe on the road.
We at AutoBidMaster offer many options of used electric vehicles for sale. To join our community, register on the auction platform, upload a copy of your government-issued ID or passport, and submit a security deposit. Please contact us in case of any questions and requests concerning online auto auctions, and our team of professionals will lend you a hand. You can also call us at: +1 (503) 298-4300 (4:00 AM–4:00 PM PST, weekdays) to get assistance.
We are on a mission to help our customers give a second life to used cars by simplifying auto auctions for all. – AutoBidMaster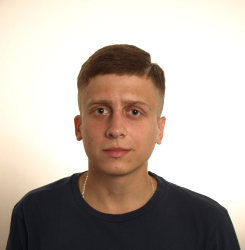 Latest posts by Vitalii Movchan
(see all)