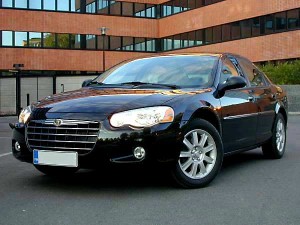 Did you know which luxury cars in the U.S. can actually be "Gone in 60 Seconds"?
According to the list of 10 luxury cars collated by CNBC in 2012, the Chrysler Sebring ranked in number three position, which is likely to be stolen by thieves.
The Sebring Journey…
Between 1995 and 2010, the Chrysler Corporation launched 'Chrysler Sebring', a mid-size vehicle. Within that time span, three generations of convertibles, two generations of sedans, and two generations of coupes had been produced. The sedans have 4 doors and a trunk, the coupe has a sporty looking 2-door, and the convertibles are without roofs, which is great for open-air driving.
The Sebring is available in two styles, the LX or LXi trim. The features of this car vary as per the version. For example, if we consider the 2003 LX version of this car, it comes with a 4-cylinder, 2.4-liter V6 with automatic transmission. For comfort and convenience, it has air conditioning, power windows, power door locks and cruise control. Other key attributes are its sporty exterior styling and spacious interiors. Since its inception, this car has always been known for its class and dignity along with the comfort of luxury. All these benefits made Sebring a successful Chrysler product.
Despite being in the luxury segment, this has been one of the most reasonably priced mid-size vehicles in the U.S. market. Later, in 2011, the car underwent a major upgrade, and was re-launched with a new name, which is the 'Chrysler 200'.
Transformation of the Sebring
In 2014, a redesigned version of the Chrysler 200 was launched at the Detroit Auto Show. Subsequently it attracted buyers by offering significant discounts. The new Sebring or Chrysler 200 is based on the Alfa Romeo structure designed by its new owner, the Italian car company Fiat. Despite the Italian influence, the car is still predominantly American.
Many owners of the Chrysler Sebring are extremely satisfied with the features and comfort that the car provides. After driving this car, many auto lovers did not opt for any other vehicle. Such has been the impact and magic of the Sebring. If you want to feel the magic too, look for different makes and models, by going through an online auto auction site. Such a site features a wide range of Chrysler Sebrings with a salvage title. The pricing is quite affordable for any buyer who is looking for a budget vehicle. You just need to register yourself to bid on your favorite Sebring model. The auction would surely be a lifetime experience of fun and thrills!
Latest posts by AutoBidMaster Staff Writer
(see all)