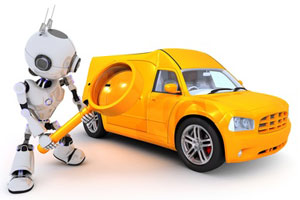 Recently newscasters reported that an Onslow County roadway had been closed for several hours because of a log truck that crashed into a utility vehicle. The drivers of the vehicles were safe but the trucks were definitely totaled. Such accident news reports get flashed every other day. Though no life is lost, many trucks 'die' on the spot. Really? Not necessarily. These trucks get a new lease on life at salvage yards.
Because these trucks are badly damaged in an accident, they have limited or low value. Many of these trucks have a salvage title and the cost of repair is more than their actual worth. This is generally decided by the insurance company. If these vehicles get damaged in floods or accidents they are no less than a liability. Some of the vehicles that were recovered after theft are also displayed at the online salvage auctions. Though some people purchase salvage trucks to rebuild them, many private sellers find it hard to sell such vehicles. For this, many companies hold online auctions. After the highest bidder wins the auction, he is asked to deposit some amount. For buyers, salvage yards or a salvage auction or online are a perfect place to buy vehicles at a fraction of the price as compared to the dealer price. Sometimes, the damage may be minor and some repair in the body can make a vehicle as good as new.
Before you decide which totaled truck to buy, it's good to follow these tips:
You need to ensure that the truck is repairable.
You also need to make sure that the spare parts required for the repair work can be easily obtained at reasonable prices.
When making an online purchase, it is best to physically examine the salvage vehicle first. You need to confirm that that the vehicle is salvageable.
If the vehicle has a salvage title, you need to find out the reason behind it.
Though most insurance companies don't insure salvage vehicles, still there's no harm in finding a company that is willing to insure it.
Since banks do not provide financing options on salvage vehicles, it is necessary that you have adequate cash in hand.
Before you make the final decision, it is important that you find the requirements of a salvage vehicle to be roadworthy from the Department of Motor Vehicles.
Just because these vehicles are rehabbed, there are ample chances that some problem can pop up in the future. Getting it thoroughly checked by a reliable mechanic can only lessen your chance of a breakdown on the road.
Latest posts by AutoBidMaster Staff Writer
(see all)