Deep blue waters, doses of fun, and quality time with friends are some of the thoughts that fishing boats evoke in our minds. Just like cars, they are available in various configurations, from multiple-engine boats for high-speed cruising to boats with spacious cabins, where comfort is your companion. Fishing boats, whether you get them from auctions offering repossessed boats for sale or somewhere else, are a great gadget for boating enthusiasts. What type of fishing boat would perfectly suffice your need, however, will remain a question unless you learn about their types. To help you get some of your answers, we present five prominent fishing boat types through this blog post. Check them out.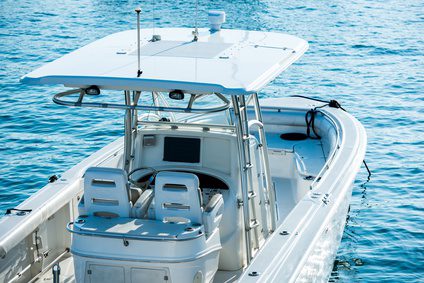 1. Center Console Boats
Center console boats, as the name goes, have a console around the deck. You can ride these watercrafts in both salt and fresh waters. Available in multiple configurations such as T-tops to other types of enclosures, they offer protection from the sun and rain to keep all hassles at bay while you're on the ride. A center console boat ranges from a 15-footer, with a single engine, to a 42-footer fishing boat, with three to four engines. Many of them include fish lockers too.
2. Walkarounds
Walkarounds are quite similar to center consoles, but they offer a full-length deck for people to move on them. A weatherproof perch for the captain and a cuddy, with ample lounging space, makes them one of the ideal boat types for fishing and other water adventures. Other features include a stowaway seating, rod holders, and steps to climb the forward deck. Simply put, walkarounds are not only great for fishing, but also for regular cruising.
3. Fish and Ski Boats
If you are in search of a boat that you can use both for fishing or other recreational activities over water, then we bet your eyes are reading the right thing. Tow tubes, wakeboard, fish in saltwater, or simply enjoy a high-speed cruise, these boats have got you covered. Aerated livewells help ensure that your catch remains fresh while the flip up seats (available in some models) make space for movement or more storage when you need it. Given their V-hulls designed for aggressive rides and precise handling, you are sure to enjoy riding a fish and ski boat, no matter it's a bank repossessed boat or brand new model.
4. All-purpose Fishing Boats
All purpose fishing boats resemble close to bass boats, but they have higher fences, which makes them a better choice if you are riding with small children. Deeper-angles hulls for precise handling come by default and some are also equipped with a steering wheel or a tiller on the outboard motor to give you the feel of riding a car. All purpose boats are perfect for small families or a couple of people, who wish to advantage of other watersport activities, besides fishing in salt and fresh water. Most of the models include livewells that provide oxygenated water to keep fish alive; however, it's better to ensure your selected model has this feature when shopping a bank repo boat.
5. Bowriders
Although bowriders are similar to deck boats, their hulls boast more of a V-looking shape. You can cruise them at high speeds, without worrying about handling sharp turns. Bowriders include a tow eye at the stern to help you carry your skiers, wakeboarders, tubes, and other things you think are essential for having fun over the water. A few models also come with a swim platform and a ladder, to help users easily get into the water and pursue their favorite watersports. Due to their open bow-up front, most large families and groups prefer these sports boats.
Conclusion
Fishing boats include several other varieties such as cuddy cabins, deck boats, dinghies, and inflatables, each offering different features and uses. You can check out some of these models at our website, and learn more about them. Most of the models you'll find are available at the lowest possible price out there, which means you can now realize your dream fishing boat, without having the need to break a bank. If you have any questions, call us at +1 (503) 298-4300.
Latest posts by AutoBidMaster Staff Writer
(see all)