A lot of drivers prefer hatchbacks owing to a number of reasons. They are powerful, agile, and efficient machines that are light on the pocket too. They are perfect for urban dwellers, owing to their maneuverability, small size, generous cargo space, and fuel-efficiency. If you are on a hunt for a hatchback in Texas, auto auctions in Houston are the way to go. There are a plethora of options available at online salvage and public car auctions in Texas. To get you started with your shopping, here are a few noteworthy options. Have a look.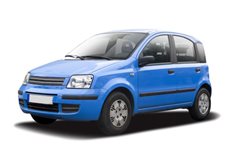 1. Mercedes-AMG GLA45
A performance-centric version of the GLA class crossover, the car boasts a muscular front end, 2.0-liter four-cylinder engine, plush interiors, and the latest in technology. Its turbocharged engine produces 375 horsepower, which takes the car from 0 to 60 mph in 4.3 seconds. The hatchback also has generous cargo space and premium safety systems.
2. Ford Fiesta ST
Ford Fiesta ST's comfortable interiors and nimble handling make it a great everyday companion for your commutes. The subcompact car has well-appointed interiors with the latest infotainment system. Besides comfort and technology, the car's 1.6-liter turbocharged inline-four engine delivers smooth performance on highways and city roads. It also has an optional EcoBoost engine, which adds fuel-efficiency to the list of benefits that you stand to enjoy.
3. Fiat 500 Abarth
Fiat 500 Abarth exudes an urban style and personality that makes it a delight to drive and even watch from a distance. Besides sheer beauty, the car offers a plenty of space for two people and good fuel economy, and a manual transmission. Under the hood, the car has a 1.4-liter turbocharged engine that produces 160 hp and 170 pound-feet of torque. The estimated fuel economy of the car with a manual transmission is 30 mpg.
4. Volkswagen Golf R
Volkswagen Golf R is a formidable performer that comes with a 2.0-liter turbocharged engine producing 292 horsepower and 280 pound-feet of torque. The all-wheel drive is integrated with a sports suspension, the latest technology, and a six-speed manual transmission. The six-speed automatic transmission is optional, while standards features include keyless entry with push-button start, Bluetooth, and the latest safety features.
5. Mini Cooper JCW
When it comes to the Mini Cooper JCW, small is actually big. This compact car flaunts a retro look and is fun to drive. It features a 2.0-liter inline-four that produces 228 horsepower. A front-wheel drive, the car has a six-speed manual transmission. This mini model tackles sharp bends seamlessly and maneuvers around tight spaces with ease. The car brings together performance, agility, top engineering, and fuel-efficiency of 32 mpg on highways.
Bottomline
These are some of the top hatchbacks that you can find at auto and bank repo auctions in Houston, Dallas, and other jurisdictions in Texas at affordable prices. If you wish to bid on any of the cars on our shortlist at online auctions, register with AutoBidMaster to enjoy free 30 day membership trial with exclusive member offers. Choose a car that appeals to your style, preferences, and budget from our extensive collection of salvage cars at auto auctions in Houston and surrounding areas. To get answers to your questions, fill out our Contact Form and we get back to you, shortly. You can also call us at 503-298-4300.
Latest posts by AutoBidMaster Staff Writer
(see all)