Recent years have seen a rise in the number of superbikes being churned out by leading brands that have been pushing them to breathtaking speeds. If you are a sucker for speed and wish to own a superbike but can't afford the showroom price, try hunting for pre-owned or salvage motorcycles for sale at online motorcycle auctions.To give you a headstart, we list the top five fastest bikes that you should consider.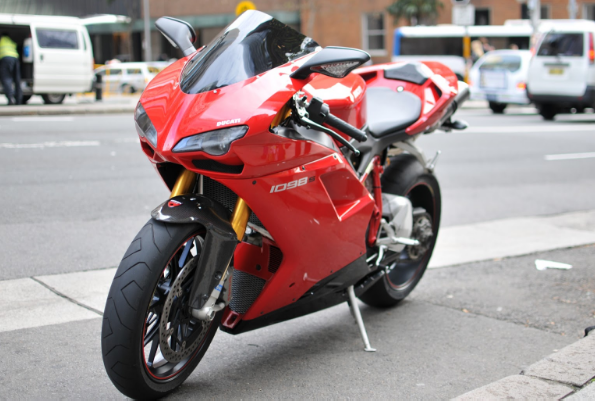 1. Ducati 1098S
The ducati 1098S is one of the most popular superbikes in the world. It reaches a maximum speed of 169 mph with the help of 160 horsepower, squeezed from a 1099cc liquid cooled L-Twin cylinder engine. The bike is one of the lightest in the world and features an outstanding suspension. The bike has 6 speed chain hydraulic transmission with dry multiplate clutch. It can go upto a speed of 100kmp in just 3.2 seconds.
2. BMW K 1200S
A hyper sports tourer motorcycle, the BMW K1200S is powered by a 1157 cc 16 valve 4 cylinder engine, producing 164 horsepower and torque of 129 Nm. It is one of the fastest superbikes, with a maximum speed of 174 mph. It goes from 0 to 100 kmph in 3 seconds. The bike follows in the footsteps of cars from the same brand, showcasing a classy design and body. It rates highly on safety, as it features one of the best front and rear braking systems.
3. MV Agusta F4 1000R
The MV Agusta F4 1000R is a limited edition speedster from the Italian manufacturer. Second in the series of F4 1000 motorcycles from the brand, the superbike has a 998cc 4-cylinder DOHC liquid-cooled engine, equipped with 16 radial valves. The engine produces 174 horsepower and a torque of 115 Nm. The six-speed transmission system used by the motorcycle is a multi-disc wet clutch.
4. Honda CBR 1100XX Super Blackbird
The fastest sports-touring motorcycle from the brand, Honda CBR 1100XX Super Blackbird, was also one of the fastest production motorcycles in 1997. The bike is powered by a sophisticated 1137 cc, liquid-cooled, four cylinder engine, which produces 152 horsepower and a torque of 119 Nm. One of the exceptional features of the bike is a twin balance shaft which provides exceptional smoothness on road. The bike can go upto a maximum speed of 190 mph.
5. Kawasaki Ninja ZX 14R
Bikes from the Ninja series from Kawasaki have dominated the superbike market for years. The Kawasaki Ninja ZX 14R sits at the top of the list of fastest bikes in the world, with a top speed of 186 mph. The bike boasts a 1441 cc four valve liquid cooled engine, with a maximum horsepower of 144 and a torque of 162 Nm. One of the most highlighted features of the bike is the fact that it can go from 0 to 100 kmph in just 2.7 seconds.
Summing it up
If you are looking to buy a super-bike without spending a lot of money, online motorcycle auctions for salvage or repossessed bikes are your kind of place to shop. AutoBidMaster offers one of the biggest inventory of bikes, cars, and other automobiles with salvage titles for budget buyers. You can participate in a live online auction at www.autobidmaster.com and bid on a vehicle of your choice. To discuss your requirements or get answers to your questions, contact us at (503) 298-4300.
Latest posts by AutoBidMaster Staff Writer
(see all)