Ah, the Bronco. Building a lasting legacy from 1965-1996, including a cult following and some ties to some, erm, prolific figures who may or may not have appeared in court. Aside from some negative connotations from said court cases, the Bronco has a strong track record of being a reliable, tough vehicle. As their first SUV, the Ford Bronco paved the way for a long line of SUVs, including its replacement, the Expedition.
The same product manager who was behind the Mustang – Donald N. Frey – was behind the idea for the Bronco in the first place. Lee Iacocca (RIP) approved production in February of 1964. This was Ford's response to the Jeep CJ-5 and the International Harvester Scout, and if you look at old marketing campaigns, you can see early examples of promoting an off-road oriented vehicle as a Sports Utility Vehicle: the early notions of what we now know and love as SUVs.
First-gen
Second-gen
Third-gen
Fourth-gen
Fifth-gen
Sixth-gen: the all-new Ford Bronco
Register with AutoBidMaster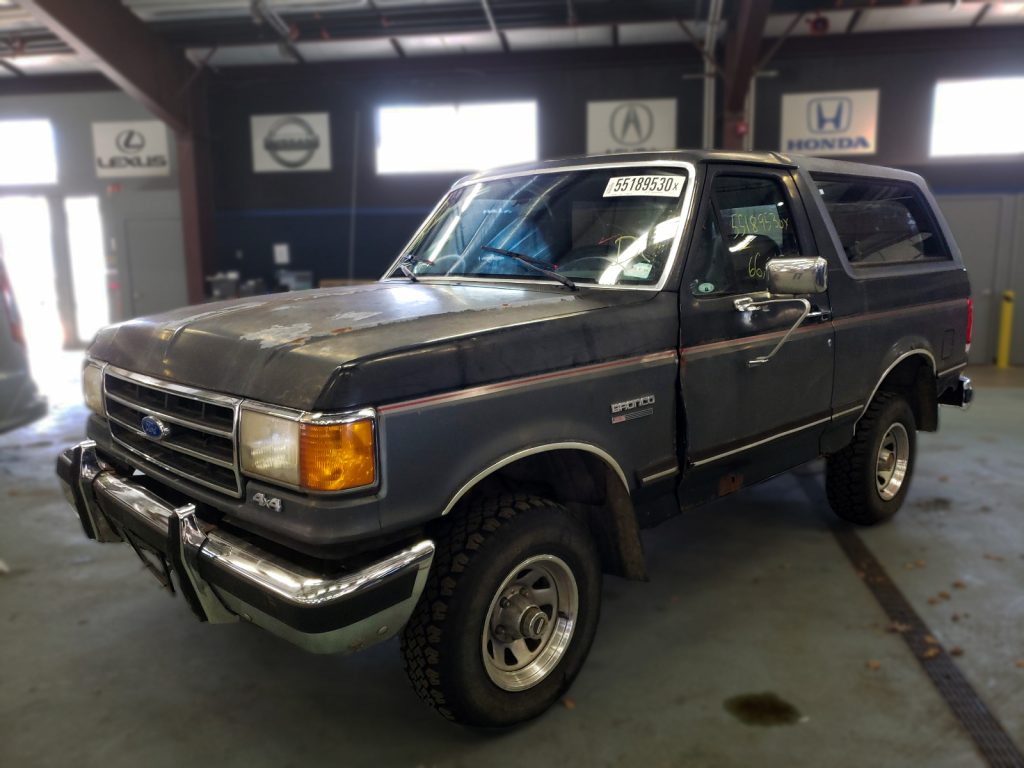 First Gen
The first-generation Bronco had a unique chassis that wasn't shared with any other Ford or Lincoln-Mercury. A 92-inch wheelbase that sat between the CJ-5 and Scout made it a great competitor between the vehicles, offering a blend of stability and maneuverability.
All Broncos came stock with four-wheel drive and locking hubs. Anti-dive geometry was standard as well, where suspension deflection was implemented when brakes were applied: radius arms transferred suspension from the front axle to transfer the load away from the front coils. Snowplowing? No problem. The Bronco had a 170 ci inline six taken from the Ford Falcon, putting out 105 horsepower. That's like, a hundred and five broncos if we're talking about horses. It was only offered with a three-speed column-shifted manual transmission, and in our opinion, it shoulda stayed that way.
In '66 there were three body options: a two-door wagon, a half-cab pickup, and an open-body roadster. A sport package was introduced in 1967, although it was mostly aesthetic rather than functional. Chrome exterior trim and wheel covers as well as red-painted lettering on the Grille. 1970 saw the Bronco Sport become its own model entirely.
1966 also saw a 200 horsepower, 289 cubic inch V8, which was enlarged to 302 cubic inches in 1969 which remained through 1977. In 1973, a 200 cubic inch inline-six became standard through 1977.
Second Gen
Twelve years later ('78), Ford introduced the second generation of the Bronco. With two new engines available, a 5.8L and 6.6L V8: 156 horsepower and 158 horsepower respectively. While the difference in horsepower was marginal, the 6.6L had 15 lb-ft of torque over its smaller accompaniment, bringing the total up to 277 lb-ft. Increased engines, along with an addition of 12 inches to the wheelbase, propelled the Ford Bronco entered the full-size SUV segment to compete with the likes of the Chevy Blazer, the Dodge Ramcharger, and the Jeep Cherokee.
Third Gen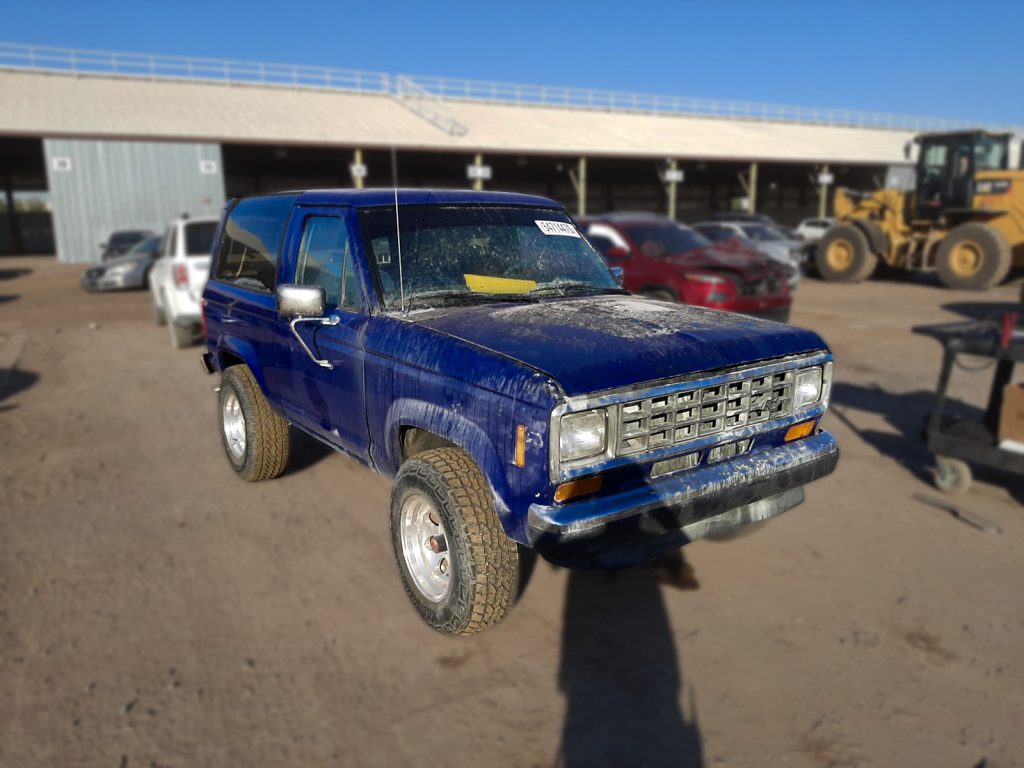 1977 saw the development of the third generation of the Ford Bronco – before the second generation was even released. This generation was significantly lighter, an attempt to have a more efficient powertrain while staying in the full-size segment. The standard engine was an inline-six available only with a manual transmission. a 351M took the place of the 400 V8, with a 302 V8 returning as the base offering. In 1982, the 351 Windsor replaced the 351M with a 210 horsepower "high-output" edition in 1984. in 1985, the 5.0L V8 received multipot EFI, bringing the horsepower to 190 up from 156 for the standard 5.8L V8 that was discontinued in 1986.
Fourth Gen
The 1987 model year saw a shorter wheelbase iteration of the Ford F150. A significant amount of interior and exterior upgrades accompanied this generation: a new front bumper, flatter front grille, and a reshaped hood. The interior saw redesigned front seats, door panels, dashboard, and controls as well as an updated instrument panel.
Fuel injection was added to the 1987 inline 6 and the 1988 V8. 5-speed manuals replaced the previous gen's 4 speeds, and rear-wheel ABS was standard from 1987 onward.
Fifth Gen
More interior upgrades including a new dashboard and instrument panels, along with optional leather front seats for the XLT and Eddie Bauer trims. Power mirrors were offered for the first time in 1992, and in 1996 the Ford Bronco was the first Ford vehicle to use turn signal lights that were incorporated into the side mirrors.
4-wheel ABS replaced rear-wheel ABS in '93, and the body redesign added front crumple zones. Earlier iterations carried the same engines from previous generations, but in 1994 the Bronco was only available with V8s.
Note: O.J. Simpson was in a '93 Bronco XLT when he was chased by police on 405. 95 million Americans watched it live, how's that for free publicity?
June 12th, 1996 saw the last fifth-gen Bronco roll off the line in Wayne, Michigan, to be replaced by the expedition.
Sixth Gen: the New Ford Bronco
Alright, on to the good stuff. After 25 years, the Bronco will be back in 2021. Finally.
Let's see what's up with it.
Considering the design chief's own 1976 Bronco was digitally scanned for reference during the design process, we're off to a good start. To compete with the Jeep Wrangler, it'll be available in both two-door and four-door variants, with convertible options for both.
The standard engine is a 2.3L turbocharged EcoBoost inline-four that pushes 270 horsepower and 310 lb-ft of torque, a pretty significant upgrade from the fifth-gen, although that was 25 years ago. There's a 2.7L twin-turbo EcoBoost V6 that pushes 310 horsepower and 400 lb-ft of torque as well. That one's only available with a 10 speed automatic, although the 2.3L I4 comes standard with a 7-speed manual transmission. Note that this isn't a true seven-speed, but it has a "crawler" gear which is considered the 'seventh gear.' Ford has also indicated that there'll be a hybrid powertrain in the future, too. That in and of itself is incredibly exciting – what better way to rock-crawl than with an economically (somewhat) sustainable vehicle?
There's an optional package, aptly named The Sasquatch which comes with 35-inch tires: the largest on any production vehicle so far. A terrain management system is optional as well, which they've dubbed G.O.A.T., or Goes Over Any Terrain, which is a bit of a bold claim. We'll see 'bout that, considering it shares its acronym with the colloquial Greatest Of All Time.
Other exciting features include Dana front and rear axles, electronic locking front and rear differentials, a sway-bar-disconnect. Ford claims that it can ford (heh) up to 33.5 inches of water and both two and four-door iterations are able to tow 3500 pounds, just like its competition, the Jeep Wrangler.
So, does the new Ford Bronco live up to its name?
According to Ford's site, the base "Essential Bronco" starts at $28,500 for the two-door. That really isn't out of the ordinary. As far as drive tests go, we don't know yet either. That being said, everything else looks pretty-damn-promising, and we're looking forward to seeing the 2021 Ford Bronco show up at auction.
Until then, make sure to register with us to get access to over 300,000 cars, trucks, SUVs, and motorcycles daily. If you need any help with bidding, buying, or shipping vehicles, give us a ring.
Happy bidding!

Latest posts by AutoBidMaster Staff Writer
(see all)