All-terrain vehicles, or ATVs, are a fairly common mode of transportation used in sports. There are reasons why quad bikes have become so popular among those who love an active lifestyle. For example, drivers appreciate these vehicles for their high level of cross-country ability. Functional ATVs can drive where cars get stuck. In addition to this, all-terrain vehicles have many other advantages that provide ample opportunities for sports activities. AutoBidMaster offers you the chance to find out for what sports purposes it's worth buying a quad bike and how to immerse yourself in exciting leisure.
What Makes ATVs Suitable for Active Off-Road Sports
All-terrain vehicles have found their use in sports activities, particularly in racing and long off-road expeditions. The performance of these functions is possible due to the following features of the quad bikes:
high ground clearance;
powerful engine;
impressive passability;
large load capacity.
The vehicle's construction also plays a role in its great performance and adds to its controllability. Furthermore, different types of ATVs are equipped with large wheels and powerful motors that provide maneuverability in the most inaccessible places. Such all-terrain vehicles aren't afraid of sharp ups and downs or forest roads. Swampy areas are also easy to pass through for these machines.
Sports and Extreme Riding with ATVs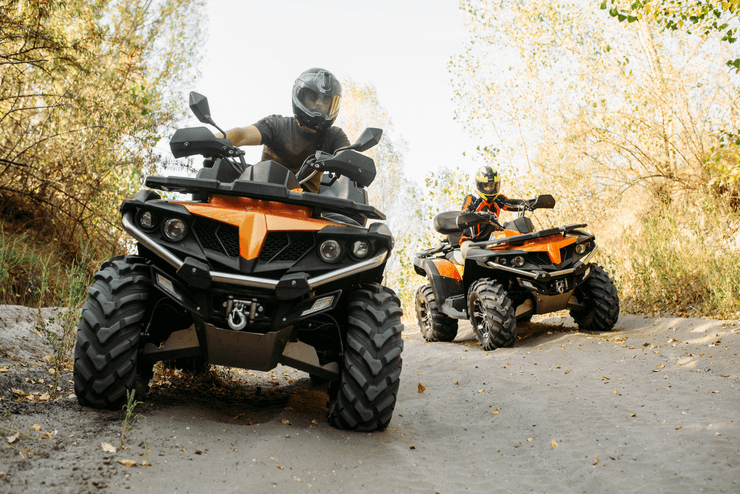 Among ATV drivers, there are also fans of extreme riding. They use powerful all-terrain vehicles to race through particularly difficult off-road conditions. The key point that makes quad bikes a great option for sports riding is that they face no restrictions on the type of road surface or the time of year. All-terrain vehicles can drive on snow, asphalt, sand, and in mountainous areas. This opens up a wide range of racing opportunities in mountains, forests, off-road plains, etc. As a rule, only models with great specifications are bought for such rides. This applies to the engine and its acceleration, clearance, controllability, and other properties essential for high performance.
Compared to sport utility vehicles (SUVs), powerful squad bikes are more economical and easier to maintain. In addition, it's advisable that the SUV be equipped with special protective elements, including mud tires, protection for the bottom, and bumpers, before driving on rough terrain. In contrast, ATVs don't need such modifications. Their construction is completely ready for off-road expeditions.
ATV Races and How to Prepare for Them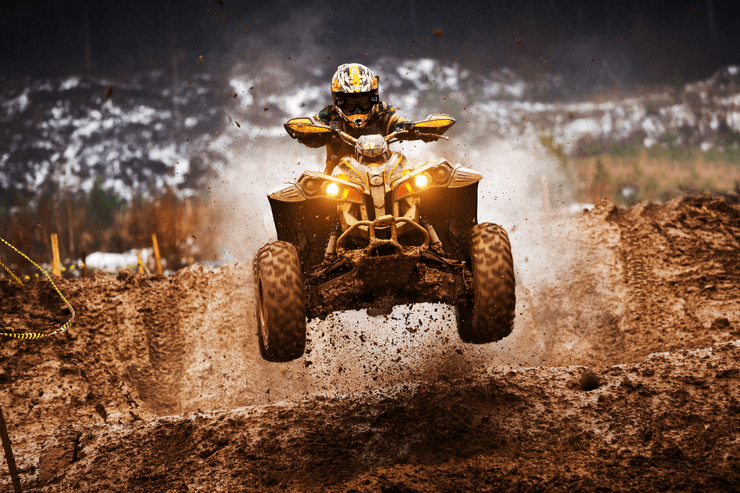 As ATVs become more popular around the world, more competitions involving them are being held. Their feature is that organizers choose special routes for them, including swampy terrain, shallow water bodies, forests, and other off-road conditions. Interestingly, any ATV can participate in most races since the emphasis isn't on speed but on the endurance of the vehicle and its passability.
In order to be safe while taking part in ATV races, it's smart to follow some recommendations:
go through the briefing and study the route;
prepare your ATV for racing;
get ready any required special equipment;
have means of communication.
When applying to ATV races, find out all the requirements, including those about appliances that will ensure issueless and safe driving. As a rule, the list of basic equipment necessary for quad bike races is as follows:
number plates on the front and rear;
nerf bars;
transponder;
tether cord or kill switch.
Speaking of the driver's security, there is a great variety of high-quality motorcycle equipment in modern motoshops. A good motorcycle suit will come in handy not only during ATV racing but also during normal off-road driving. Careful preparation for competitions on quad bikes will help you feel more confident and protect you from serious injury in the event of leaving the track.
In addition, it's preferable to have a walkie-talkie in ATV racing so that the driver can be warned of any impending dangers on the road. In such competitions, the quad bikers gain valuable experience, improve their riding skills, and just have fun.
Wrapping Up
Quad bikes are great vehicles for off-roading, long and exciting rides, and races. They differ from cars in that passengers aren't isolated from nature. Drivers can enjoy a breath of fresh air, the bright colors of nature, as well as the warm rays of the sun, which make sports and leisure expeditions all the more enjoyable.
If you want to buy an all-terrain vehicle that can handle many tasks, then quad bikes from AutoBidMaster will be the perfect solution. To get one, register on the website, provide a copy of your government-issued ID or passport, place a security deposit, and then you are free to bid on your perfect ATV! If you have any questions concerning car auctions or particular auction lots, contact us online or call us at: +1 (503) 298-4300 (4:00 AM–4:00 PM PST, weekdays).
We are on a mission to help our customers give a second life to used cars by simplifying auto auctions for all. – AutoBidMaster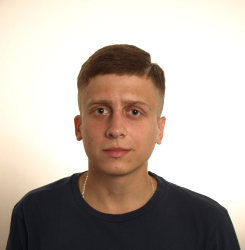 Latest posts by Vitalii Movchan
(see all)