Jet skiing is an exciting and adrenaline-fueled recreational activity that has been gaining popularity worldwide. However, when it comes to picking the right jet ski for your skill level, things can get confusing. Whether you are a seasoned rider or a novice, choosing the right jet ski that matches your skill level is crucial to having an enjoyable and safe experience on the water. With numerous brands and models available on the market, selecting one that suits your needs can be a challenging task, but not with AutoBidMaster! Let's take an in-depth look at the best jet skis for every skill level to help you make an informed decision and have the ultimate jet skiing adventure.
Perfect Jet Skis for Beginners
When looking for a beginner jet ski, you want to find one that is stable, easy to maneuver, and doesn't require a lot of maintenance. It's also a good idea to ensure that any watercraft intended for a novice rider has a low horsepower and speed rating to reduce the risk of accidents. Based on the points mentioned, we've gathered a few ideal vehicles that meet the requirements.
Sea-Doo GTI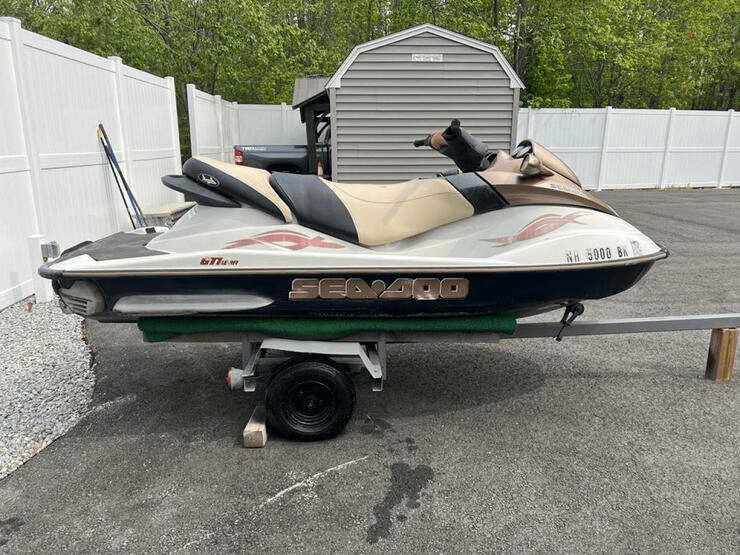 If you are a novice jet skier, this one is perfect for you. It's known for being lighter and more affordable than most jet skis, making it an ideal option for those who are new to the sport.
The specifications of the Sea-Doo GTI can vary depending on the model year and specific trim level. However, we can outline some general features for this watercraft configuration.
The Sea-Doo GTI is typically equipped with a Rotax supercharged four-stroke engine. The motor displacement can vary, but it is commonly around 1,494 cc (or 1.5 liters). Regarding its performance, the power output can range from around 130 to 170 hp, depending on the specific model and engine configuration. The top speed is typically in the range of 50 to 60 mph (80 to 96 km/h). The GTI often includes an Intelligent Brake and Reverse (iBR) system, which provides enhanced control and maneuverability, making this personal watercraft ideal for beginners.
Don't wait when planning your vacation and memories on the water—bid on the Sea-Doo jet skis with AutoBidMaster and start your adventure today!
Yamaha EX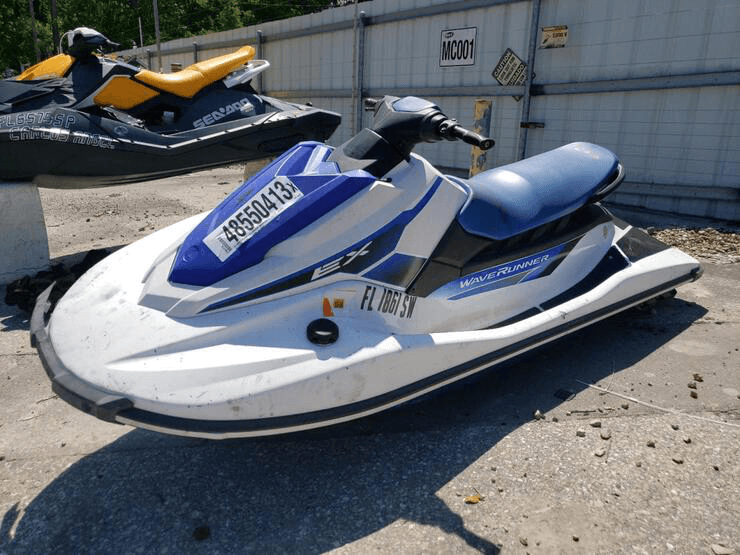 Here we have a compact and versatile personal watercraft also designed for entry-level riders and those seeking an affordable and fun water adventure. It offers a combination of agility, reliability, and ease of use, making it an excellent choice for beginners and recreational riders.
The Yamaha EX jet ski is equipped with a Yamaha Marine Engine, specifically the three-cylinder, 1-liter TR-1 HO motor. This engine is known for its efficiency, durability, and smooth power delivery. The Yamaha EX typically offers a power output of around 100 hp. The top speed of the EX jet ski version is usually in the range of 50 to 55 mph (80 to 88 km/h), depending on factors such as rider weight and water conditions.
Speaking of additional features, the EX often includes Yamaha's RiDE dual-throttle handlebar system, which provides intuitive control and enhanced maneuverability. The jet ski has a lightweight and durable hull construction, utilizing materials that balance strength and agility. Aside from that, many EX models feature a multifunction LCD instrument panel, which displays important information such as speed, fuel level, and engine diagnostics. That's why we recommend considering this watercraft model if you just recently got involved in summer water sports.
Don't miss out on the ultimate water adventure and bid on the Yamaha watercraft now!
Perfect Jet Skis for the Intermediate Level
For those who're already familiar with jet skiing, the Yamaha VX series is the way to go. This line of jet skis is designed with a focus on comfort and performance. The engine is strong enough to take you up to high speeds, while the shape of the hull provides excellent stability and handling. The VX series also benefits from a range of features that are perfect for intermediate riders, such as adjustable handlebars, a comfortable seat, and a watertight storage compartment.
Kawasaki Ultra LX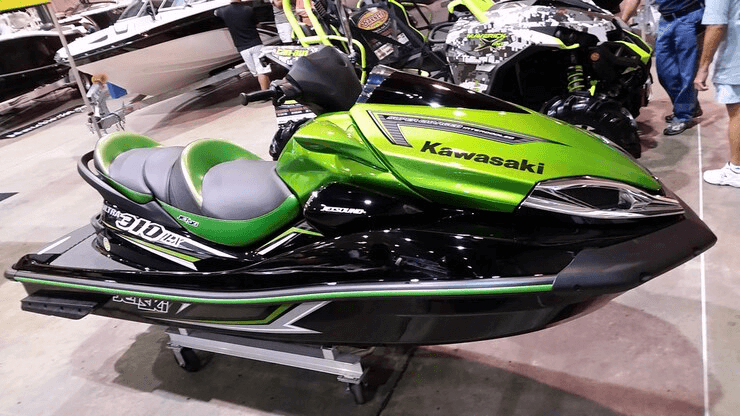 The next jet ski on our list is a high-performance personal watercraft designed for riders who seek a combination of power, comfort, and versatility. It offers a balance between thrilling performance and long-distance cruising capabilities, making it suitable for both adrenaline-fueled adventures and leisurely rides.
The Kawasaki Ultra LX is equipped with a four-stroke, four-cylinder engine that has a displacement of 1,498 cc (1.5 liters), providing ample power and torque for various water conditions. The Ultra LX typically offers a power output of around 160 hp, delivering exhilarating acceleration and an impressive top speed in the range of 65 to 70 mph (104 to 112 km/h).
In addition, the Ultra LX jet ski typically has Kawasaki's Smart Steering System, which provides assistance during low-speed maneuvering and enhances stability at high speeds. Many models also feature a large, fully digital instrument panel, which displays important information such as speed, fuel level, and engine diagnostics.
Summing up all the things mentioned, it's a suitable jet ski for intermediate-level riders. Discover the power and precision of the Kawasaki jet skis with AutoBidMaster!
Yamaha VX Cruiser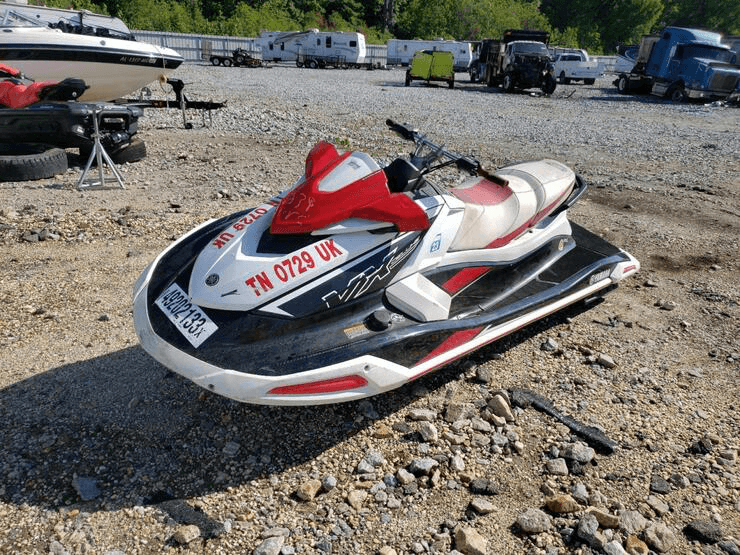 This one is a versatile and comfortable personal watercraft designed for riders who value performance, reliability, and luxury features. The Yamaha VX Cruiser is equipped with Yamaha's renowned three-cylinder TR-1 High-Output marine engine with a displacement of 1,049 cc (1.0 liters). This motor is known for its efficiency, smooth power delivery, and low emissions. The VX Cruiser typically offers a power output of around 100 hp, delivering exciting acceleration and an impressive top speed of 50 to 55 mph (80 to 88 km/h).
The watercraft offers responsive handling and maneuverability, allowing riders to enjoy precise control in various riding situations. The VX Cruiser configuration often includes the RiDE dual-throttle handlebar system to make riding intuitive. In addition, the jet ski may have Yamaha's Cruise Assist and No Wake Mode, allowing riders to maintain a steady speed and easily navigate no-wake zones. So, we definitely recommend you consider this one among the jet ski inventory from AutoBidMaster.
Perfect Jet Skis for Advanced Riders
Professional jet skis are high-performance models designed for skilled and experienced riders. They have the most innovative technology, the most horsepower and speed, and the best handling. These jet skis are perfect for racing or freestyle riding. So, you need to possess great practical skills to handle such watercraft.
Sea-Doo RXP-X 300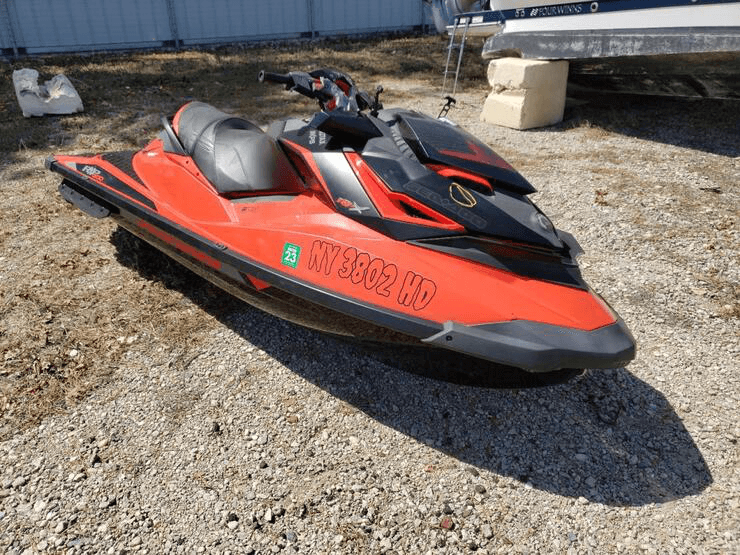 Here we have a high-performance jet ski designed for thrill-seekers and adrenaline enthusiasts. With its aggressive styling, powerful engine, and advanced features, the RXP-X 300 configuration delivers an exhilarating and dynamic riding experience.
This jet ski is equipped with a 1.5-liter, three-cylinder Rotax ACE (Advanced Combustion Efficiency) engine that boasts an output of 300 hp, making it one of the most potent personal watercraft in its class. The top speed of the RXP-X 300 can reach up to 67 mph (108 km/h).
The RXP-X 300 often includes the Sea-Doo Intelligent Brake and Reverse (iBR) system, which enhances control, allows for quick stops, and aids in maneuverability. It may also have Sea-Doo's Intelligent Throttle Control (iTC) system, providing various riding modes and customizable power delivery. Furthermore, the watercraft offers a performance-focused seat design with deep bolsters, providing stability and comfort during aggressive riding. So, the Sea-Doo RXP-X 300 is an excellent choice for riders who crave exhilarating speed and precise handling.
We at AutoBidMaster not only have jet skis but also salvage boats in our inventory in case you are looking for a great watercraft but haven't decided yet on its type. So, you're welcome to check out all the offers we have for our great customers.
Yamaha GP1800R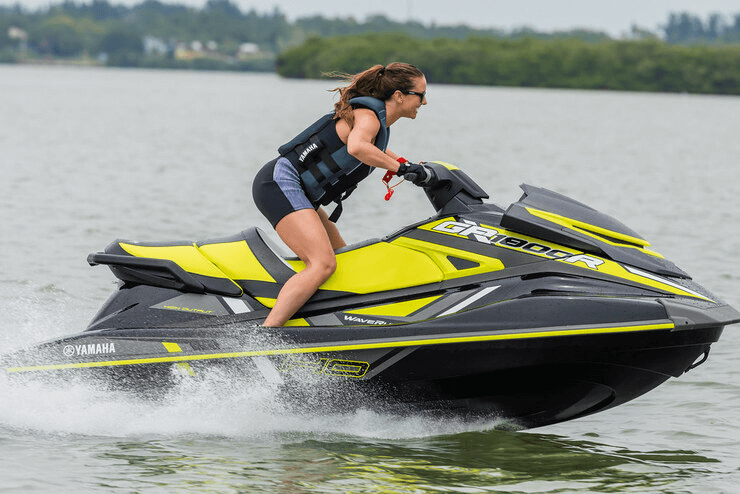 This jet ski combines Yamaha's racing DNA with advanced technology and aerodynamic styling to deliver an adrenaline-fueled riding experience. The watercraft is equipped with a high-performance four-cylinder Yamaha SVHO (Super Vortex High Output) marine engine that has a displacement of 1,812 cc (1.8 liters), delivering exceptional power and torque. The GP1800R configuration boasts a capacity output of approximately 250 hp. Its top speed can reach up to 70 mph (112 km/h), providing straight-line speed and impressive performance on the water.
Another important point to consider is Yamaha's race-inspired hull and deck material used in the GP1800R configuration, which provides a lightweight and agile platform for enhanced handling and maneuverability. It's also worth mentioning the available digital dashboard, Auto-Trim system, and special racing mirrors that make the watercraft a great choice for professionals.
Get Your Desired Jet Ski With Us!
Picking the right jet ski is important for ensuring that you have a safe and enjoyable time on the water. When selecting a jet ski, consider factors such as your skill level, the type of riding you want to do, and your individual preferences in terms of comfort and convenience. By taking the time to choose the right jet ski for you, you can experience all the excitement and fun that owning one has to offer.
To become the happy owner of a great jet ski and boost your summer fun, register on our online auction platform, upload a copy of your government-issued ID or passport, and place a security deposit. If you face any concerns or issues or have questions about online car auctions, our customer support team is always at your disposal to help you. Contact us online or call us at: +1 (503) 298-4300 (4:00 AM–4:00 PM PST, weekdays).
We are on a mission to help our customers give a second life to used cars by simplifying auto auctions for all. – AutoBidMaster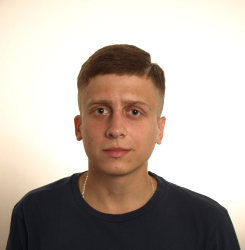 Latest posts by Vitalii Movchan
(see all)