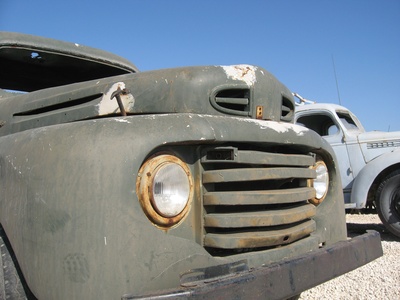 Trucks might require maintenance or replacement parts after prolonged usage, especially those used for industrial or agricultural purchase. Although trucks are sturdy and typically have a long lifespan, constant strain may result in repair needs. Pickup trucks have a truck bed separate from the cab, allowing the vehicle to carry heavy loads. Today, trucks are also popular personal vehicles, sometimes used in lieu of a conventional car. Popular truck manufacturers include Ford, Chevrolet, Dodge, and Honda. Trucks come in a variety of sizes and makes, and may be compact, full size, sport utility vehicles, or muscle trucks.
Due to the wear and tear some trucks experience they often need repair. When garages, individuals, or car dealerships require vehicle parts, used truck parts have numerous advantages over new factory-issued parts. Commonly needed used truck parts include relatively affordable items like side view mirrors, aesthetic parts like grills and wheels, or relatively major repair needs like engines and transmissions. In addition, many truck enthusiasts rebuild older makes or vintage trucks such as the 1928 Ford Model A.
A new pickup truck transmission typically ranges from $2,000 to $4,000. However, one can reduce cost by having a mechanic rebuild the engine using used parts, which might cost $1,000. When one is facing major repairs it is usually advisable to attempt to rebuild the part, in this instance a truck transmission, rather than replacing the part altogether.
Whether one's faulty truck part requires rebuild or a complete replacement, online auctions, like those facilitated by Autobidmater.com, have money and energy saving advantages. For example, mechanics and dealerships save the effort of visiting salvage yards and physically searching for an individual part, such as a truck transmission.
Utility trucks experience wear during their lifespan, and mechanics require a constant supply of replacement parts like expensive transmissions to meet customer's needs. In such instances, it might be more cost-effective for dealerships to purchase entire salvage trucks and other vehicles.
One can easily find truck parts via Autobidmaster, although the site does not carry individual vehicle parts. Instead, the site purchases entire salvage trucks and cars from Copart Auto Auctions. In addition to saving money, buying a whole salvage truck has other advantages for dealerships and individuals alike.
Purchasing entire salvage truck offers one numerous parts, and some vehicles can be purchased in near mint condition. Further, online auto auctions via Autobidmaster are highly convenient. Online truck auctions eliminate the need for onsite parts searching which can be a tedious task. Online auto auctions save mechanics time and transportation efforts because salvage yards might not be close to one's base location.
Adding additional convenience, when salvage cars or trucks are purchased online via Autobidmaster, the vehicles can easily and afford-ably be shipped to a mechanic's body shop. Purchasing a salvage truck is also advantageous because the dealership will attain numerous parts in good condition as opposed to just one needed part, ensuring that parts are in constant supply.
Click the blog header and see how AutoBidMaster can facilitate all your salvage vehicle needs!
Latest posts by AutoBidMaster Staff Writer
(see all)