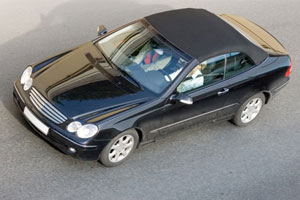 "While you're riding in a black Mercedes Benz
riding high in a black Mercedes Benz
you can't help go on in a black Mercedes Benz
inside a black Mercedes Benz"
The above lines are an excerpt from the song lyrics of "Black Mercedes Benz".
The complete song has depicted life's pain, passion, social stigma and ecstasy wonderfully. A significant part of the lyrics has references of black 'Mercedes Benz' where desires to ownone and 'ride high' was prevalent.
The black version of this four-wheeled wonder catches the imagination of many auto lovers and makes them own this vehicle as their trusted ally in the life's journey.
The Journey of Excellence Continues…
The Mercedes saga goes on unfurling its unique facets in the course of time. Apart from the stunning design and look, this amazing machine is also known for providing a high level of safety to its riders.
On the official website of Mercedes Benz USA some incredible life-changing stories can be found along with pictures and videos. These stories illustrated how people survived fatal accidents due to their Mercedes. The strong body and safety measures of this vehicle have saved many lives so far.
In one of the stories, a man was driving his mother's 1999 E300 black Mercedes when it hit another car. The photograph on the website shows how badly the car was damaged and got 'totaled'. The impact of the accident was so severe that the man broke his foot because it got stuck below the parking brake. Also, his right hip got dislocated. According to the police, considering the impact, the man could easily have been killed. He was alive simply because he was inside a Mercedes. This car's engineering safety and driving qualities have made it one of the safest cars in the world!
Besides providing safety during road accidents, a Mercedes can also sustain the toughest of weather conditions. Whether it's scorching summer, freezing arctic temperatures, and lashing rain, this car is strong enough to take on all the challenges.
How Affordable can this Car be?
An update by USA Today in March of 2014 mentioned that Mercedes Benz is aiming its sights at youngsters by making it budget-friendly in the near future. At the 2014 Geneva Motor Show, the company unveiled its 2015 C-Class, which will be an entry-level vehicle. The car looks young, exciting, and perfect for the next generation. Despite the company's focus on budget, the lesser expensive C300 will have a starting price of around $38,000! That's too high a price for many people to afford.
If you really want to own a Mercedes, there is an easier way out. It could be quite affordable as you just need to pay a fraction of the original price. For this purpose, check a reputed auto auction website, where you can find a wide range of salvage Mercedes Benz cars in black or another color. For example, you can bid for a black 2002 Mercedes E320 for around $1,500! For specific models, you can even opt on the 'Buy It Now' option if you don't want to participate in the auction. These vehicles are listed with a 'salvage title', and can be repaired depending on their damage type. The entire process of registering and bidding is convenient, smooth, and exciting!
Latest posts by Штатный автор AutoBidMaster
(see all)