Vehicle shoppers with budgetary constraints often turn to online auto auction sites to find salvage and pre-owned cars at cheaper prices. The sites are a good platform to find vehicles of your desired make within your budget, although you need to do a little research so that you don't end up buying a lemon. Make sure that you have sufficient knowledge on the provincial labeling system, stolen and wrecked vehicle monitoring program, and inspections before you bid for any of the available vehicles at online vehicle auction sites. We take a closer look at the three essentials in the blog post. Read on.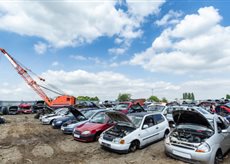 Provincial Labeling System
Check the status of the pre-owned vehicle as reflected in the Transfer of Ownership Document before going ahead with the purchase. Vehicle identification numbers and registration and ownership documents of all vehicles that are written off or stolen are linked with the province's computerized registration system. The system has four types of labels to describe the status of a vehicle.
Stolen
If a vehicle was stolen and isn't recovered yet, it cannot be registered again unless the policy agency removes the stolen status.
Irreparable
If a vehicle is written-off due to major damage and has no value, except for the money that you might get from selling parts and scrap metal, it is labeled as irreparable. Such vehicles cannot be re-registered.
Salvage
If a vehicle is written-off, but can be rebuilt, it is labeled as salvage. You cannot re-register a salvage vehicle unless you change its status to rebuilt.
Rebuilt
A rebuilt vehicle is a salvage vehicle repaired to meet standards laid by the authorities and has a Body Integrity Inspection Certificate and a Certificate of Inspection.
Stolen and Wrecked Vehicle Monitoring Program (SWVMP)
SWVMP is part of a national monitoring system that prevents the registration of vehicles that are:
Listed as stolen by a police agency
Written off as irreparable vehicles by insurers
Inspections
Body Integrity Inspection Certificate (BIIC)
BIIC is required as part of vehicle rebuilding process for vehicles that have a salvageable status. The certificate is given after detailed inspection to provide extra assurance that the body and frame of the salvage vehicle are structurally sound and the vehicle is sufficiently repaired to be roadworthy.
Certificate of Inspection (COI)
COI is required to register newly acquired vehicles. It confirms that the vehicle meets the minimum standard of operation in the particular state at the time of inspection. If the vehicle has a salvage title, you need a BIIC to get a COI.
Last Few Words
If you are aware of the process involved in getting a salvage vehicle back on the road, the after-purchase experience becomes less of a hassle. Most state and government websites have detailed information on the procedures involved, and if there's more that you need to learn on salvage vehicle purchases, feel free to speak with one of our executives at AutoBidMaster. We are a reputable online auto auction website offering salvage cars from an extensive inventory in North America. Fill out the contact form and our team will be happy to assist you with all purchase, salvage, and other related questions. You can also call us at +1 (503) 298-4300.
Latest posts by AutoBidMaster Staff Writer
(see all)