Whether you're looking for clean or salvage title cars, there are multiple steps that go into the purchase of your auction vehicle: winning the auction in the first place of course, submitting payments, signing documentation, ordering shipping, and so forth.
In this blog post, we're going to go over what needs to happen in order to receive your vehicle's documents after you've won the auction.
Sign your documents
After you win the online auction, we'll email you an invoice with payment instructions. You'll need to sign documents as well before the sale is finalized, including a purchase agreement.
To sign your ownership documents, head over to www.AutoBidMaster.com. In the top right-hand corner of your screen, you'll see "Hello," followed by your name.

Once you click that, you'll see the following dropdown menu: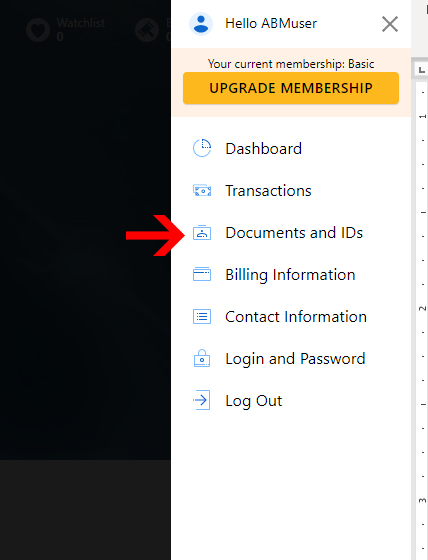 Click on the Documents and IDs tab, where all the necessary documents for you to sign electronically will be available. Make sure you sign the Purchase Agreement for your vehicle located in your Documents and IDs tab as soon as it's posted.
After you've paid for your vehicle, the auction yard will send your title over to our office for reassignment. Once we receive it, we'll start transferring the documents into your name and mail them to the address listed on your account via FedEx. As soon as the documents leave our office, you'll get an email with your FedEx tracking number so you can keep an eye out for your stuff.
Typically, you should expect to receive your documents between 2-5 weeks after you've paid for your vehicle and signed all associated paperwork.
For California and Florida residents, it can take up to 90 days to get your documents due to different state regulations. This applies to both clean and salvage title cars.
Export Documents
If you're an international buyer, you'll need specific documentation to export vehicles from the US, and not all vehicles are exportable. You'll have to provide the original vehicle title and purchase agreement, along with a Bill of Lading which will be returned to you by certified mail once US customs has shipped and processed the vehicle.
There are vehicles that aren't eligible for export
You can not export vehicles that have only a Bill of Sale or a title branded with lien/parts only/junk/scrap/certificate of destruction.
There are some exceptions, though: vehicles with a Washington Bill of Sale and vehicles with Florida Certificates of Destruction can be exported. There is additional documentation required for those, and if you'd like to export vehicles with those document types we recommend contacting our shipping partners at EasyHaul for more information.
Any of those title types can be shipped domestically without a hitch, but keep in mind: you can't register vehicles marked with parts only/junk/scrap or any other non-repairable designation in the USA. You can use those vehicles for parts, but registering them is difficult, if not impossible.
If you want to read more about registering a salvage vehicle, check this out.
Get to bidding!
Now that you know what to do to get your paperwork in a timely manner, you're ready to bid on clean and salvage title cars. Head over to our vehicle finder and get started today.
Latest posts by AutoBidMaster Staff Writer
(see all)