Earlier this month, we talked a little bit about the Triumph Bonneville Bobber, a modern take on a custom classic. If you're into the DIY aspect of vehicle ownership, a project bobber motorcycle is a great way to go. From throwing on custom parts to hacking off excess bits, a bobber is a great way to learn the ins and outs of wrenching on a bike while making a machine that's truly your own.
What is a bobber motorcycle, exactly?
Bobber motorcycles came into popularity at the end of WWII in the United States, where returning GIs wanted to apply newfound mechanical aptitude to motorcycles, and accompany that with bikes that were often employed in the theater of war – lean, sleek, lightweight.
The term comes from the 'bob-job' style, which involved removing the front fender and shortening the rear. Those two modifications are a must for an authentic bobber, but other mods include a solo seat, removing suspension from the rear for a hardtail, and more or less removing anything that isn't necessary.
With so many modern bikes cutting into the market like the aforementioned Triumph Bonneville Bobber, the Indian Scout, and more, you can stand out with your own custom build. There are too many bikes you can start with, but here are some of the best starting points we can think of for your bobber bike project.
Honda CB Series
When it comes to ubiquity in the motorcycle world, the Honda CB series is e v e r y w h e r e. With the entire CB family containing over 50 models – many with interchangeable parts – one of the biggest benefits of using a Honda CB for your build is the availability of parts. Cut the mufflers too short? Find a parts bike for cheap and you'll have everything you need. The possibilities are limitless.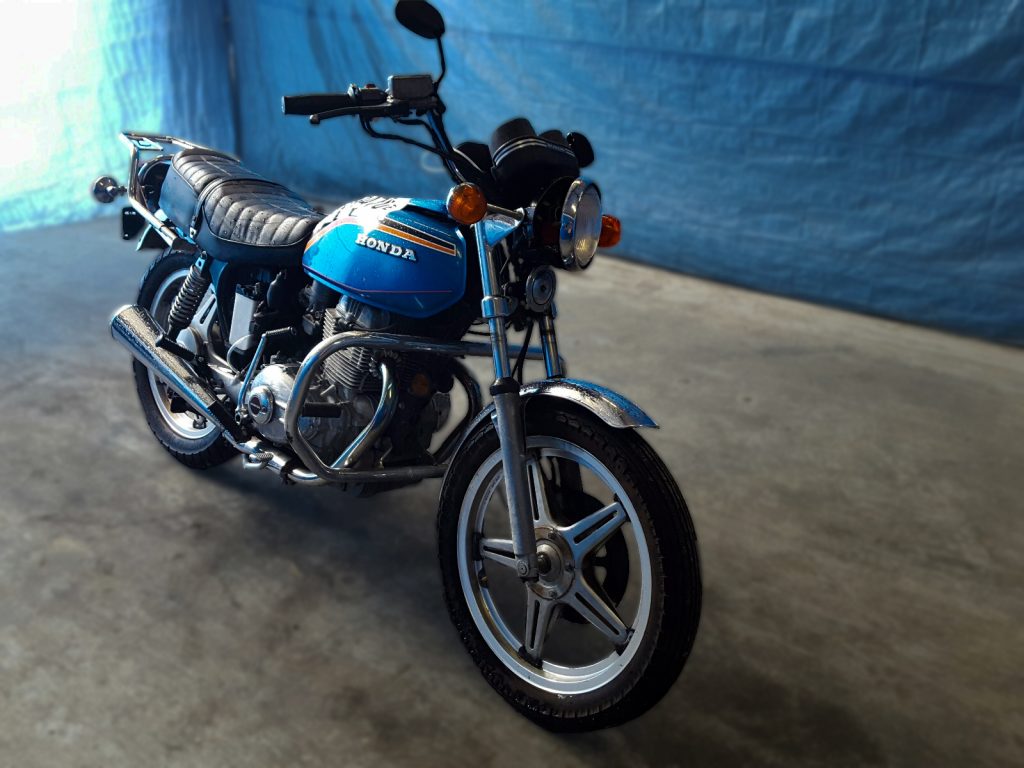 This 1978 Honda CB 400, for example, is a great place to start. The most important aspect of this build: it's run and drive verified. Everything else, aesthetically, can and will more than likely be replaced. The seat is gonna have to go, crash bars are up to you, those stock cans are getting hacked off, etc. The most important aspect is that the frame is there and the mechanical components are working, so the rest you can change up as you need. And as mentioned earlier with the Honda CB series, they make excellent project bikes because of the widespread availability of parts. If you need something a little bit bigger, or that particular CB400 has sold, you can see our breadth of Honda CBs available on AutoBidMaster.
Harley-Davidson Sportster (1986-2003)
The Sportster series – designated by XL – are also a dime a dozen when it comes to parts and can make a great starting point for any bobber motorcycle project. The Sportsters that were manufactured between 1986 and 2003 have a few things going for them: engines are rigid-mounted to their frames and they are carburated. Carburetors are preferable to EFI for projects that involve hacking off bits, as there's less involved with the electrical system and sensors throughout for you to worry about.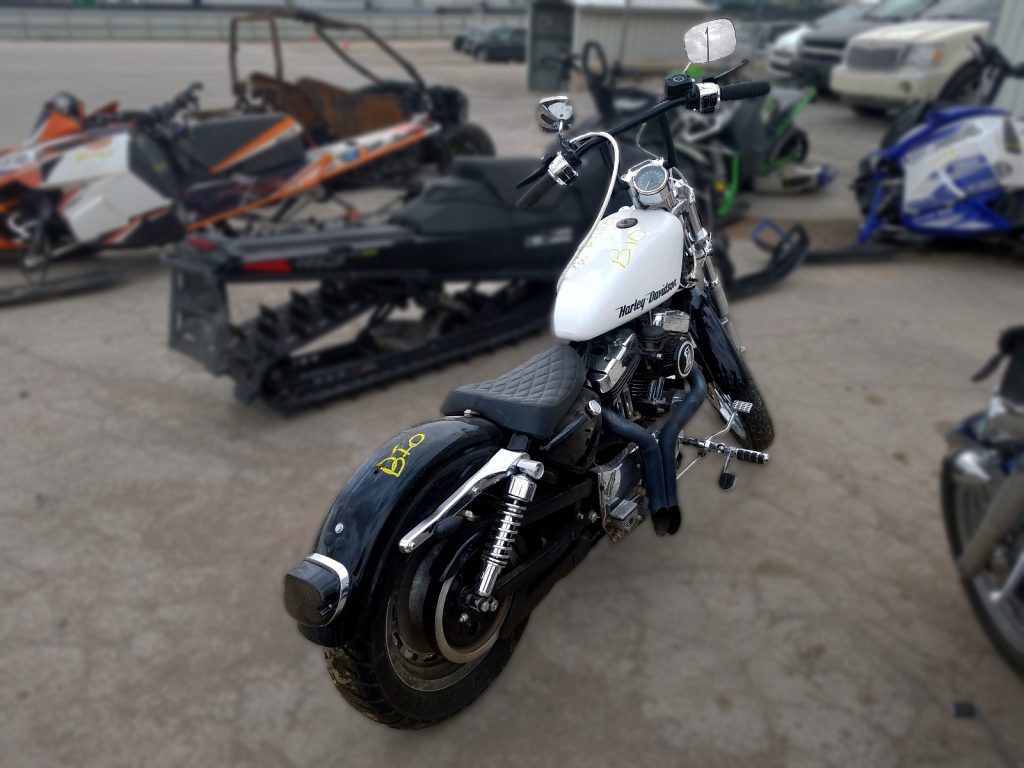 This 2002 Harley-Davidson Sportster 1200 for sale is a great place to start, as well. This particular lot was able to turn over when it arrived at the yard but doesn't run on its own power. Thankfully, as mentioned before, Sportster parts are all over the place, and tracking down replacements wouldn't prove to be too difficult. Hell, this one's even got a solo seat already, just hack off that rear fender and you're halfway there. We've got lots of other Harley-Davidson Motorcycles at auction, too.
Kawasaki KZ series
Much like the Honda CB family – the Kawasaki KZ series from is comprised of a multitude of engine sizes and models spanning decades. The entire principle of customization for KZs is the same as the aforementioned CB series so we'll skip the details.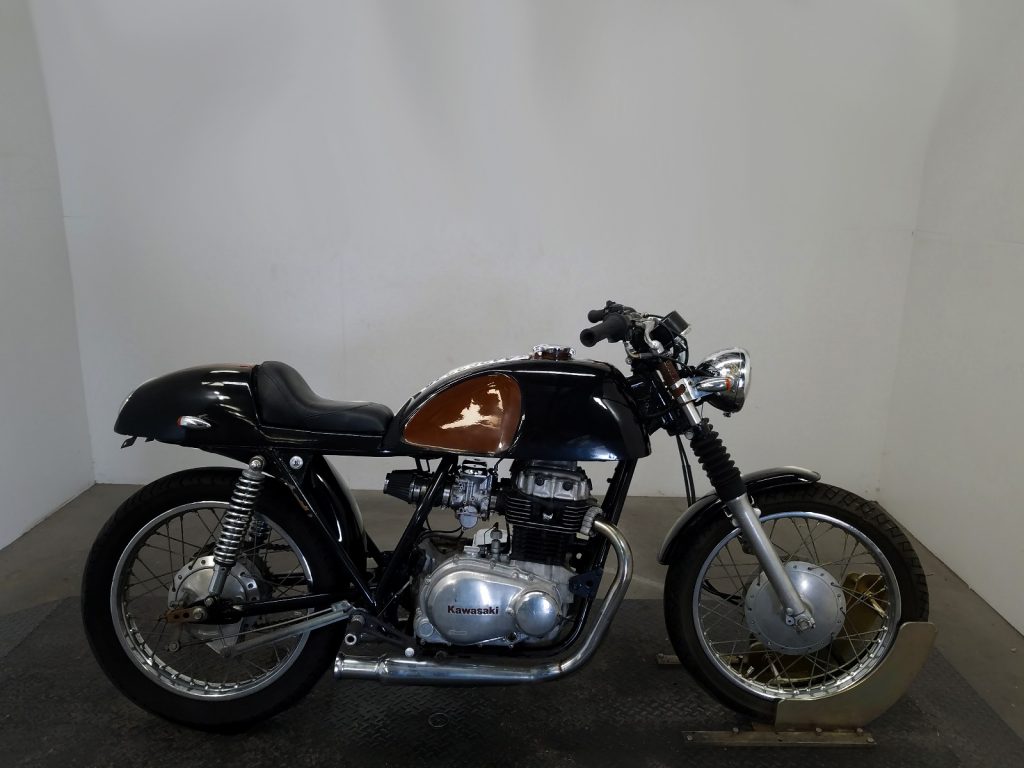 Here we have a 1980 Kawasaki KZ440 that was already modified into a cafe racer, and the switch to a bobber wouldn't be too complicated. Both cafe racers and bobbers share the principle of removing anything that isn't entirely necessary, so a lot of the work has already been done here. Just slap a solo seat, rip off the front fender, bob the rear, and you're pretty much good to go.
We've got lots of other options for your bobber motorcycle project
From the CB series to the KZ series to Sportsters to the Yamaha XS series, Triumphs, everything else you can think of: we've got something for your starting point. A great aspect of upgrading your membership (if you've already registered with us) is the ability to bid on multiple vehicles, so you can find the perfect parts bike to go along with your running base for your project. Oh, you also get other awesome benefits with an upgraded membership like discounted transaction fees, access to live auctions, and way more. Register and upgrade today to start your search with our vehicle finder. If you have any questions, feel free to contact us and we'll be happy to help.

Latest posts by AutoBidMaster Staff Writer
(see all)