It isn't much of a surprise anymore that automakers like Volkswagen are announcing big plans in the way of electric cars, autonomous vehicles, and basically anything that we thought would be futuristic in the 70s and 80s. Now with the advent of Tesla – who became the world's most valued automaker last year (via market cap) – more and more automakers are making the shift to all-electric vehicles.
VW has made two relatively huge announcements. The first is Project Trinity – an all-electric sedan that Volkswagen plans on pushing out in 2026. Granted, that's five years away, but it's certainly something to look forward to. VW claims that the Trinity will "set new standards" for charging, tech, and other aspects of EV production. Volkswagen has a history of developing incredibly reliable vehicles that offer simple maintenance, think Jetta and Beetle, and we expect the Trinity to be no different.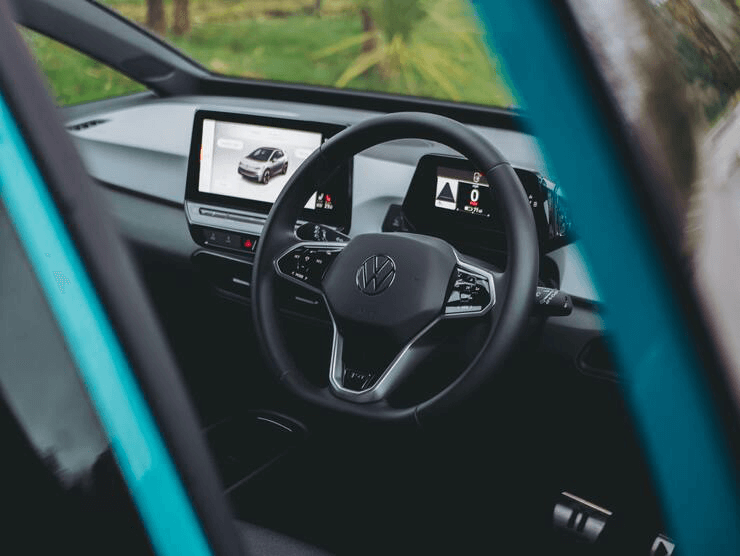 The second announcement was made in late February 2021: VW stated that it projects more than 70% of their European sales will be electric vehicles by 2030 – up from previous figures indicating 35%. They also indicate that about 50% of sales in the US and China will be electric cars around then. Ralf Brandstaetter, CEO of Volkswagen, said that they are "stepping up the pace" regarding the transition to an electric fleet. With a budget of about $19 billion dollars, the company plans to invest in "e-mobility, hybridization, and digitalization" to bring Volkswagen right into the EV world.
VW isn't the only automaker to commit to a shift to EV production: Stellantis (the result of the merger between Fiat Chrysler and PSA Group) and General Motors have both hopped on the (electric) bandwagon as well. With GM focused on meeting an all-electric goal by 2035 and Stellantis indicating that they'll have fully electric or hybrid versions of all their vehicles in Europe by 2025, a large portion of the industry is following in Tesla's footsteps.
ID. Buzz – a Return to Volkswagen Glory
If we take a look at some of the most iconic VW's in history – not just automotive, mind you – but cultural as well, there's one particular ride that comes to mind. The VW Bus was the mascot of an entire culture throughout the sixties and seventies. Now, they're bringing it back in the form of an electric MiniBus, and it looks pretty awesome.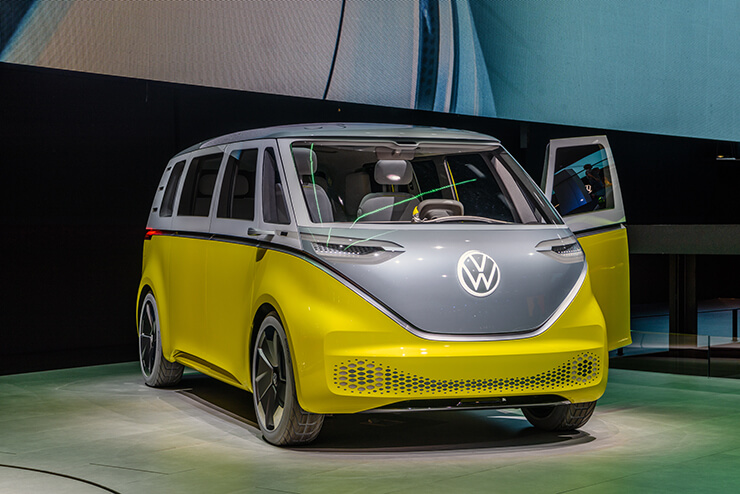 Slated to hit the US market in 2023 for the 2024 model year, the ID.Buzz may have a few powertrain options: a rear-wheel-drive option that puts out somewhere around 200 horses, and a top-tier all-wheel-drive that gets closer to 300. As the ID.Buzz is still in development, we don't know for sure.
VW stated that the ID.Buzz batteries will range from 48 kWh to 110 kWh for a 200 to 340-mile range, with another claim that plugging into a fast DC charger can get you up to 80% in just half an hour. The concept's interior has three rows of seats, all of which can swivel, lay flat, or be removed. Couple that with the potential for autonomous driving, and you've got six or more people in a fully configurable interior that can all face each other and sit around a table that moves through the cabin on a track. We'll see how much of that makes it to actual production, but so far, it sounds pretty dang good.
The Bottom Line
There's an awful lot to look forward to here, but until then, we're only working with existing electric vehicles. If you've already got one in mind, use our vehicle finder to search our inventory. Make sure to register today to get started, and for a limited time you can use the code RETURNS21 for 40% off your AutoBidMaster membership: save big on cars, trucks, SUVs, and motorcycles all year. Get a hold of us at +1 (503) 298-4300 between 6:00 AM and 4:00 PM, Monday through Friday Pacific Standard Time, or email us at support@AutoBidMaster.com, and we'll help you with any questions you may have. Until then, happy bidding!

Latest posts by AutoBidMaster Staff Writer
(see all)