Let's be fair, everyone is keen on SUVs nowadays. They offer a unique mix of carlike handling, elevated seating position, and practicality. We are no exception and love SUVs as much as you do. Still, these capable and tall vehicles, available in all shapes and styles, can be more costly than conventional commuter cars because of their rugged style. Fortunately, we're here to debunk this myth. If you're going gaga on these and want to trade your hard-earned bucks for a small vehicle with high ground clearance, we're here to help. In this blog post, we're tallying the five most affordable crossovers that you can find on AutoBidMaster.
Chevrolet Trailblazer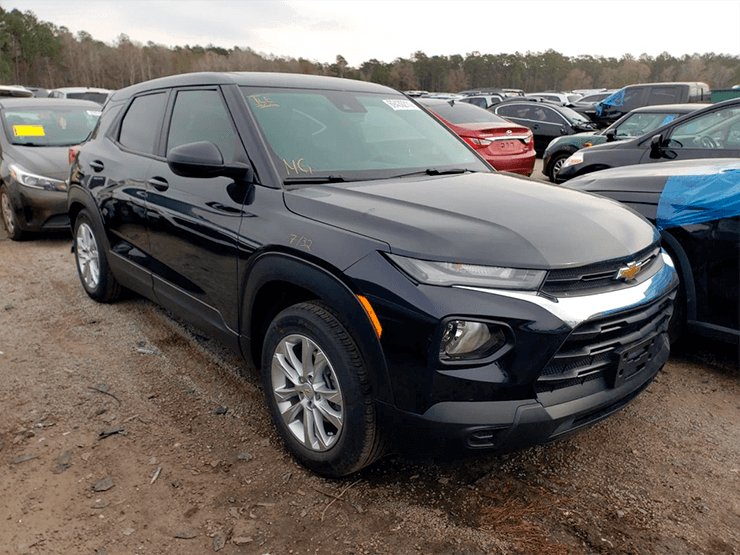 The resurrected nameplate doesn't belong to the large SUV it once did. Instead, it's a subcompact crossover with a bold exterior design. Buyers can choose between two three-cylinder engines. Despite having low-powered motors, the Trailblazer compensates its sluggishness with a list of standard equipment. For instance, both apps for wireless smartphone integration are standard even on the entry-level trim. The same can be said about the extensive list of safety features, including lane-keeping assist and emergency braking. On top of that, all-wheel drive is optional.
The pictured Trailblazer is ready to guide you through city trails, so watch lot no. 69430211, it will be auctioned off soon.
Honda HR-V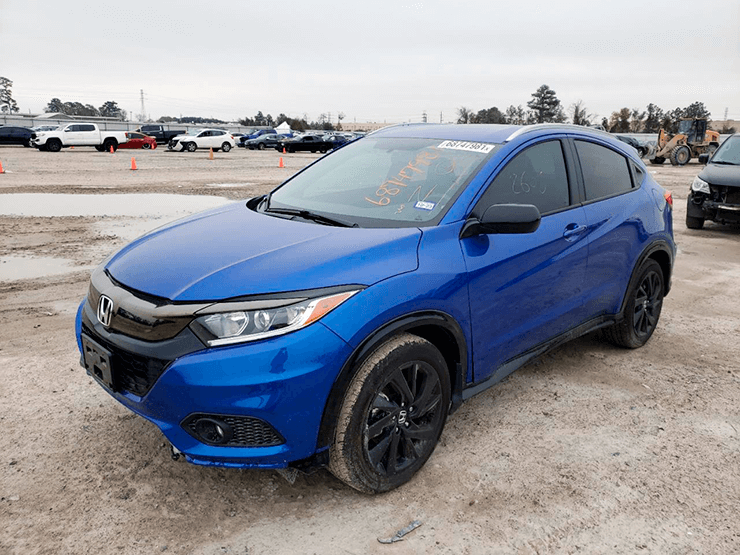 Here's one of the most affordable SUVs, namely the Honda HR-V. The entry-level SUV in the manufacturer's lineup is a strong contender thanks to its efficient engine mated to a CVT. This pairing accounts for 30 mpg combined. The occupants on the second row won't feel cramped because of easily transformable Magic Seats. It's a cool feature if you'd like to seat your kids or place your stuff wisely. The only drawback: advanced safety features are left for premium trims. Still, you won't need to worry about finding one. We've got 'em here.
This 2022 Honda HR-V has seen only 2,606 miles before it got a damaged undercarriage. The lot. no 68747981 is up for auction on 1/7 from Houston, TX.
Hyundai Kona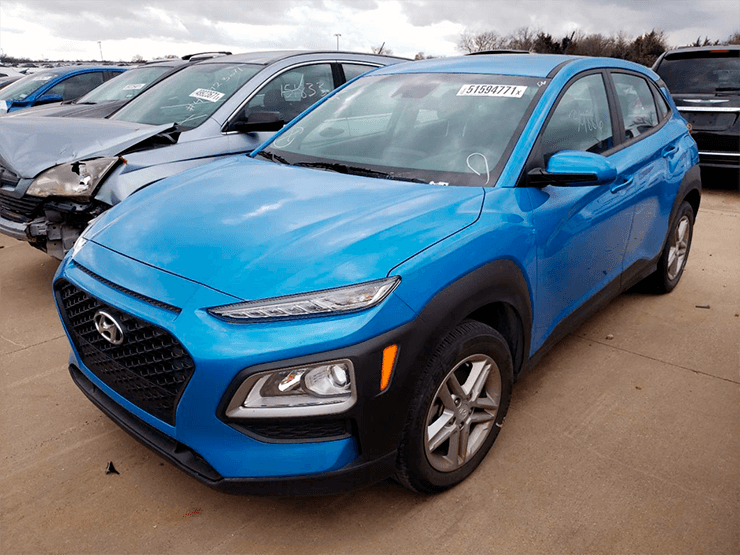 Arguably, it's one of the best, most affordable crossovers overall. The brand's focus on value makes the Kona a feature-laden compact crossover with a plethora of electronic assistance. Add an unconventional design with split headlights, punchy engines, and excellent safety scores. What will you get? You're gonna get a recipe for a superb fit to urban areas. And even for unpaved paths if you spot a trim with the optional AWD.
The sale date for this blue 2021 Hyundai Kona (lot no. 51594771) hasn't been assigned yet. Add it to your watchlist so you do not skip the auction.
Kia Seltos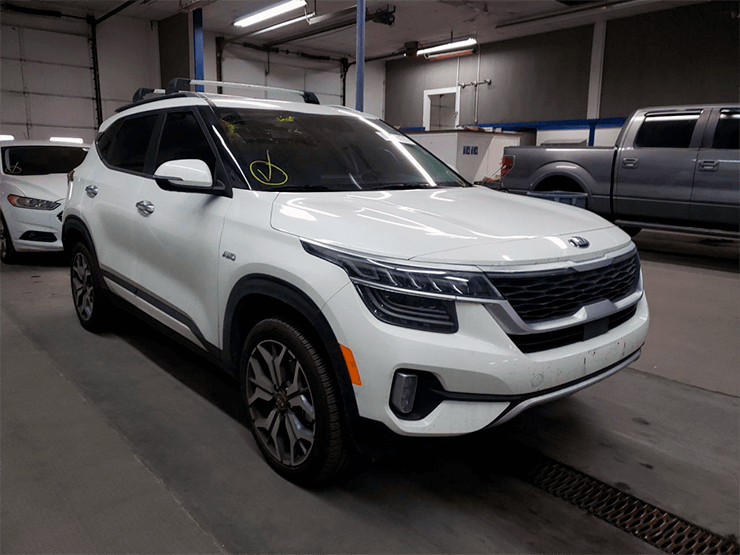 This compact crossover is the only one on our list of the most affordable crossovers to feature standard all-wheel-drive. Generous basic equipment includes user-friendly infotainment and cruise control. Though there is a drawback similar to the Honda HR-V: advanced safety features are reserved for the high-level trims. However, it doesn't diminish the appeal this SUV has, as it wins buyers over with its all-wheel drive and class-leading warranty. And yeah, it gets up to 31 mpg combined. Are you impressed?
Here we go with the 2021 Kia Seltos which heads to auction on 1/7, and the current bid is only $6,200. Make sure you don't miss out on an opportunity to place your bid on lot no. 67758421.
Mazda CX-30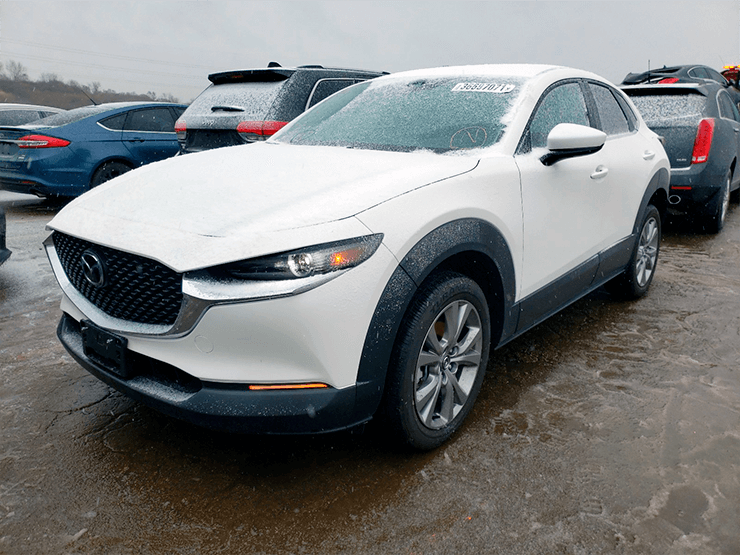 We couldn't decide between the Mazda CX-3 and the CX-30. Both are slotted below the brand's benchmark (the CX-5), but in the end, we made up our minds and delegated the Mazda CX-30 to our list of the most affordable crossovers. It's not only stuffed with the newest tech but also very extravagant both inside and out. Sharing the platform with the Mazda 3, the CX-30 is a pure driver's car. Agile handling is its main strength. However, you can get your hands on a turbocharged version pushing out 250 horsepower. That's the most powerful option among the competition. Ready for a thrill?
This pretty cool white 2020 Mazda CX-30 has only 5,494 miles on the odometer and is yet to be auctioned. Stay tuned and check updates about lot no. 36697071.
Bottom Line
Hey, we've got even more affordable crossovers over here. Don't be afraid of getting a car through an auto auction like AutoBidMaster. Getting started is easy: sign up, upload a copy of your government-issued ID or passport, place a security deposit, and choose a membership. Congrats, you're ready! Reach us at :+1 (503) 298-4300 (6:00 AM – 4:00 PM PST, Monday to Friday) with your questions. Our support team will guide you through every single step of purchasing a vehicle and having it shipped. Email us at: hello@autobidmaster.com.
Latest posts by AutoBidMaster Staff Writer
(see all)