Hola amigos, motorheads, and like-minded car enthusiasts! Sometimes planning a getaway can help you explore. We mean exploring the diversities of our beautiful world and landscapes. We admit we wanted to put everything off and embark on a chilly trip to enjoy the campfire and gaze at the star-filled sky. What about you, have you ever had the same desire? We bet you have. That said, if you wanna reach this goal, you'll need a reliable, capable, and spacious vehicle to host all your gear. AutoBidMaster is ready to be of service to you, so here we're listin' the best cars for overlanding.
What Is Overlanding And How Does It Differ From Off-Roading?
It's a lifestyle that lets you explore the wilderness and freedom. People who take it on are usually driven by a desire. They want to see, touch, enjoy nature, sit near the campfire, eat jam somewhere far from home. These people combine pleasure with fun, while off-roading is mainly for adrenaline junkies and fun seekers. More often than not, overlanding is associated with building a go-anywhere machine with tons of space. Fitting it with amenities goes without question.
2021 Ford Bronco 4-door First Edition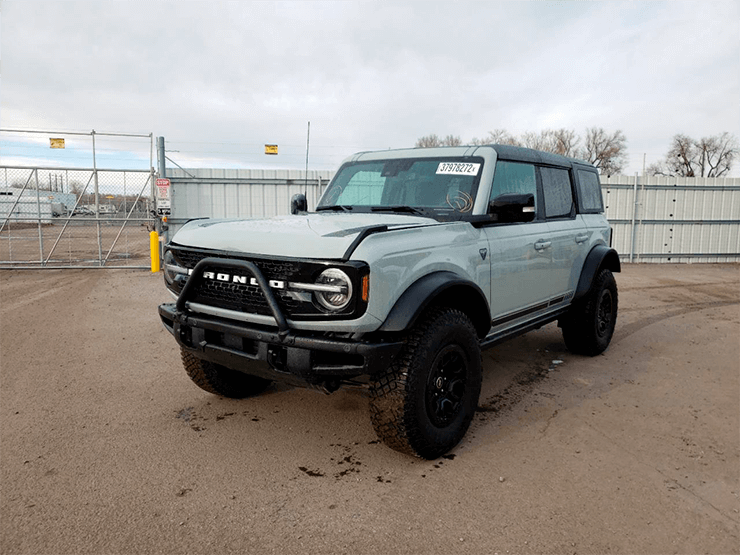 The resurrected nameplate is made for adventurers. Enhanced off-road capabilities, lots of trims to choose from, all that 'jeeping' stuff, and retro-inspired style: this rugged SUV has it all. In addition, this model offers many variants of configurations. You can have the Bronco with doors or without them. That's why we included this one in our list of best cars for overlanding.
This one (lot no. 37978272) has been slightly damaged and has only 3,012 miles on its odometer. Bid on it and win it, or buy it now for $68,000.
2021 Jeep Gladiator Mojave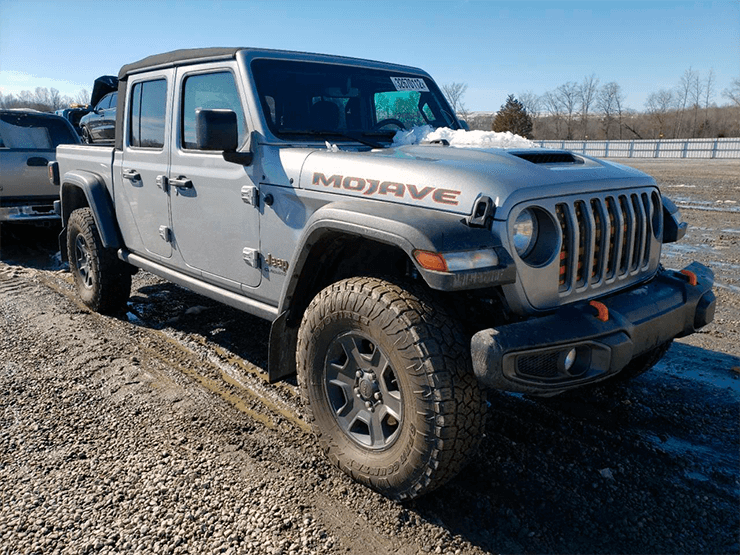 Folks, do you love the Jeep Wrangler? It's an iconic car for Americans. We won't diminish the appeal of this SUV, as it has a large following everywhere, from California to Japan. Smart guys from Stellantis decided to make a famous Wrangler a pickup, and it has become a hit! Sturdy construction, punchy engines, and a 60.3-inch bed provide you with lots of opportunities for camping.
Lot no. 32670112 is the top-tier Gladiator Mojave in pretty good condition. The auction date hasn't been assigned yet, so don't miss out on an opportunity to add this truck to your watchlist.
2021 Land Rover Defender 110 Urban Pack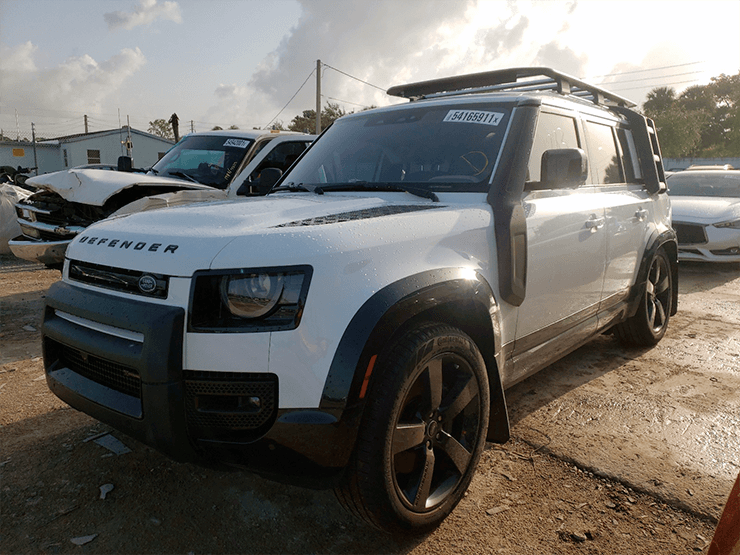 The choppy old-school Defender didn't offer much. It had a jarring ride, but the boxy design and ultimate off-road prowess made this vehicle popular. The revived version of the Defender is the polar opposite of its predecessor. The newest Defender offers much space inside, a configurable interior, a possibility to set a tent on its roof, sophisticated assistance even for forcing shallow rivers, and many more. The quality has been improved drastically.
We recommend choosing the 110'' variant with a long wheelbase to enjoy plenty of room inside. In the photo, you see the Defender 110 with a snorkel, an optional roof rack, and a ladder to it, so you'll be prepared for unexpected adventures. A current bid on lot no. 54165911 is $51,000 and it heads to auction on 3/10.
2014 Lexus GX 460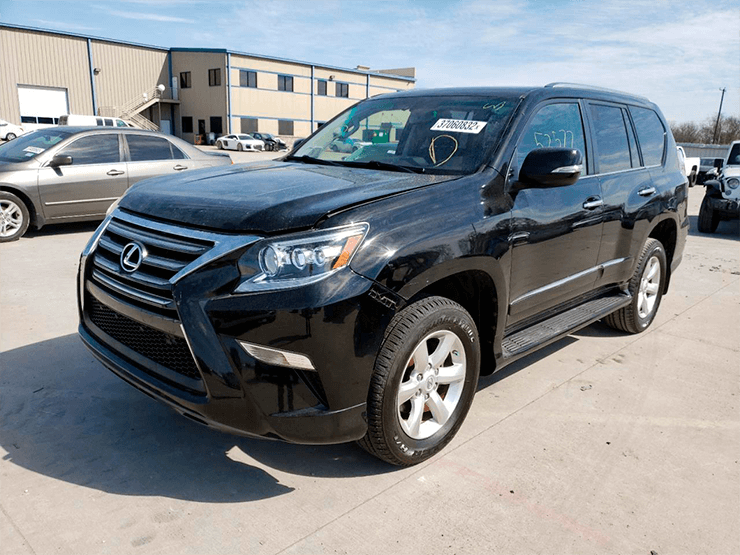 You can go anywhere in style. Lexus offers a great and rare combination of utility and luxury; that's why we've put it down to our list of the best cars for overlanding. Foldable rear seats can provide you with much space to take a nap, while 8.1 inches of ground clearance and cushioned suspension account for stability on any terrain. On top of that, this car has the potential for lifting and severe off-roading. The supply of aftermarket parts is tremendous.
This gloss-black Lexus (lot no. 37060832) can be yours for $32,000.
2021 Toyota Land Cruiser 200 (URJ200)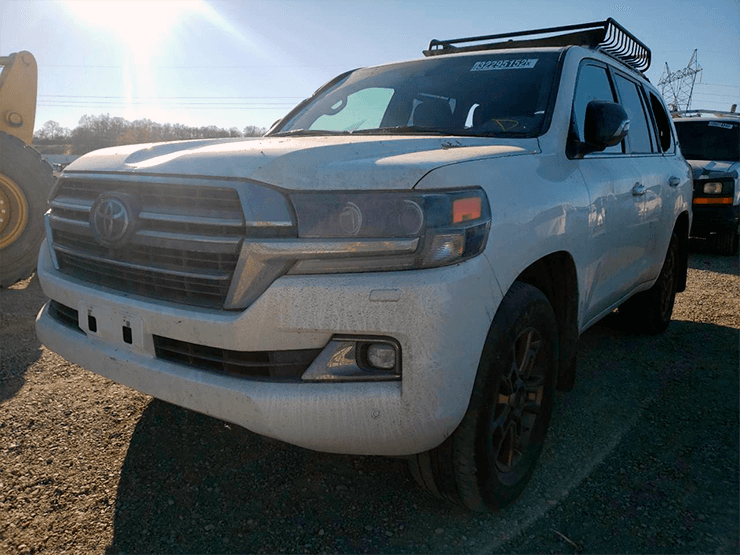 A worldwide known nameplate of the Toyota Land Cruiser has been in production since 1955. This is one of the best cars for overlanding, because it has a solid ride and the potential to climb, ride, crawl e-v-e-r-y-w-h-e-r-e. It's an absolutely unkillable SUV (especially older models), and you can find spare parts for it in almost every auto shop. The manufacturer announced to discontinue the Land Cruiser on the US market from 2022, so it's your chance to get one of these before they become rarities.
Make sure you have an account with us to place your bid on this trail-ready toy. The lot no. 32295152 heads to auction on 3/11.
Last Word
The best cars for overlanding aren't limited to just these five vehicles. You can find older Defenders, many F-150s, Tundras, Tacomas, Suburbans, and a lot of other different cars that are ready to be your shelter near the campsite. AutoBidMaster is here to help you get prepared for your adventures. Register with us to participate in live auctions and win the best used vehicles for overlanding (and not only for it). Complete your registration by placing a security deposit and choosing the right membership. Feel free to ask any questions about the auction, bidding, and deliveries! We will be glad to have a chat with you via our contact form or through our phone number: +1 (503) 298-4300 (4:00 AM – 4:00 PM PST, Monday to Friday).
Latest posts by AutoBidMaster Staff Writer
(see all)