Hey, new customer! We're welcoming you to the best online car auction spot. AutoBidMaster offers lots of advantages if you're shopping for a used car. For instance, you can choose among more than 300,000 vehicles and bid on salvage and clean title cars without a dealer's license. On top of that, there are quite a lot of bargains, seriously. We offer tailored shipping services too. AutoBidMaster offers everything you might have looked for in the past. Our customers like these services too, so expect some competition during live auctions. However, with AutoBidMaster Buy It Now, you can skip bidding altogether. Here's how.
What Is Buy It Now on AutoBidMaster?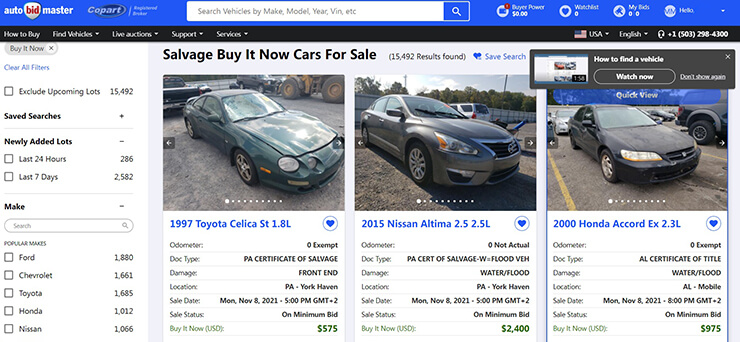 Sometimes a seller indicates the price at which a car listed for sale can be sold immediately. In short, this is the Buy It Now price. Either a private seller or an insurance company that took a car after an accident/natural disaster has determined the price. If you're fine with it, then click the "Buy It Now" button and proceed with your purchase. If the price is not right for you, there's always a chance to participate in the live auction and determine the final sale price yourself.
At the time of writing, more than fifteen thousand buy-it-now salvage cars are sitting on AutoBidMaster. We are 100% sure that you can find your dream car among these. Don't forget about the 135 thousand auctioned vehicles. They can be way more affordable.
AutoBidMaster Buy It Now Fees and Rules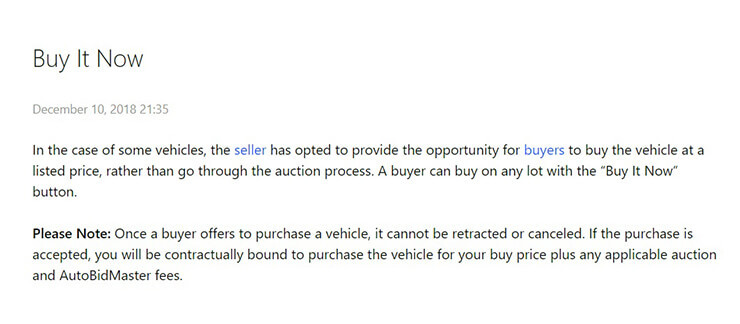 There are several rules to follow after you use the AutoBidMaster Buy It Now option.
The bid is binding. You can't retract or cancel it after you've confirmed the purchase.
Auction, documentation, and other fees are still applicable. They are not included in the Buy It Now price.
It is non-negotiable. You can't make an offer on a car listed as Buy It Now.
AutoBidMaster Buy It Now can save your time, but it doesn't happen in just one click. You'll have to confirm your purchase and choose the most comfortable payment method.
Vehicles listed on an online salvage auction are also sold 'as is'.
Be sure to do your research before you're ready to buy used cars from Copart. Keep in mind that transaction fees depend on the membership type you have. For more information, address this article.
What Are The Benefits of AutoBidMaster Buy It Now?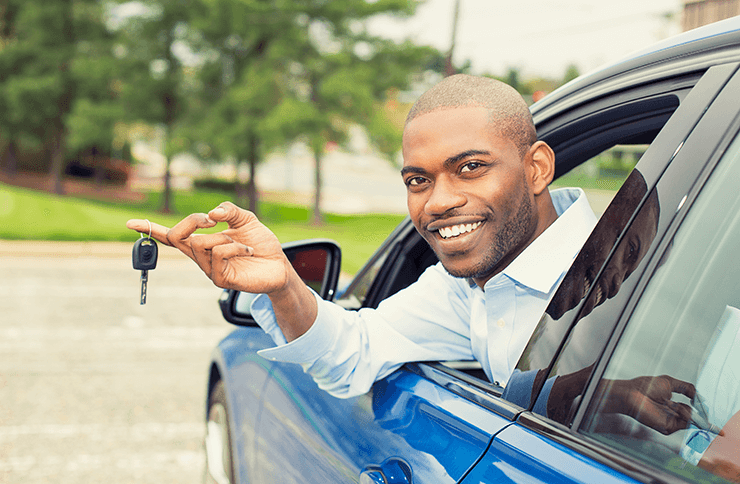 There are many, but we'll list only the most important ones. First off, you can buy salvage cars without bidding. Buy It Now excludes any chance of being outbid or having to exceed your budget. And finally, you can get your car faster as you won't have to wait until the auction ends. Bid and buy confidently, without limits.
Last Word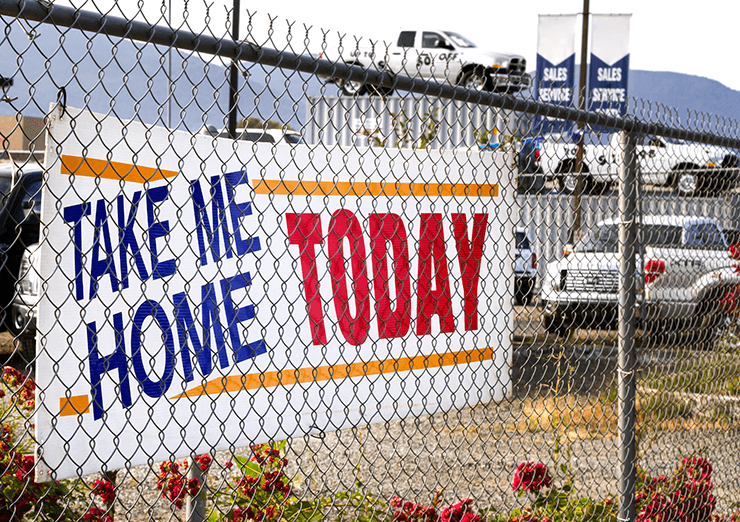 Buying salvage cars without bidding won't give you as much fun as live auctions, but it's still a thrilling experience. We're ready to help you in every step. Still having trouble finding a car? No stress, we're here to help.
Start off by creating an account with us. Then upload a copy of your government-issued ID, place a refundable security deposit, and you're ready to bid. Make sure to choose the right membership for your needs, there are lots of benefits available. Though Halloween has passed, you can still get a 30% discount off Advanced or Premium membership. Contact us online or give us a call at +1 (503) 298-4300 (6:00 AM – 4:00 PM PST, Mon-Fri), and we'll answer your questions.
Latest posts by AutoBidMaster Staff Writer
(see all)