Buying a vehicle through AutoBidMaster requires completing a few steps. Finding your dream car, bidding on an auction and lastly, getting it home. Exciting, right? Don't worry about the shipping, we have your back. Here, we're explaining how you can ship your car to any destination in the USA straight from the lot page.
How Do I Order AutoBidMaster Shipping?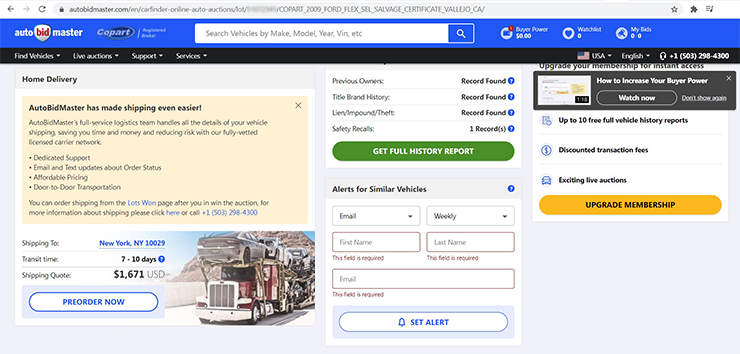 Our customers don't need to navigate elsewhere to order shipping, they can do it straight from the listing page. It's that easy, yes. The only point not to forget: double-check the information you enter. Remember that the delivery starts as soon as both the vehicle and shipping are paid for in full. We can assign a licensed and insured carrier to pick up your vehicle only after payment is received, so don't waste time: kickstart your shipping ASAP.
What Exactly Is AutoBidMaster Shipping?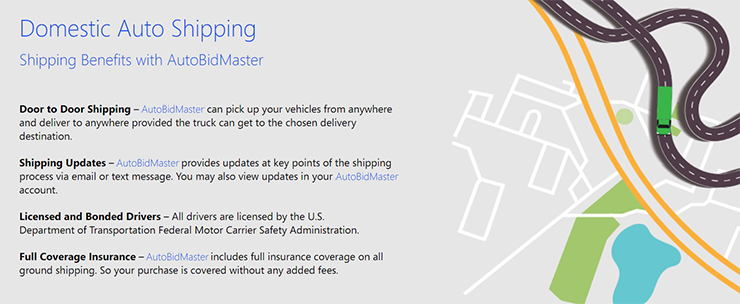 AutoBidMaster provides 'all-in-one' services to our clients. There is an instant shipping quote calculator under the bid box on each lot. You can enter your zip code or destination, and you'll see how much the shipping cost will be.
What Do We Offer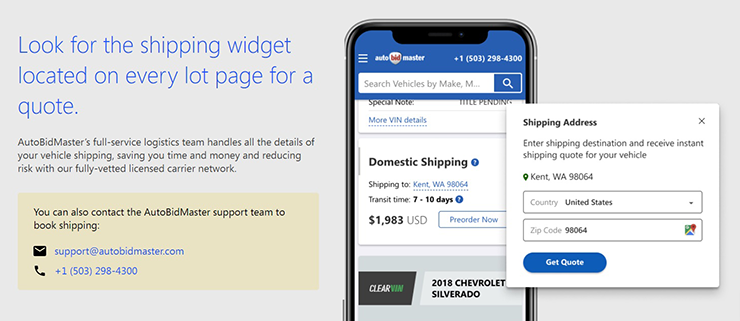 Thanks to the AutoBidMaster shipping system, purchasing a vehicle at our auction goes as smoothly as possible. We partner exclusively with licensed car carriers and each domestic delivery is obligatory insured. Our IT team developed a tool for you to sign electronic documents and it is available in your account. Click 'Lots Won' to find what you need to e-sign. In essence, managing everything is possible once you're logged in.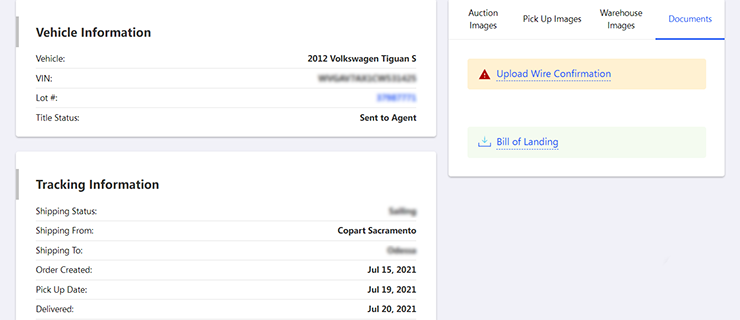 On top of that, you can track the shipping of your vehicle in real-time in your account as well. Shipping status updates when:
you pay for shipping
a driver is scheduled to pick up your vehicle
your vehicle is picked up
your vehicle is delivered
What To Take Into Account Before Ordering AutoBidMaster Shipping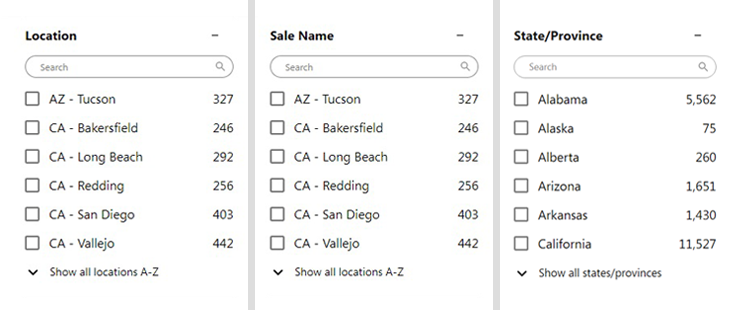 There are two concerns of the highest importance. The first is finding an auction yard located nearby. Not only will you pay less for domestic shipping, but also you'll receive your vehicle sooner. For your convenience, we've provided an opportunity to find cars within a state or close by your zip code. Find the bar on the left and select a state or province where you'd like to check vehicles. However, this tool is available only for registered members. Nonetheless, if you've found your dream car on the other coast, it won't be a challenging task for us.
The second is time. Car shipping is seasonal, so planning a time when you'd like to purchase a vehicle will help avoid burdensome delays and extra fees. Don't forget that people order much more goods close to the New Year holidays, thus it makes sense to prepare a gift for yourself in advance.
Bottom Line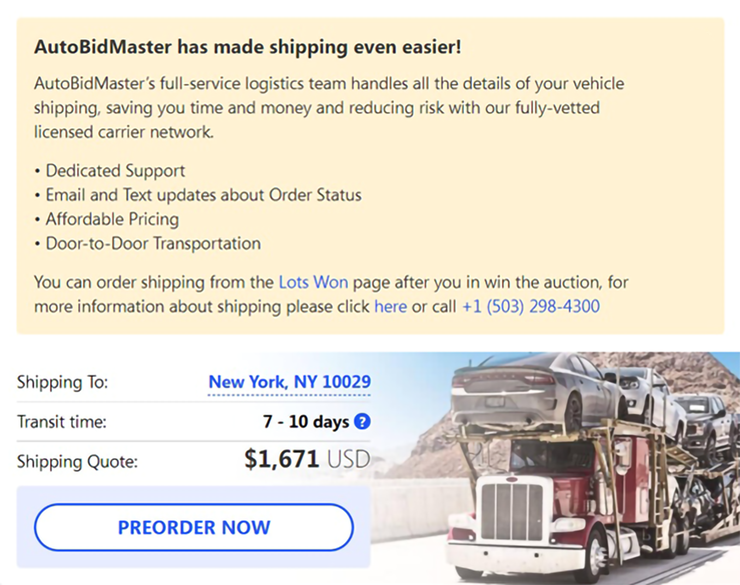 Happy bidding! Our Buyer Support is ready to help with any questions you may have regarding the auction. Get ahold of us at +1 (503) 298-4300 (6:00 AM – 4:00 PM PST, Monday through Friday). For faster service, email us at support@AutoBidMaster.com.
Latest posts by AutoBidMaster Staff Writer
(see all)