All motorists know that the Tesla company is the leading automaker in the innovation field that looks at the future with complete competence. A new automotive project designing a brand-new generation of electric pickups called the Tesla Cybertruck has a special place among the brand's goals.
The highly anticipated Tesla Cybertruck is widely known for its unique design and advanced features. Revealed by Tesla founder Elon Musk in November 2019, this vehicle has gained high attention from automobile enthusiasts and eco-aware people alike. With AutoBidMaster, let's explore everything about the Tesla Cybertruck and what makes it stand out from other electric vehicles.
Tesla Cybertruck Design and Interior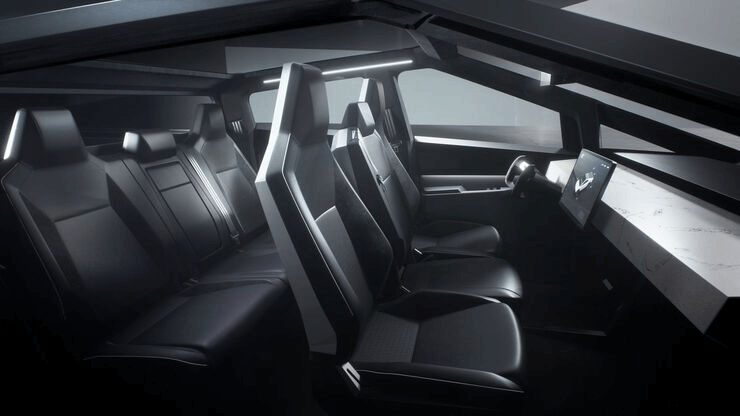 Unlike other traditional pickup trucks, the Cybertruck has a futuristic design that's the main distinctive feature of the truck and makes it look like it's straight out of a science fiction movie. Interestingly, Tesla's specialists took the classic DeLorean vehicle exterior from the "Back to the Future" film as a concept basis and inspiration.
The vehicle is built with rigid, cold-rolled stainless steel and armored glass, which gives it a tough exterior and makes it resistant to debris, scratches, and dents. According to Elon Musk, the same materials used for the pickup truck are utilized to create rockets for the SpaceX project. The truck's durable design also houses LED lights, including two massive ones on the front hood, which give the truck a unique presence and make it an attention grabber on the road.
The interior of the Cybertruck is also impressive. It can accommodate up to six passengers with comfortable seating and ample legroom. The dashboard is a 17-inch touchscreen display, providing drivers with all the necessary information about the vehicle. It also has a self-driving feature that allows the truck to drive itself on the highways and even park itself in tight spaces. This feature not only adds to the convenience but also makes the truck safer for long-distance journeys.
The cargo area of the Cybertruck has a solar panel lid, making the pickup truck eco-friendly. The trunk spans nearly 80 inches (ca. 2 m) in length and has a volume of 2.8 m³ (approximately 100 ft³). By the way, it's possible to lower the rear windshield of the saloon for direct access to the cargo vehicle section.
Tesla Cybertruck Specifications and Performance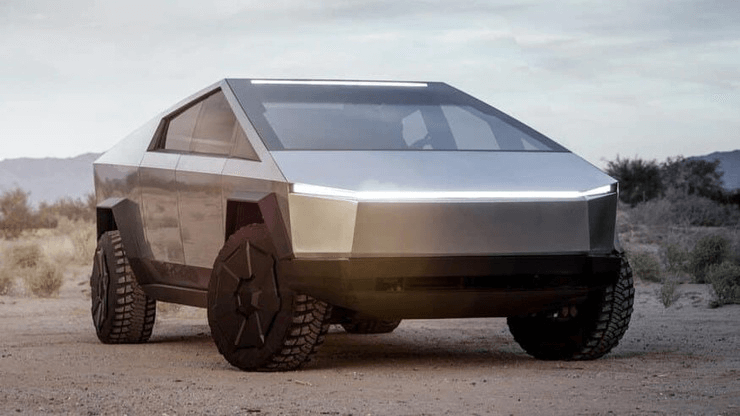 The vehicle offers a great driving experience thanks to its advanced features. Tesla engineers equipped the Cybertruck with an adaptive air suspension that has the ability to change the clearance. Additionally, it's set to offer a towing capacity of up to 14,000 pounds (6.35 tons), which will make it a great option for those who need to haul heavy loads.
If we speak about 2023 Tesla Cybertruck specifications, motorists can find three versions with various configurations and battery packs:
the basic pickup comes with one engine and rear-wheel drive. All that allows for a range of around 250 miles (ca. 400 km).
a more powerful Cybertruck configuration called "Dual Motor" has all-wheel drive with a pair of motors that have a range of about 300 miles (ca. 480 km).
the most advanced truck version, or "Tri Motor," comes with all-wheel drive and a powerful three-engine setup. The vehicle can go from 0 to 60 mph (100 km/h) in just under three seconds, making it the fastest electric truck in the world. Additionally, the Cybertruck has a range of over 500 miles (ca. 805 km) on a full charge, making it a great option for long-distance driving.
One of the most significant advantages of the Cybertruck is that it's an electric vehicle. The battery-powered truck is environment-friendly and has a low carbon footprint when compared to other gas-guzzling trucks. It doesn't release any harmful emissions, making it a more sustainable option. You can charge a pickup truck from DC terminals with a power of up to 250 kW. Cybertruck's owners can also charge the battery at home, which saves them a lot of money when compared to the cost of buying gas on a regular basis.
Other Interesting Facts About Tesla Cybertruck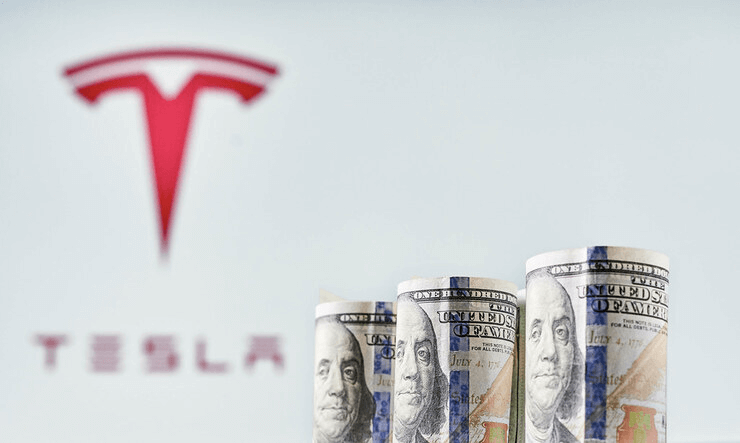 Fans of the Tesla brand pay high attention not only to the new vehicles launched, their specifications, and prices, but also to the business activity and various announcements the company provides. The Tesla Cybertruck case isn't an exclusion.
As Tesla stated, the first Cybertruck vehicles should have been launched from the Texas factory in the middle of 2023. However, journalists discovered that the start of vehicle production had once again been delayed until the end of 2023. Today, about a hundred thousand potential buyers are waiting for the release of the Tesla electric pickup.
Despite the fact that the electric car is still not available for purchase, Tesla itself has already managed to earn $150 million on pre-orders! According to unofficial data, the manufacturer was able to collect 1.5 million pre-orders from those wishing to purchase a car and who had left a $100 deposit.
Speaking of the Cybertruck price, it's also a complicated question. Back in 2019, the company originally said prices for the pickups would start at $39,900. However, the latest Tesla news points to the truck value increase, because a lot has changed in recent years, as Elon Musk said. Unfortunately, the entrepreneur didn't reveal any details other than that the cost will change. Until Tesla lists an official price, all we can do is make note of any available pricing rumors or hard information. For example, the most expensive "Tri Engine" configuration cost was $69,900 back in 2019.
Summing Up
The Tesla Cybertruck is an exceptional vehicle that offers a unique design, advanced features, and environmental sustainability. Its tri-motor setup and self-driving abilities, along with a range of over 500 miles (ca. 805 km), make it a fantastic option for anyone looking for a powerful and reliable pickup truck. The Cybertruck is a testament to the power of innovation and technology, and it's certain to make a significant impact on the automobile industry for years to come.
On the AutoBidMaster online car auction platform, you can choose from more than 300,000 affordable vehicles, including pickup trucks, to bid on. All you need to do first is register on our online auction platform, upload a copy of your government-issued ID or passport, and place a security deposit. If you face any issue and have questions concerning online car auctions, our customer support team is always at your disposal to help you. Contact us online or call us at: +1 (503) 298-4300 (4:00 AM–4:00 PM PST, weekdays).
We are on a mission to help our customers give a second life to used cars by simplifying auto auctions for all. – AutoBidMaster
Latest posts by Vitalii Movchan
(see all)