Speaking of powersports marine vehicles, we instantly imagine a powerful jet ski slipping through waves or a bay boat designed for relaxed leisure. Personal watercraft have become a popular form of transportation and entertainment. Today's market is swamped with different powersports marine vehicle models, each with its own set of features and capabilities. However, there are some of them that stand out in particular. We at AutoBidMaster invite you to glance at the best powersports marine vehicle models. Remember that you can always find a well-maintained and affordable boat or jet ski for sale at the AutoBidMaster online auctions. Check out the massive inventory of 300,000+ used and salvage vehicles and decide on your next ride!
Sea-Doo GTX Limited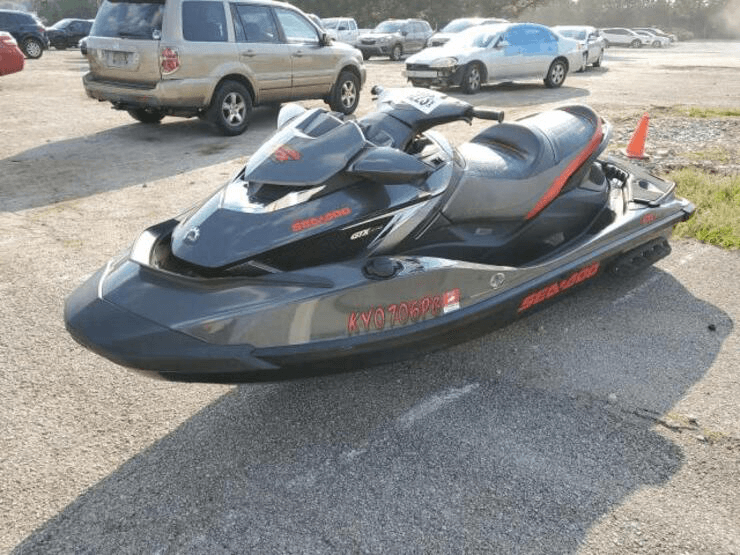 Let's start with a top-notch, luxury jet ski model that provides an exciting water ride. Speaking of performance, this personal watercraft can achieve speeds of up to 70 mph (ca. 113 km/h) thanks to its powerful 300-hp Rotax 1630 Ace engine (by the way, it's the most powerful motor installed in the Sea-Doo jet skis).
The GTX Limited also has large and ergonomic seating for maximum comfort on lengthy trips, accommodating up to three people. In addition, this jet ski model has advanced technology features such as a touchscreen display and a Bluetooth sound system. You can also make use of the GTX Limited's Intelligent Brake and Reverse (iBR) system for improved control and maneuverability and the ECO fuel economy mode to make your rides cheaper.
Check out the Sea-Doo jet skis available at the AutoBidMaster online auctions and boost your leisure time with pure adrenaline!
Yamaha FX Cruiser SVHO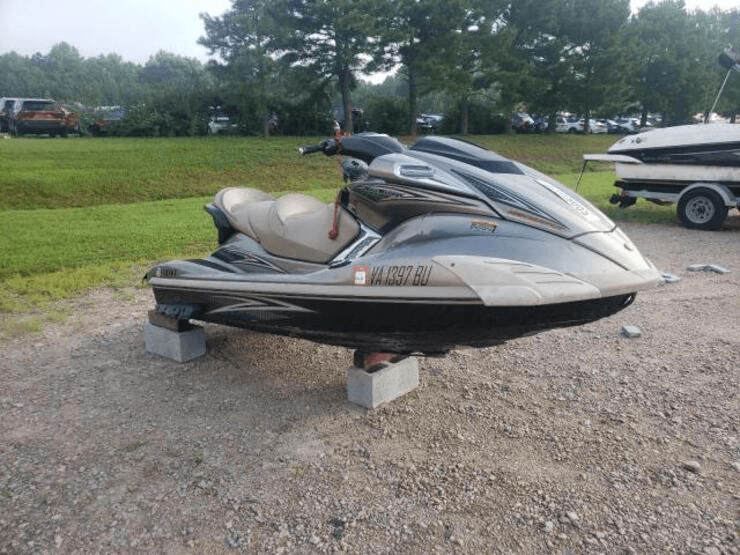 The FX Cruiser SVHO configuration is part of the WaveRunner jet ski lineup. This model is well-known for its innovative engineering and attractive design, making it a favorite choice among fans of oceanic watersports. The FX Cruiser SVHO typically offers comfortable seating for up to three passengers, including the driver.
If we speak about performance, the FX Cruiser SVHO, powered by the Super Vortex High Output (SVHO) 1812cc engine, ensures smooth acceleration and can reach speeds of up to 70 mph (ca. 113 km/h). It also has Yamaha's revolutionary RiDE technology, which gives intuitive control and makes navigating easier.
Turn your dreams into reality with the affordable Yamaha FX Cruiser SVHO available at the AutoBidMaster online auctions.
Yamaha AR210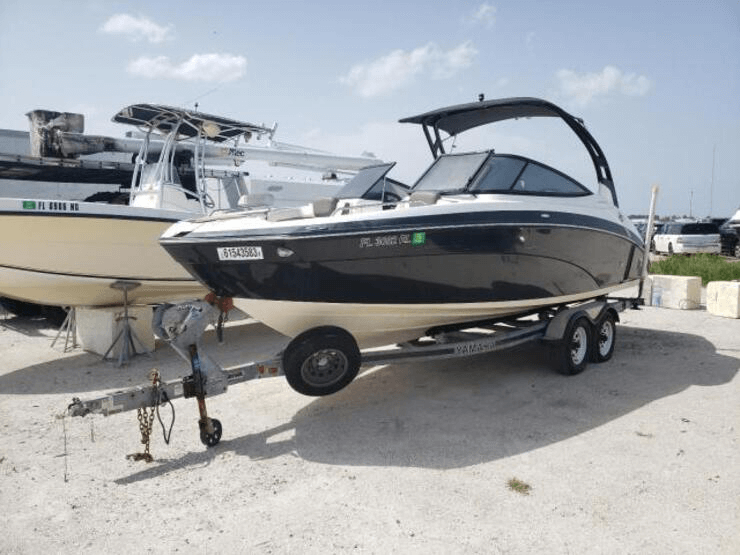 This is a popular powersports vehicle model for water activities and large family trips. This jet boat has a powerful twin-engine system with a maximum capacity of 320 hp that provides exciting performance on the ocean. The AR210's roomy 21-foot (6.4-meter) design allows for up to ten passengers to be comfortably accommodated. It also includes Yamaha's innovative WakeBoost technology, which creates the ideal wake for waterskiing and wakeboarding. This personal watercraft also has numerous storage compartments and comfy seating options, making it a flexible and entertaining powersports marine vehicle.
We also have different Yamaha personal watercraft available in our inventory, and you can easily become the happy owner of your desired boat or jet ski with AutoBidMaster!
Boston Whaler 130 Super Sport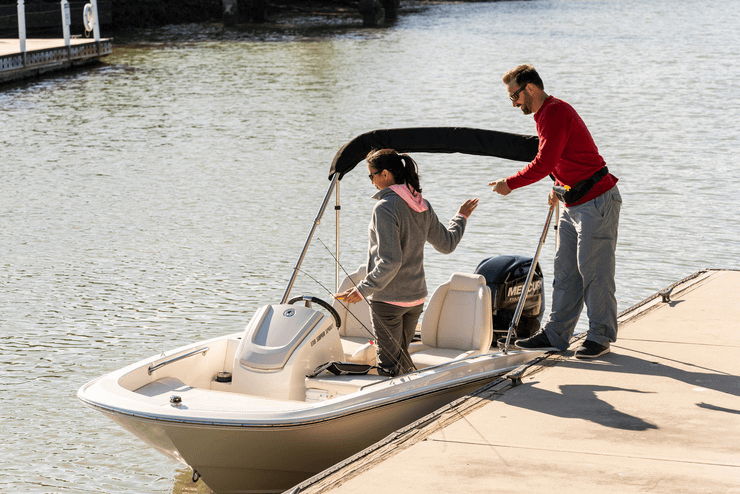 It's a fantastic choice for individuals looking for a more traditional approach to marine transportation. This powerboat type has a versatile and compact body design that makes it simple to navigate on the water. Despite its compact size, the Boston Whaler 130 Super Sport offers good performance thanks to its strong outboard engine. In addition, this low-maintenance and easy-to-operate personal watercraft produces up to 40 hp. The tough design and dependable body offer a safe and fun boating experience due to its special Unsinkable Unibond™ Construction.
To elevate your watersport adventures, bid on used boats from AutoBidMaster and make your water rides unforgettable!
Tracker Targa V-19 WT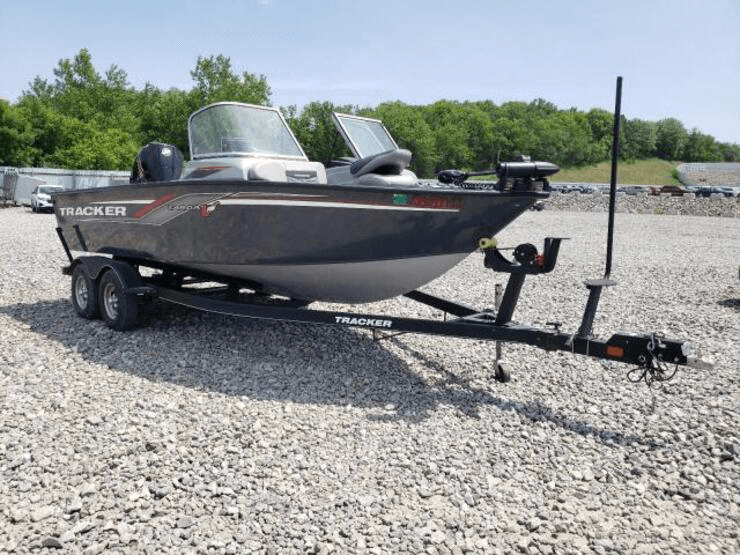 Moving on to fishing, the Tracker Targa V-19 WT is a popular choice among professional anglers. This boat model is specifically designed for serious fishing adventures. It comes equipped with a number of useful and angling-friendly features and appliances, making water expeditions comfortable. In addition, a 47-gallon fuel tank allows for long rides in search of the best fishing spots.
The Targa V-19 WT combines capacity of 225 hp and convenience with a dependable Mercury outboard engine and ample storage compartments. In addition, the boat can accommodate up to six passengers. It also has a comfortable and spacious compartment as well as a customized fishing console, making it an excellent partner for any fishing trip.
Master fishing with the best and cheapest Tracker Targa angler boats you can find at the AutoBidMaster online auto auctions.
Unleash the Power of the Waves With AutoBidMaster Powersports Marine Vehicles!
The powersports industry provides a diverse selection of marine vehicle models to meet a variety of needs and tastes. Whether you're searching for personal watercraft, powerboats, or jet boats, there is a perfect vehicle for you! As an example, the powersports marine vehicles featured in this article stand out due to their remarkable performance, useful and modern features, comfortable riding, and superior designs.
To join our exciting community and take advantage of the top powersports marine vehicle offers, register on our auction platform, upload a copy of your government-issued ID or passport, place a security deposit, and start bidding. You can contact us online or make a telephone call at: +1 (503) 298-4300 (4:00 AM–4:00 PM PST, weekdays).
We are on a mission to help our customers give a second life to used cars by simplifying auto auctions for all. – AutoBidMaster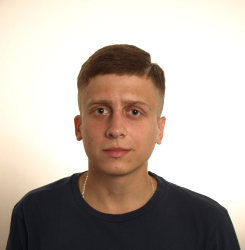 Latest posts by Vitalii Movchan
(see all)