When it comes to powersports vehicles, they are more than just simple modes of transportation. They are symbols of adventure, action-packed adrenaline, and potent spiritual and physical independence. These powerful off-road machines have won the hearts of outdoor enthusiasts all around the world. Powersports vehicles also offer a wide range of activities. From used motorcycles that hit the open road to snowmobiles that swiftly glide through winter wonderlands, everyone can find the most suitable option.
At the same time, there are very special and notable powersports vehicle configurations that have changed the whole powersports industry, setting new levels of quality. Let's take a look at the most legendary powersports vehicles, examining their evolution, what makes them stand out, and how they influenced the industry. Join us and choose your desired new or used motorcycle, pre-owned ATV, salvage jet ski, or another type of famous powersports vehicle at the AutoBidMaster online auctions.
Time-Tested Powersports Motorcycles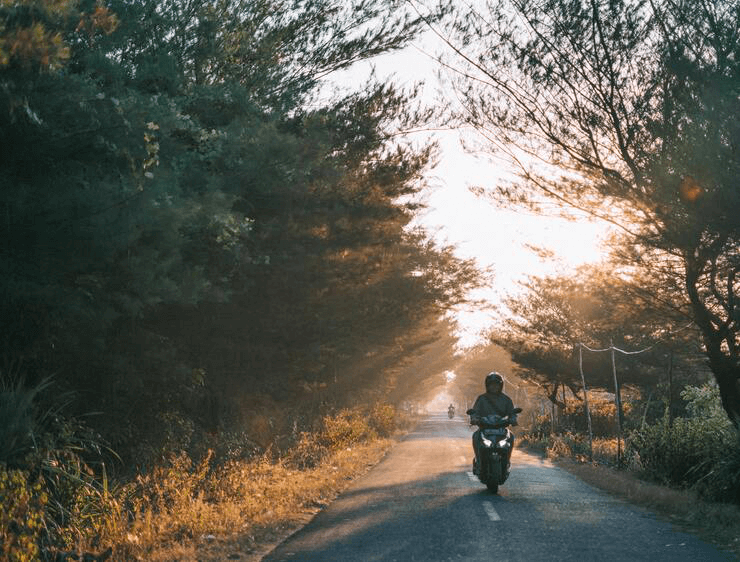 When deciding on the best powersports motorcycles for sale, it may be challenging not to get lost in the wide range of available bikes. AutoBidMaster has outlined the most legendary motorcycles you can find at online auto auctions.
Harley-Davidson Sportster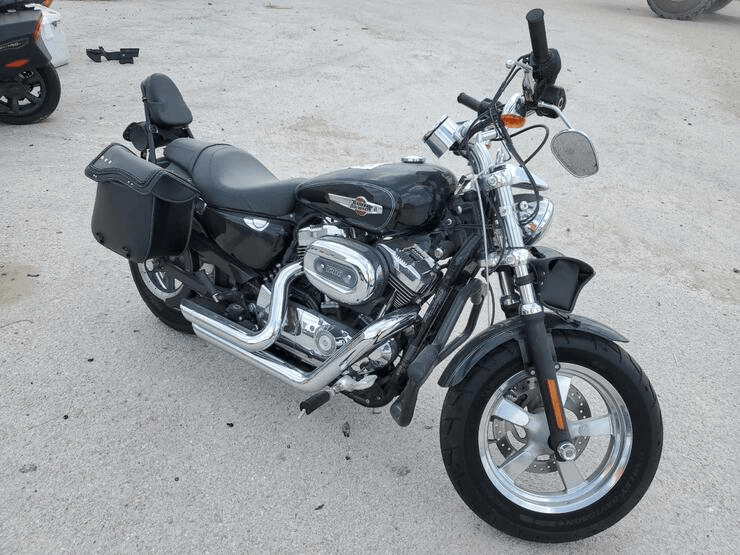 Let's start with one of the best-selling bikes. The Harley-Davidson Sportster motorcycle is an iconic powersport vehicle that was launched into mass production in 1957. Today, the bike holds leading positions, meeting the riders' needs. Although the Harley-Davidson Sportster has had many versions, engineers saved all the basic features. Among the most powerful configurations, we can outline the Harley-Davidson Sportster S, which is known for its water-cooled Revolution Max engine and 121 hp of capacity. Speaking of style, this powersports vehicle has a simple design that provides broad opportunities for bike customization.
The Harley-Davidson Sportster, with its characteristic rumble and classic look, has become a symbol of freedom and adrenaline. Check out the cheap used motorcycles of this popular configuration in the AutoBidMaster inventory and win your perfect ride today!
Honda CB750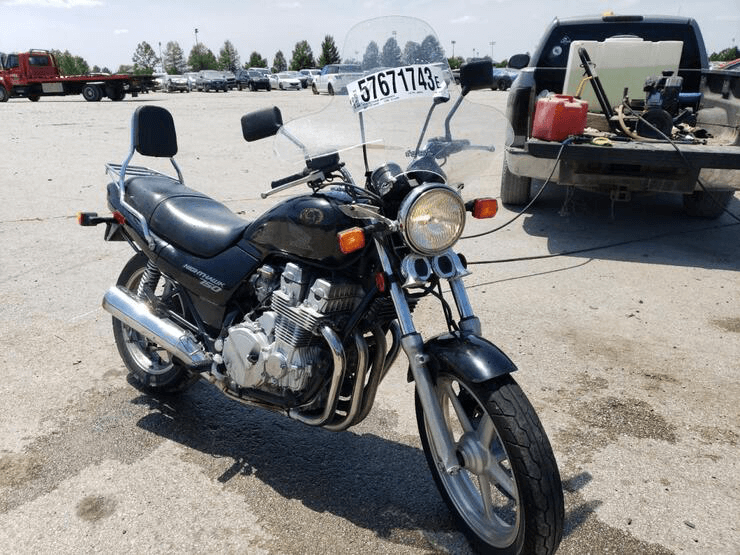 The Honda CB750 is a very popular powersports motorcycle that debuted in 1969 and soon earned popularity for its unique features and powerful performance. Many riding lovers consider this Honda configuration one of the earliest "superbikes" that had a huge impact on the motorcycle industry. This is why it appears on our list.
The CB750 version is powered by an air-cooled four-cylinder engine that delivers up to 70 hp. Its tough body build, dependability, and simple design made it a favorite among riders at the time. The Honda CB750 is still loved by motorcycle fans and collectors today. The timeless style and popularity of the CB750 have presented it as a classic and significant model in the world of motorcycles. And we at AutoBidMaster can offer you this legend! Just run through the list of available Honda CB750 powersports motorcycles, win your desired one, and ignite your riding passion.
Kawasaki Ninja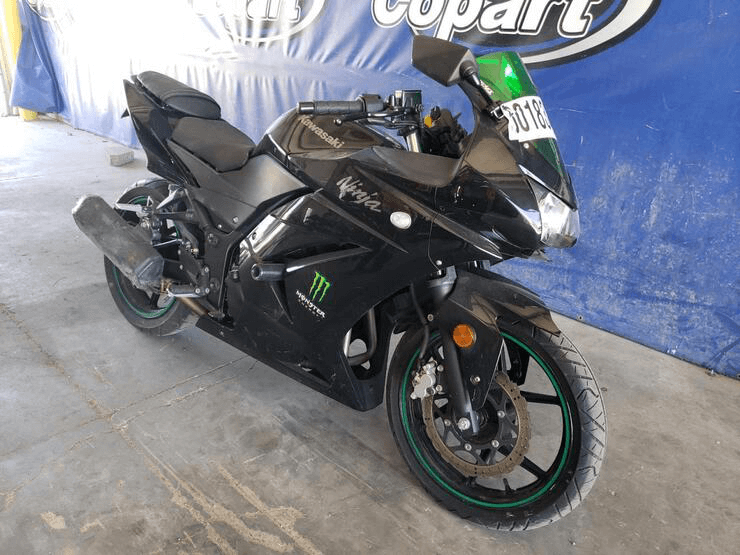 Here, we have another renowned powersport vehicle. This bike has transformed the powersports world with its outstanding performance and sharp aerodynamic appearance. Speaking of the most recognized Kawasaki Ninja versions that are definitely worth your attention, we can highlight the iconic Ninja ZX-6R and the massive Ninja H2R. The most common engine configuration installed in the basic Kawasaki Ninja ZX-6R is a 4-cylinder liquid-cooled motor with up to 126 hp of capacity.
The Ninja series has gained a reputation for superiority on racetracks because of its well-thought-out technology and incredible speed. This powersports motorcycle continues to push boundaries and set new benchmarks in the bike industry. Gear up your riding experience and bid on affordable Kawasaki Ninja powersports motorcycles at AutoBidMaster.
Top-Notch ATVs and UTVs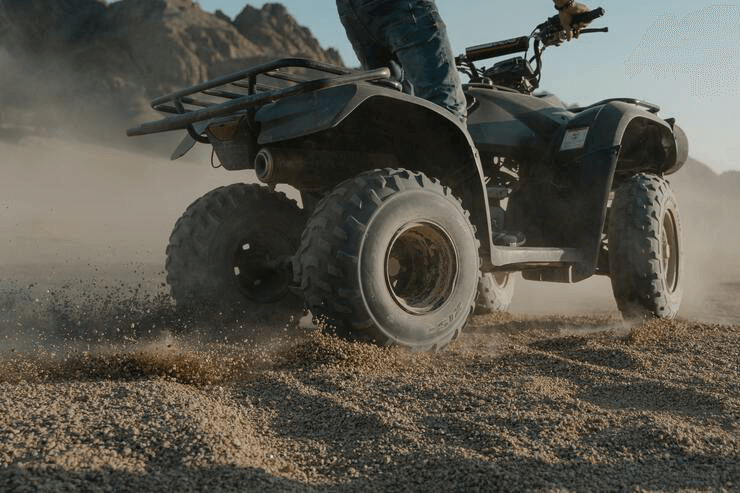 These off-road vehicles were developed to conquer challenging terrain. It doesn't matter where you decide to ride; the best ATVs and UTVs will handle every task, from dirt and rock-covered forest trails to sandy dunes. Here are the most legendary off-road powersports vehicles you will find at AutoBidMaster:
Yamaha Grizzly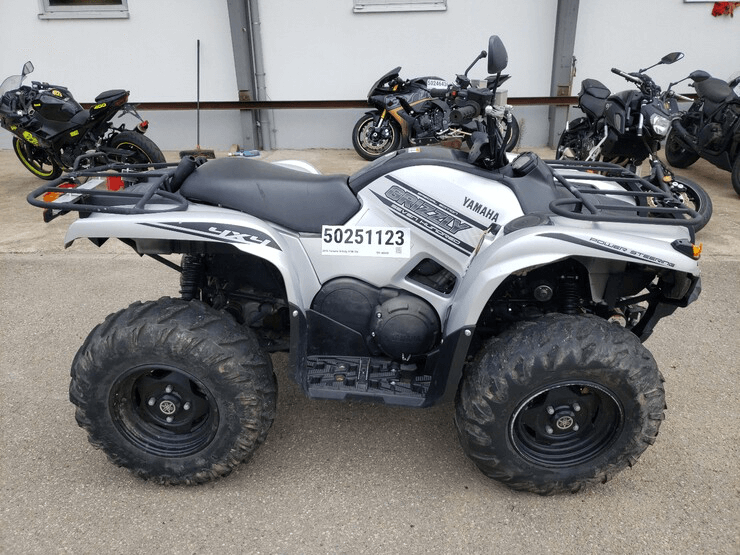 Let's take a look at a legendary and versatile quad designed for outdoor enthusiasts who seek reliable performance on various terrains. First introduced in the late 1990s, the Grizzly has since undergone several updates and improvements. The vehicle is known for its robust body build, advanced handling, and improved off-road features.
The basic Grizzly is equipped with a powerful 686cc engine that produces around 50 hp, making it suitable for both work and recreational riding. Its four-wheel-drive system provides excellent traction and control, allowing it to navigate through challenging terrain with ease. At the same time, you can make use of the On-Command 2WD/4WD system. The ATV's independent suspension system ensures a smooth and comfortable ride, even on rough surfaces. In addition, the Grizzly is equipped with practical features such as racks for carrying gear, a tow hitch for hauling loads, and electronic power steering for enhanced maneuverability.
Whether it's for tackling farm work, exploring off-road trails, or enjoying recreational adventures, the Yamaha Grizzly is a dependable and versatile ATV option cherished by outdoor enthusiasts for its reliability and performance. Don't waste a chance to boost your excitement during the last month of summer with the Yamaha Grizzly. All you need to do is win one at AutoBidMaster!
Polaris RZR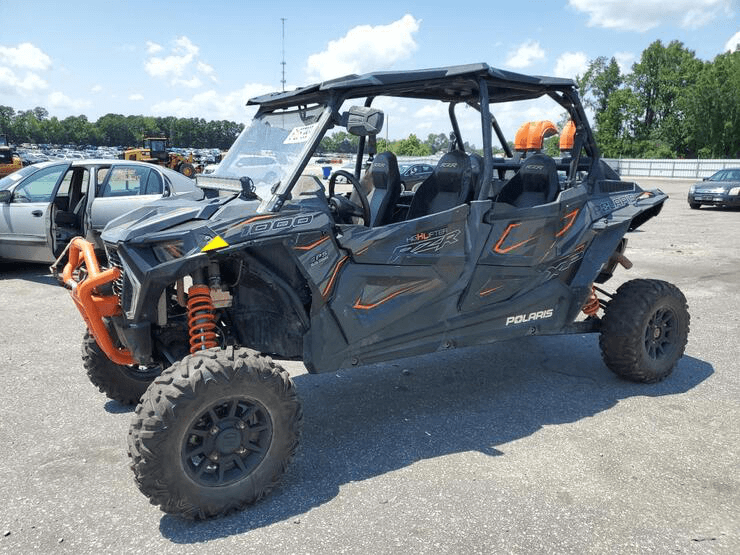 Another classic powersports vehicle worth mentioning is the Polaris RZR side-by-side. This UTV configuration, which was designed for rugged terrain and fun off-road activities, has become a favorite among adrenaline seekers. We recommend that you consider the Polaris RZR with a ProStar 1000cc twin-cylinder engine, which produces around 110 hp.
The RZR vehicle has unrivaled power, dependable suspension, and agility, allowing riders to overcome any obstacles in their path. Because of its durability and adaptability, this side-by-side vehicle has become a favorite for off-road racing and recreational use. Take a chance and bid on well-maintained Polaris RZR powersports and test your off-road limits with this amazing machine!
Popular Jet Skis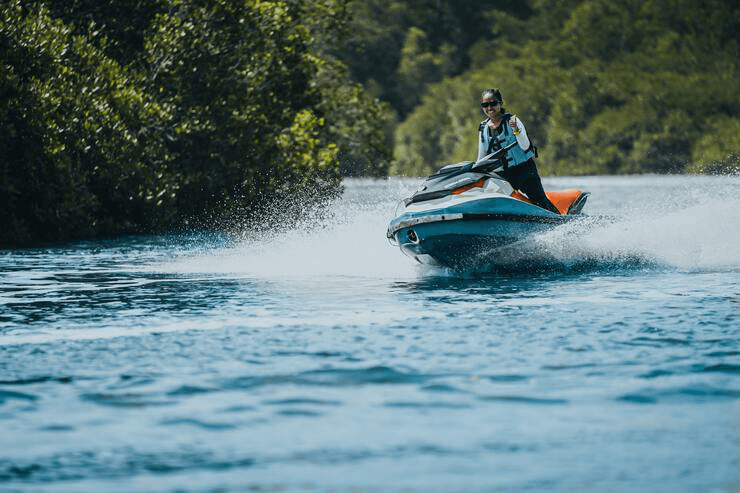 If you're a fan of water activities, jet skis are your perfect powersports vehicle choice. Consider the following personal watercraft models for conquering the waves:
Sea-Doo GTX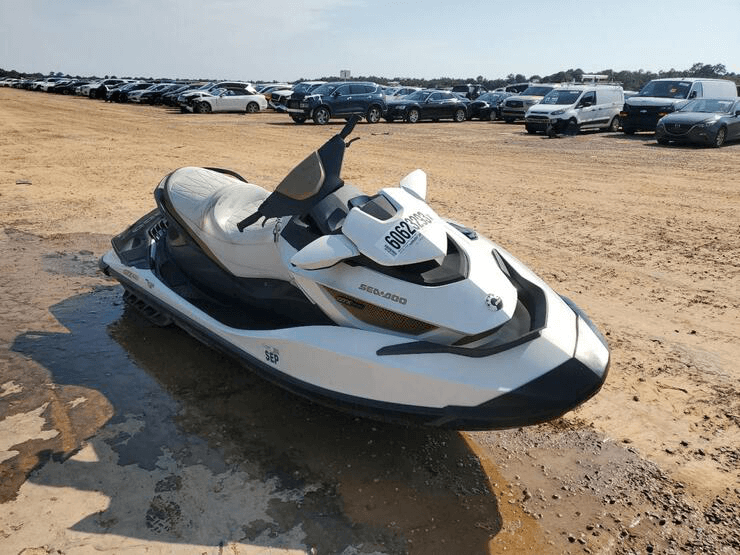 It's a true icon among jet skis, setting new standards for the personal watercraft market with its revolutionary design and cutting-edge features. Introduced in the mid-1990s, the GTX configuration started a new era of water powersports. As one of the first sit-down models to prioritize rider comfort, it quickly gained popularity among outdoor enthusiasts seeking a smooth and enjoyable experience.
Equipped with a 1,630cc, three-cylinder engine, the Sea-Doo GTX delivers a perfect blend of power and performance, making it an excellent choice for both leisurely cruising and water races. In addition, the Intelligent Brake and Reverse (iBR) system provides effortless maneuverability and enhances safety by allowing the rider to quickly and easily slow down, stop, and even reverse the watercraft.
With advancements in technology, improved handling, and enhanced safety features, the Sea-Doo GTX remains a sought-after choice for water lovers. If you're one of them, just glance at the Sea-Doo GTX jet skis AutoBidMaster offers for bidding. You can be a lucky owner of this legendary personal watercraft that won't cost you an arm and a leg.
Yamaha WaveRunner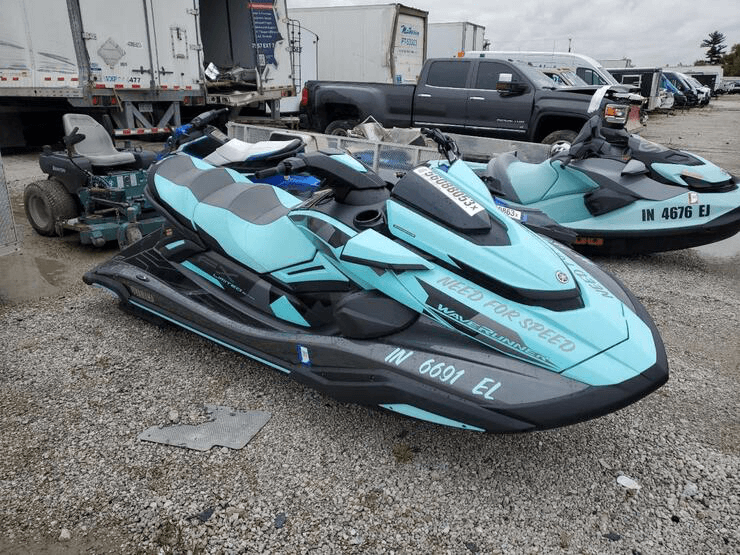 Here we have another iconic stand-up jet ski that has become quite successful in the personal watercraft industry. The Yamaha WaveRunner SuperJet configuration, which debuted in the 1990s, is still recognized for its agility, dependability, and high-performance characteristics. The SuperJet version stands out with its 1049cc three-cylinder marine engine that has an output of around 100 hp. With its powerful motor and lightweight design, this personal watercraft offers a thrilling experience on the water.
Water freestyle and racing fans consider this jet ski a very popular choice for their adventures. Join them and pick up your Yamaha WaveRunner at the AutoBidMaster online auctions.
Win Your Powersport Vehicle With AutoBidMaster!
Legendary powersports vehicles have had a significant influence on the world of outdoor enjoyment and adventure. The remarkable models of motorcycles, jet skis, ATVs, and UTVs we've mentioned can bring you an unforgettable powersports experience. With AutoBidMaster, you can get them in a wallet-friendly way!
To join our community of powersports enthusiasts, register on the website, provide a copy of your government-issued ID or passport, place a security deposit, and then you are free to place a bid! Easy, isn't it? If you have any questions concerning online auto auctions or particular auction lots, contact us online or call us at: +1 (503) 298-4300 (4:00 AM–4:00 PM PST, weekdays).
We are on a mission to help our customers give a second life to used cars by simplifying auto auctions for all. – AutoBidMaster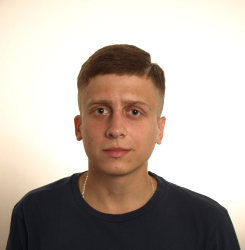 Latest posts by Vitalii Movchan
(see all)