Hey folks, we've got excellent news right off the bat! AutoBidMaster is a perfect place to shop for vehicles. You can find passenger vehicles, sports cars, trucks, motorcycles, and many more offers here. We value our long-time clients, and we're proud when a newcomer joins in to find a vehicle they've always wanted. However, sometimes newcomers are puzzled when they see a chunky list of frequent terms and notions we use here. Understanding them is a fundamental concept that accounts for your confidence in bidding. Let's start: we've compiled the ultimate glossary of car auction terms you see on AutoBidMaster.
Auction Glossary
Body style (vehicle type): represents a manufacturer's designation of the vehicle's body configuration (sedan/coupe/hatchback/SUV/MPV, etc.)
Bid4U: a user-friendly tool that will increase your bid until your maximum in small increments to help you maintain the position of the highest bidder. Check out how it works here.

Color: a generic name of the paint a vehicle has. It does not represent the exact name of the shade by the manufacturer.

Current bid: the highest price offered for a particular lot at the moment.

Damage code: indicates damage that a vehicle had sustained. Several damage codes signify different types of damage. We've already covered all of them in our previous post.


Drive and Engine: these notions indicate the powertrain and motor type according to the vehicle's VIN.

Estimated Repair Cost: an estimate of the costs required to restore a vehicle to a safe operating condition. It may significantly differ from the number listed, so AutoBidMaster isn't responsible for the accuracy of the information provided by the seller.

Estimated Retail Value: a ballpark estimate of what a vehicle can be worth after repairs. These numbers are only for demonstrative purposes and may not coincide with reality due to numerous factors.

Fuel type: tells what fuel a vehicle uses.

Grid/Row: a unique number that marks a physical location of a car in a yard.
Item: item numbers show the order in which lots head to auction.

Keys: this field informs clients whether AutoBidMaster has keys for a vehicle listed at an auto auction.

Location: here, you can find information about a yard or a facility where a car is.

Lot number (Lot #): a unique identification code for each vehicle.
Make and Model: brand and model's name.

Maximum bid: simply, the maximum amount you want to pay for a car.

Odometer: represents the mileage. There are four types of odometer disclosures: actual, exempt, not actual, and the 'exceeds mechanical limits' label. Address our help center to get the most accurate information about odometer disclosures and their types.

Offsite sale: this indicator is used for vehicles that are located somewhere beyond a yard's facility. For more information about offsite sales and buying a car sight unseen, take a look at this article.

Sale Date: this field informs buyers about the weekday when the vehicle will become available for live bidding.

Sales Status: we've gone over this before in our previous blog, so don't hesitate to look at it here.

Security Deposit: it's a temporary authorization hold from your card that defines your buyer power. It's $600 minimum or 10% from your intended maximum bid. Make sure to read our column about a security deposit and recent updates to it here.

Sublot: don't worry, it's only for vehicles located at Copart's affiliate facilities.

Title type (doc type): arguably, the most crucial field for each vehicle listed at AutoBidMaster. There, you'll find the information on the ownership documents that will be transferred to a new titleholder (buyer) as soon as the sale is completed. Current documents and certificates of titles DON'T represent any information on the previous owners. However, you can still obtain a clear picture of the ownership history with ClearVIN. They are the leading providers of VIN history reports.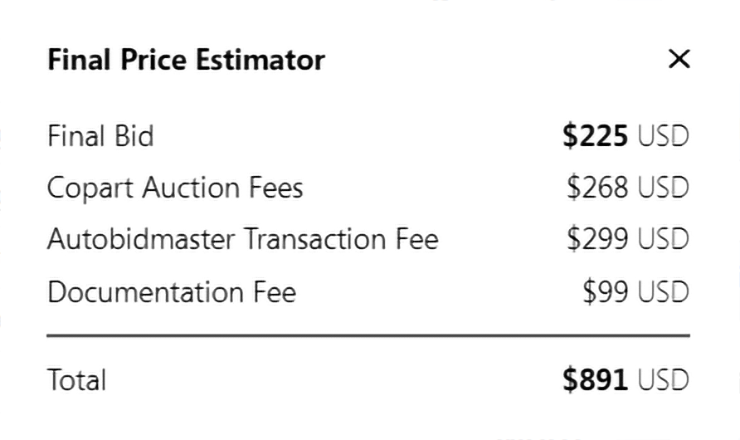 Transaction fee(s): it's a fee we collect to proceed with brokers' transactions. Customers with Advanced and Premium memberships can enjoy reduced fees.

VIN: a unique identification number allotted to each manufactured vehicle.
Year: informs a buyer about the manufacture model year.
That's that!
In short, this is almost everything you should know about car auction terms before you're ready to bid! Why do we say that's 'almost everything'? Because there are a few things more. 'How to start,' you ask? It's simple. Register, place a 100% refundable security deposit, browse our daily-updated inventory, find your dream car and get ready for the fast-paced auctions. Be sure to upgrade your membership to enjoy unlimited bidding. If you still have questions, feel free to reach us at +1 (503) 298-4300 (6:00 AM – 4:00 PM GMT-8, Monday to Friday). Oh, nearly forgot: you can fill out our online form for faster service. Happy bidding!
Latest posts by AutoBidMaster Staff Writer
(see all)