AutoBidMaster can help you save BIG (no jokes) if you're going auto shopping. As a leading Copart broker, we're proud to provide access to more than 300,000 vehicles. AutoBidMaster also provides all-in-one services, so you can book shipping and check the background history of a vehicle straight away from the lot page. Placing your first bid is easier than you think, but before making your first (or next) purchase, you should pick the right AutoBidMaster membership. We're listing all their differences to help you choose the most suitable one.
AutoBidMaster Membership: A Brief Overview of What It Is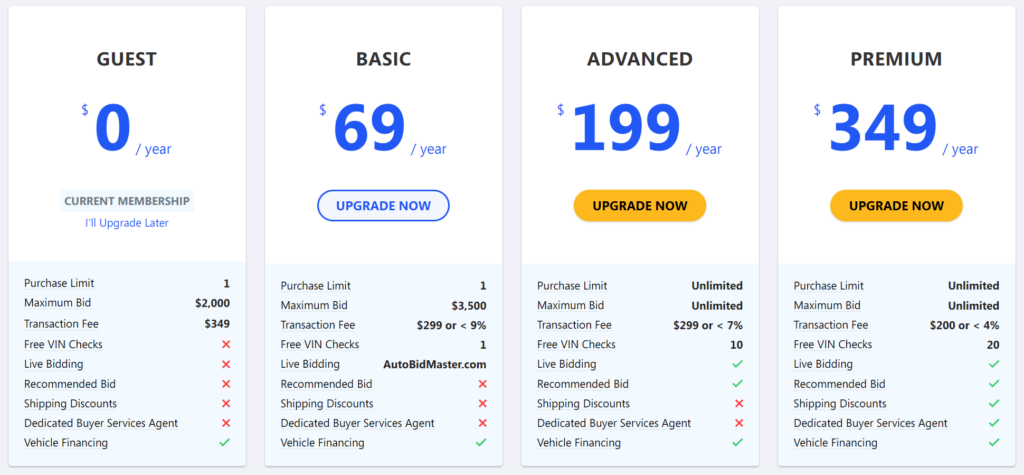 AutoBidMaster membership has four subscription levels that allow you to enjoy our services in full. They are:
All of them are designed to deliver the best possible experience in AutoBidMaster auctions. The difference lies in benefits guaranteed with the different packages. We provide memberships for a year. You can either renew it or cancel the automatic renewal. Note that membership charges are NOT refundable (except for cases described here).
AutoBidMaster Guest Membership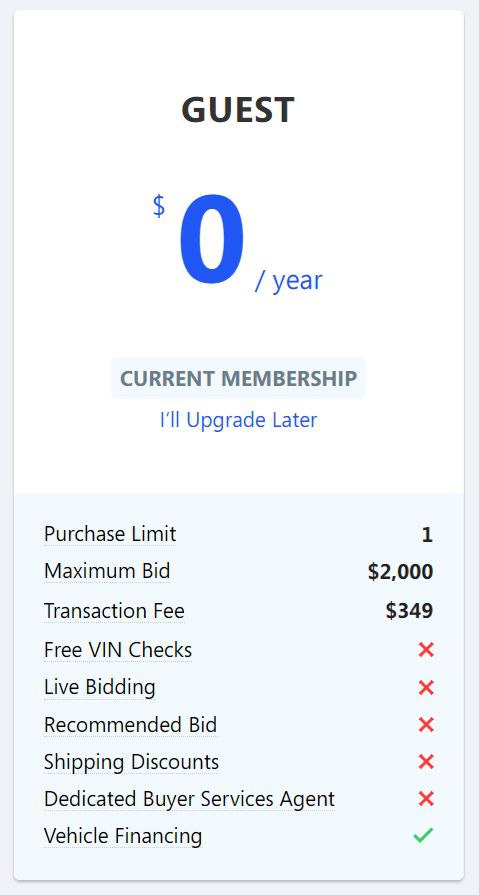 The new entry-level AutoBidMaster membership is the Guest one. This is a good option for those who are ready to feel the joy of bidding. Registration is free of charge, but you're obliged to place a refundable security deposit that determines your Buyer Power. With the Guest AutoBidMaster membership, you can attain a vehicle worth up to $2,000, and the transaction fee will be $349. Alas, there are no free VIN checks and no access to live bidding. If you're looking for more than this, we suggest upgrading to another membership.
AutoBidMaster Basic Membership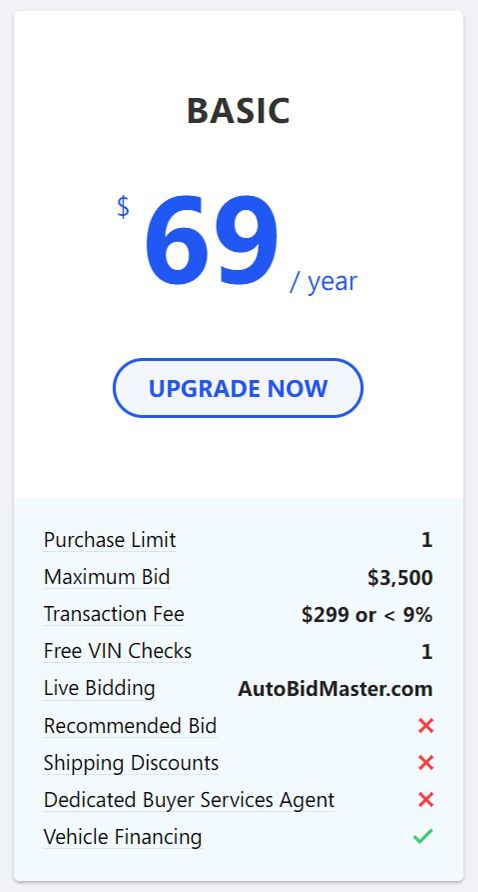 This is a way more beneficial option. With the Basic level AutoBidMaster membership, you can buy a used car worth up to $3,500. An opportunity to check its background history is also available as you obtain a single (1) free VIN report from our trusted partner, ClearVIN. More importantly, you can take part in live car auctions, only for $69 per year. The transaction fee is up to 9% (or $299, whichever is greater).
AutoBidMaster Advanced Membership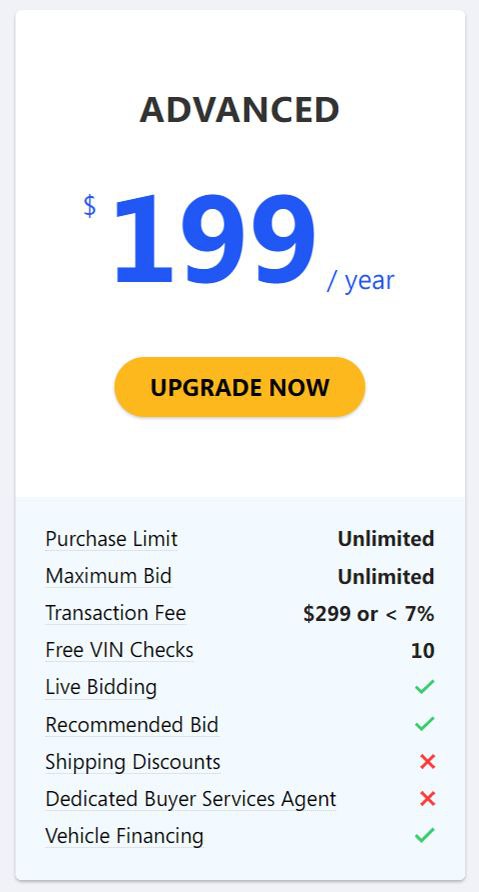 It's time for the gems. Advanced membership lets you get much more perks. There are no restrictions on the maximum bid and on the number of cars you can purchase. In addition, you can even buy salvage cars without bidding. Ten (10) free VIN checks are also available. Be on the safe side and get as much information about a car as possible.
Good news: the transaction fee reaches 7% or $299 (whichever is greater). Jumping to the Advanced membership will cost you only $199 a year. But that's not all, we've got an even more exciting deal.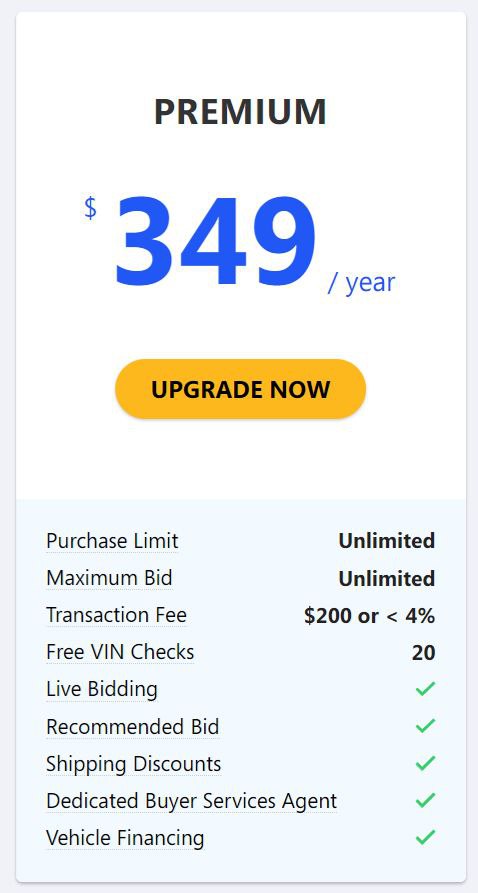 This is the top-tier offer we have for you. Premium membership has everything that you have dreamt of. The number of available free VIN checks reaches twenty (20) reports. Transaction and processing fees are $200 or 4%, whichever is greater. On top of that, you're eligible for a shipping discount. And, finally, you'll enjoy the buyer's concierge service. Our dedicated teammate will help you with e-v-e-r-y-t-h-i-n-g, from bidding to paying. This can be had for $349 per year.
How Do I Upgrade My AutoBidMaster Membership?
It's easy! There are several ways to do it:
log in to your account and click the big 'upgrade' button anywhere on the page,
log in and select the 'Membership' tab in the menu,
or use any of the corresponding links from our emails.
Final Thoughts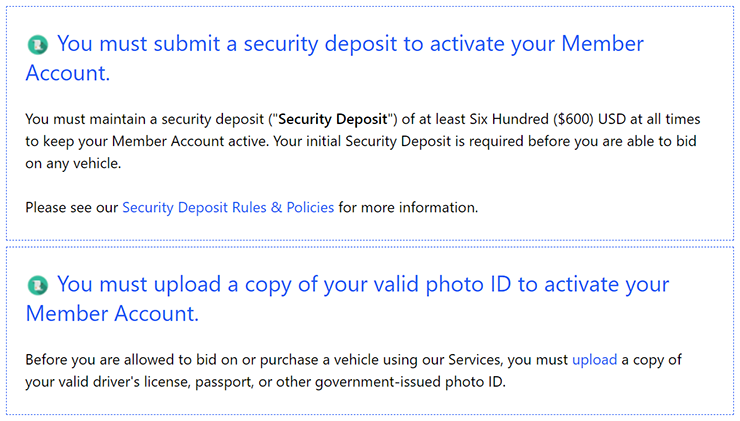 Following this comprehensive overview of AutoBidMaster membership levels, you'll find something to your liking, we bet. Sign up, upload a copy of your government-issued ID, place a refundable security deposit, and enjoy. By the way, there's a limited-time discount dedicated to Veterans Day. Get your Advanced and Premium membership with a 30% off of it by entering the code VETS21 at the checkout page. Reach us at +1 (503) 298-4300 (6:00 AM – 4:00 PM, GMT-8, Monday to Friday), and we'll be happy to chat with you and answer your questions.
Latest posts by AutoBidMaster Staff Writer
(see all)